In the past year, we've seen tie-dye everywhere: on jeans, dresses, jackets, T-shirts and more.
It's no surprise that the biggest fashion trend of 2020 has finally found its way on face masks, the accessory that we cannot live without.
Unlike the fancy, logo-laden designs offered by luxury brands, tie-dye face masks are a lot more inconspicuous while being stylish enough to warrant a compliment or two. (That's especially if you get yourself a tie-dye design to match your tie-dye outfit.)
As a bonus, the masks' psychedelic swirls are also a way to send some good vibes out into the world, in lieu of a smile. Whatever way you look at it, there's no reason not to hop onto the feel-good DIY trend. The best part is that there's a tie-dye mask for everyone, whether you're into cheery pastels or favour a more neutral colour palette.
Below, we've compiled the best reusable face masks that you can shop right now.
Header photo credit: Everlane
1
Nineteen80
If you're a fan of local arcade bar Nineteen80, you'll dig their new tie-dye mask that's very much aligned with their retro aesthetic. The "Pretty Fly for a Tie-Dye" mask comes in 3-ply cotton and features adjustable straps to give you the ultimate comfort. You also get to choose from three sizes to find the perfect fit.
(Photo credit: Nineteen80)
Shop here
2
Re/Done
For a sustainable option, check out Re/Done's tie-dye masks. They're made from upcycled cotton jersey fabric that has been dyed by hand, so no two masks are the same. If you want the full psychedelic effect, go for the masks swirling with an assortment of vibrant hues.
(Photo credit: Re/Done)
Shop here
3
River Island
Good news for those whose skin is sensitive to textile dyes: you can still get in on the trend with this printed mask by River Island. Crafted with cotton, the mask resembles your regular disposable mask, except that it bears a pretty pink pattern and you can actually throw it into the washing machine for future use.
(Photo credit: River Island)
Shop here
4
Nicole Miller
Not a big fan of colour? Try American fashion label Nicole Miller's monochromatic mask, which is a grungy alternative to the typical black masks you've seen around. It's made with two layers of cotton and has a nose wire that you can adjust for it fit right. There's also an internal pocket for you to slip a filter into. It's going for a good cause, too: proceeds from each sold mask will be donated to COVID-19 relief efforts.
(Photo credit: Nicole Miller)
5
Everlane
If you're the kind of person who needs their mask to match their outfit, Everlane is your best bet. The Meghan Markle-approved label has released a set of five cotton masks, each tie-dyed in a different pastel hue like yellow, orange and pink. (There's also a version with neutrals.) The designs, made ethically in Vietnam, are also part of Everlane's 100% Human collection, meaning that 10% of their proceeds will go into human rights organisations.
(Photo credit: Everlane)
Shop here
6
Shein
If you have no qualms about shopping from a fast fashion label, Shein has unveiled a polyester face mask that captures the trend of the moment. The multicolour design comes in a single size that can be adjusted with its stretchy ear loops. It's comfortable, breathable and, according to multiple rave reviews, amazingly soft.
(Photo credit: Shein)
Shop here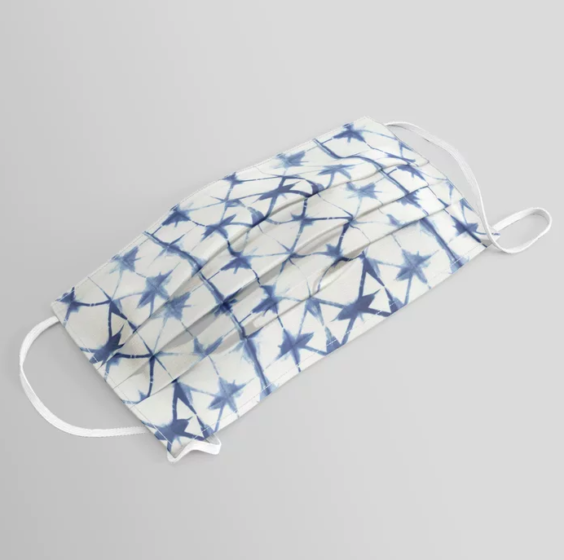 7
Jill Byers
Tie-dye doesn't just entail psychedelic swirls and cloudy colours mixed together. The Japanese invented their own technique known as "shibori", which involves precisely dyeing a fabric with indigo to create consistent patterns, like the one on this polyester mask. It's a nice spin on the white face mask, and best suits anyone with a minimal style.
(Photo credit: Jill Byers)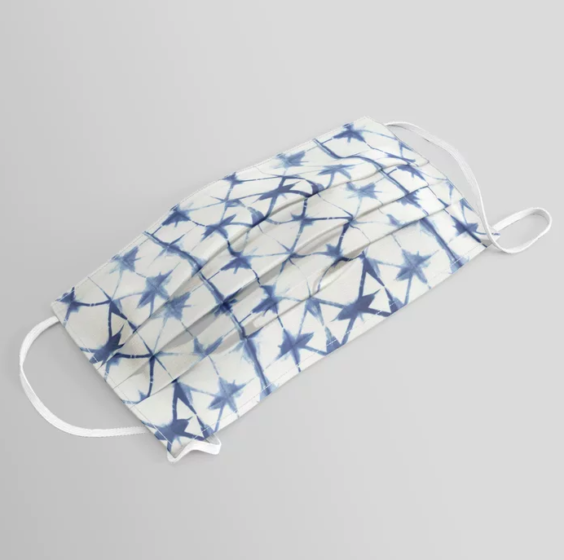 Shop here