Pleats on dresses, pleats on blouses, pleats on masks. You could say that Ginlee Studio has a thing for the geometric folds that are so often found on their minimal, modern womenswear.
Now, the local fashion label is using their pleats to make a point. As an antidote to overproduction in fashion, the brand has launched "GINLEE MAKE", a customisation service that lets you design your own pleated bags, pouches and cushion covers. "By introducing this experience, we are realising a more sustainable way of making our products," shared label co-founder, Gin Lee.
Since establishing her eponymous label with fellow designer Tamir Niv in 2011, Lee has always had a conscientious approach to fashion. Her designs, functional and flattering, are meant to be worn by the everyday woman. She also wants them to last, making her clothes with the kind of luxurious, laborious craftsmanship that you won't get from a fast fashion store.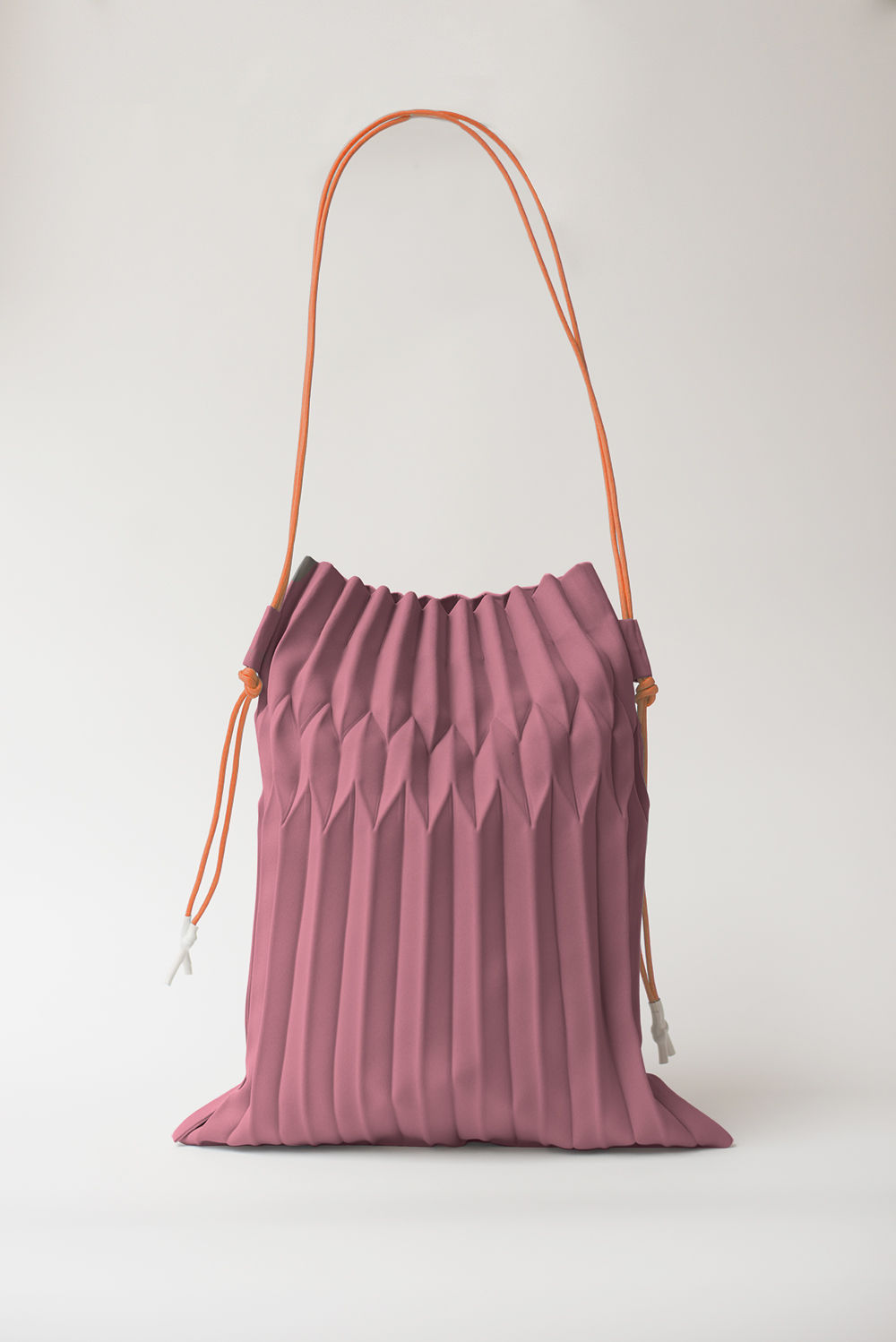 Instead, you'll find it at Ginlee Studio's concept store in Great World City, where GINLEE MAKE is now being offered. "Customers will get to select their choice of sizes, pleats and colours, before the whole process is done right in front of them," explained Lee. "We believe that when they are able to witness the process of making, they will learn to like it and have a greater appreciation for it."
What customers will also appreciate is the store itself, which doubles as a workshop. Yet it looks like neither, not with its leafy palms and pebbled floors that seem to come straight out of a Mediterranean Decor page on Instagram. (Ginlee Studio has roots in the region; it opened a handful of boutiques in Israel, where Lee and Niv have second homes.)
It's a calming space that encourages one to pause and reflect — especially on the value of clothing, which you'll find hanging in harmonious hues all along the store's sinuous, stainless steel racks. The experience alone will certainly leave you asking for pleats, please.
If you already are, read on below as Lee tells us more about GINLEE MAKE.
What inspired you to launch GINLEE MAKE?
The idea for "Make In Shop", which GINLEE MAKE is a part of, was conceived in 2019. We developed the concept because we felt that as a design brand and fashion retailer, we should look ahead into the future and address some of the big issues of the fashion industry in our own way. We also wanted to bring a new way of shopping that aligns with our values, so being able to produce on-demand, on the spot, was an exciting idea for us.
Could you tell us more about the pleating process?
Our Great World City store has a built-in steamer that lets us set the pleats immediately. We designed our products to suit the "last-mile production" in-store. When a customer places their order for a pleated bag, we'll proceed to make it for her there. They can see it being made and customise their own version of it.
What fabrics do you use?
We use a synthetic-based material as we need the pleats to hold. We conducted a series of tests to see which fabric is ideal. Some of the things that we considered were that the fabric had to be thin enough to pleat between our moulds, yet thick enough to be a durable, everyday bag.
The consumption of the fabric we use is also key. We want to produce as little waste as possible, so it was important that we made efficient use of the fabric in the eventual design of the bag.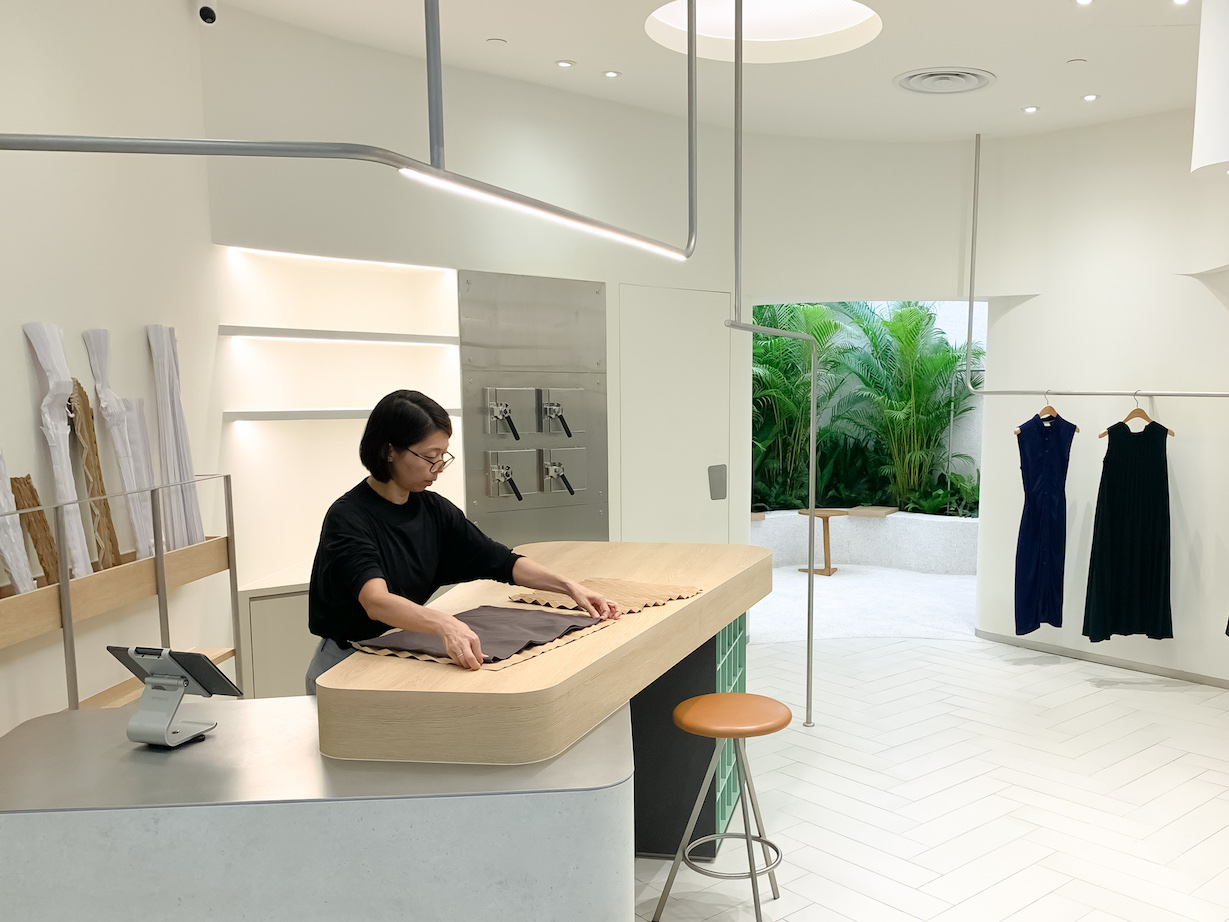 Will you eventually let customers bring in their own fabric to work with? Or introduce more craft techniques?
Perhaps in the future, as we work towards a circular economy, we can. Right now, we are working on the next stages of GINLEE MAKE. We're coming from a sustainable perspective, and not necessarily focusing on craft. In future, we could be deploying technological enhancements and rethinking our production methods to reduce waste and increase our productivity.
Do you plan to expand GINLEE MAKE's offerings beyond bags and cushion covers?
We'll be introducing a capsule of tops coming in December. Keep a lookout for it!
Do you see personalisation services like this becoming a major part of your business, or fashion businesses in general?
For us, we see that personalisation has always been there for some time now. The focus on what we do is the extension of SKUs, where one base product can produce multiple options. This frees up inventory space and allows us to monitor demand, in order to avoid overproduction.
What do you hope customers take away from your new customisation service?
Today, customers are more aware of the process of making sustainably. We hope that they are motivated to physically shop again, while being able to experience something new and learn about the products that they buy.
How do you think brick and mortar stores will evolve in the future? And how have you sustained your business during the pandemic?
As it becomes more and more normal to stay in, and people are busier in general, going down to the store is not an obvious act as before. Online shopping already bridges the gaps for the act of purchasing. People don't see the need to go out if they can buy things online.
This is when creating a customer experience is crucial, when shoppers are able to see something new, learn, and leave a retail space with a new insight and feel a bit different and better. Brick and mortar won't go away, but it would have to evolve with the needs of customers to offer a sensorial experience that can't be replaced with virtual shopping.
What do you have planned for 2021? 
We plan to delve deeper into design. In retail, it is almost impossible to stop as it is the nature of the business. With Make-in-Shop, we see ourselves continuously redesigning our processes to make it efficient to run and free up our time to churn out better designs.
Discover more on Ginlee Studio's website.
Header photo credit: Ginlee Studio