Where last year's Golden Globes red carpet saw stars draped in all-black garments to take a stand with the Time's Up movement, this year's rendition moved past the black-and-white lines of blatant politics to flaunt colour once more.
This is not to say that the stars who walked the Golden Globe Awards 2019 red carpet have forgotten their stance against sexual harassment in Hollywood. In the past year, the visibility given to the issue has been so ingrained into our common psyche that the red carpet has achieved its goal and returned to its roots — a platform to celebrate the best in cinema and television, though many stars still donned bracelets with the slogan "Time's Up x2" in solidarity with the movement.
Hosted by Sandra Oh and Andy Samberg, the Golden Globe Awards 2019 has spotlighted the likes of Bohemian Rhapsody for Best Motion Picture (Drama), with its star Rami Malek winning Best Actor for his impeccable performance of Freddie Mercury in the biopic, and Glenn Close bagging Best Actress for her work in novel-to-screen adaption, The Wife. 
The Golden Globe Awards are obviously a massive deal for the cinematic industry, but it also is a moment where fashion takes centre stage on the red carpet. Before you celebrate the winners, we've picked out some of the best-dressed celebrities of the evening, so give these sartorial stunners a round of applause too for looking top-notch.
Photo credits: Getty Images
1
Anne Hathaway
Anne Hathway gives us a masterclass in contrasting textures with this commanding Elie Saab leopard print gown.
2
Janelle Monae
Janelle Monae is a fierce goddess in this gold, navy tweed and white Chanel ensemble.
3
Saoirse Ronan
Saoirse Ronan teases in a sleek and sheer metallic Gucci dress, accented with chandelier earrings from Chopard.
4
Cody Fern
American Horror Story actor, Cody Fern, ditches the template tux to flaunt this all-black androgynous get-up with Maison Margiela Tabi heeled boots and guyliner to match.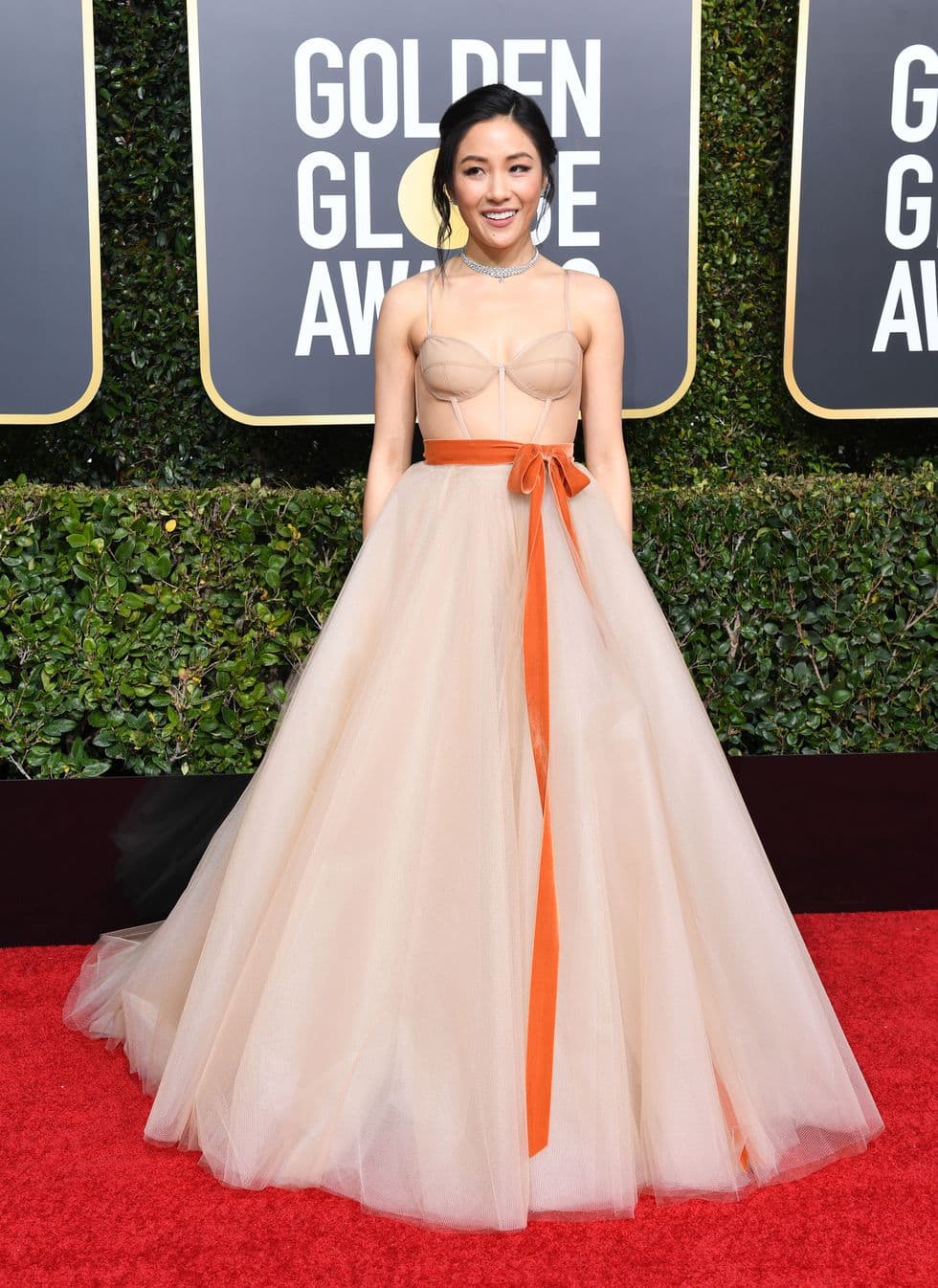 5
Constance Wu
Constance Wu is a vision in this nude custom Vera Wang bustier gown. We love how the pumpkin ribbon adds a burst of warmth to the ethereal beige tulle.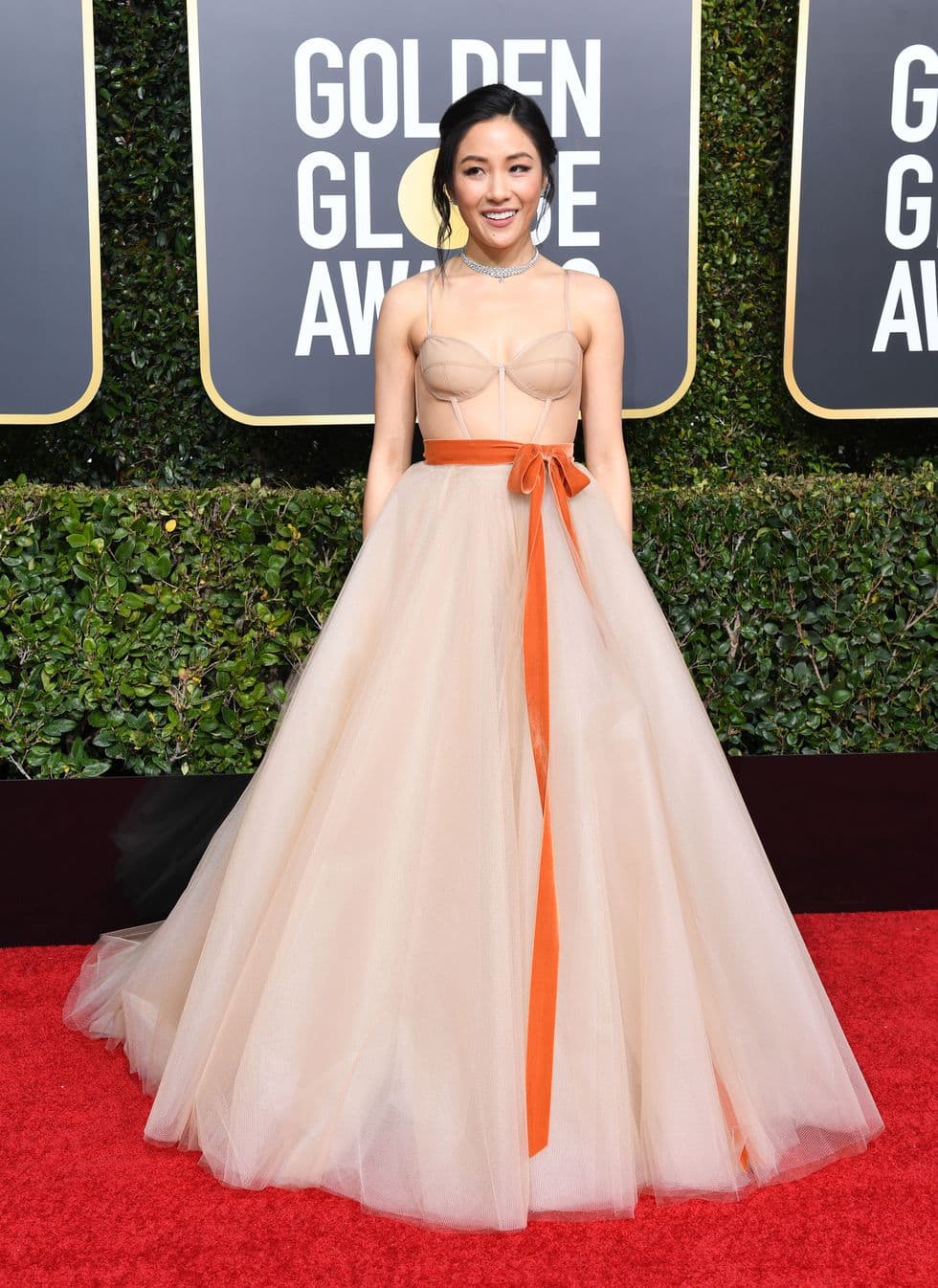 6
Penélope Cruz
Penélope Cruz's black, glittery Ralph & Russo halterneck gown is an exercise in how to wear brocade without looking dated.
7
Luke Evans
Beauty & the Beast star Luke Evans embraces contrast in a white suit jacket that catches the eye with stark black peak lapels.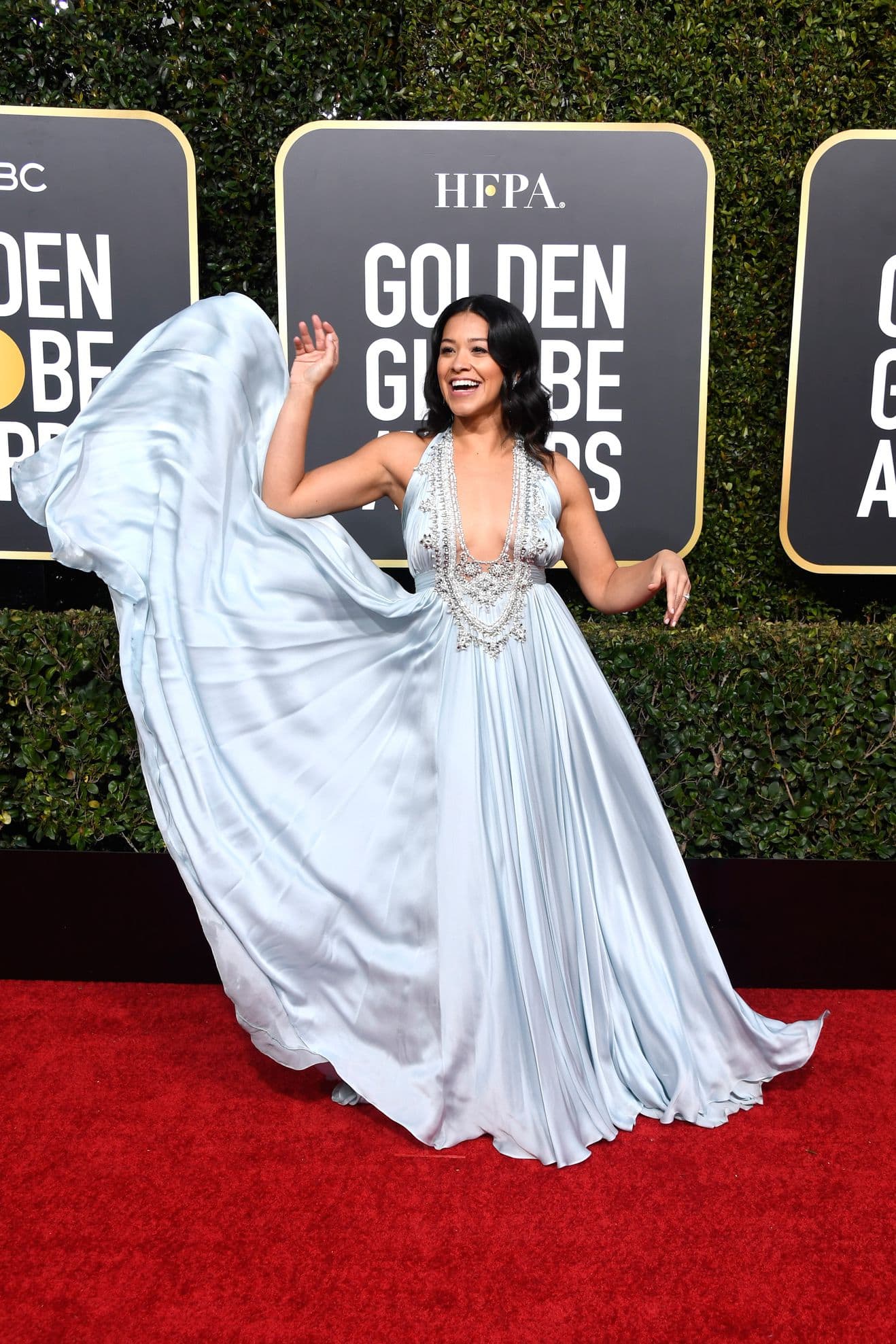 8
Gina Rodriguez
Activist and Jane the Virgin actress Gina Rodriguez's bejewelled Reem Acra dress is so silken, it flows like liquid when she moves. The front may be all beauty, but it's business in the back as Rodriguez stitched "Times Up x2" on the gown to make a proud statement.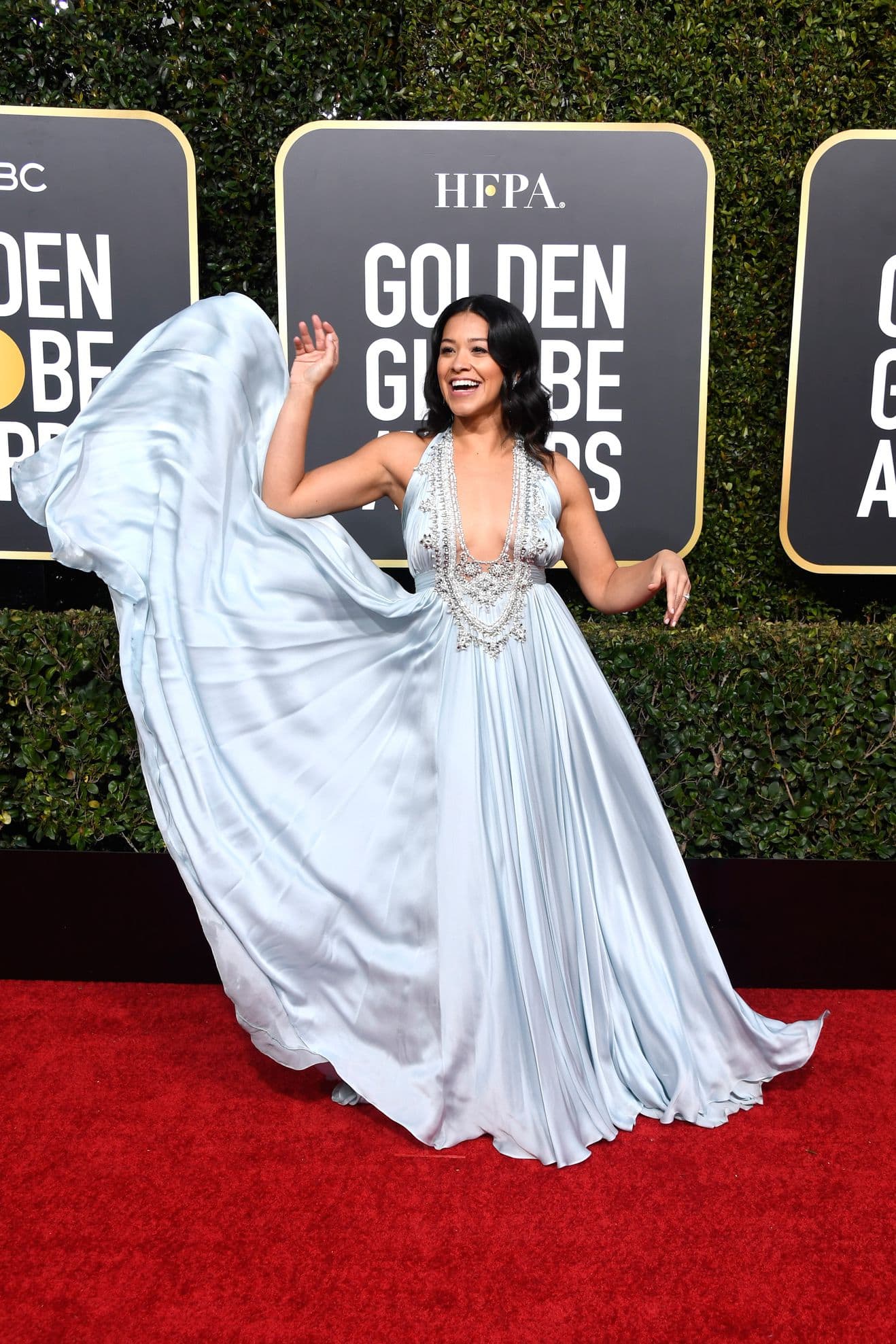 9
Timothée Chalamet
Since Call Me By Your Name catapulted Timothée Chalamet to fame, the actor has also become something of a fashion icon. This Louis Vuitton embroidered harness that accessorises his sharp black mandarin collar shirt and suit pants proves exactly why — he excels at taking risks.
10
Gemma Chan
Crazy Rich Asians breakout star Gemma Chan's petrol blue Valentino couture gown and matching Louboutins form an outfit even Astrid Leong would seethe with envy for.
11
Rosamund Pike
Rosamund Pike's black and metallic Givenchy haute couture outfit combines metallic camp with gothic glamour.
12
Kiki Layne
One of 2018's hottest breakout actress, Kiki Layne, wafts down the red carpet in a dusty pink Dior haute couture gown and glimmering Bulgari jewels.
13
Sabrina Dhowre and Idris Elba
Idris Elba proves that colour and pattern can co-exist on a suit without being an eyesore with his emerald three-piece. Accompanying the Sexiest Man Alive awardee is fiancée Sabrina Dhowe in a charming floral spectacle.
14
Darren Criss
His days on Glee may be far behind, but Darren Criss has lost none of the flamboyance associated with his breakout role, evinced by this flowery Dior suit jacket.
15
Lady Gaga
Lady Gaga channels Cinderella in a sweeping Valentino gown, with powder blue highlights in her hair to match.
16
Emily Blunt
A Quiet Place lead Emily Blunt captures the imagination with this detailed cut-out Alexander McQueen masterpiece.
17
Rami Malek
Rami Maalek's classic Givenchy suit is given an unorthodox touch with a white bowtie, proving that the leading man is ever the dashing style icon we remember him to be.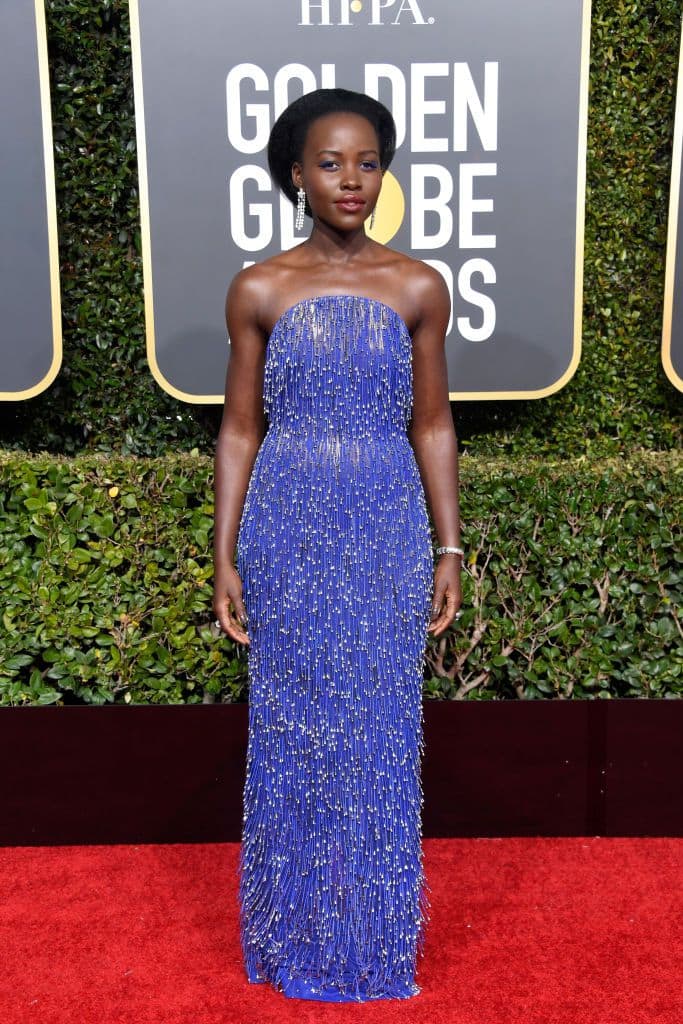 18
Luptia Nyong'o
Lupita Nyong'o tasselled Calvin Klein by Appointment dress is an ultramarine fantasy that proves details make all the difference.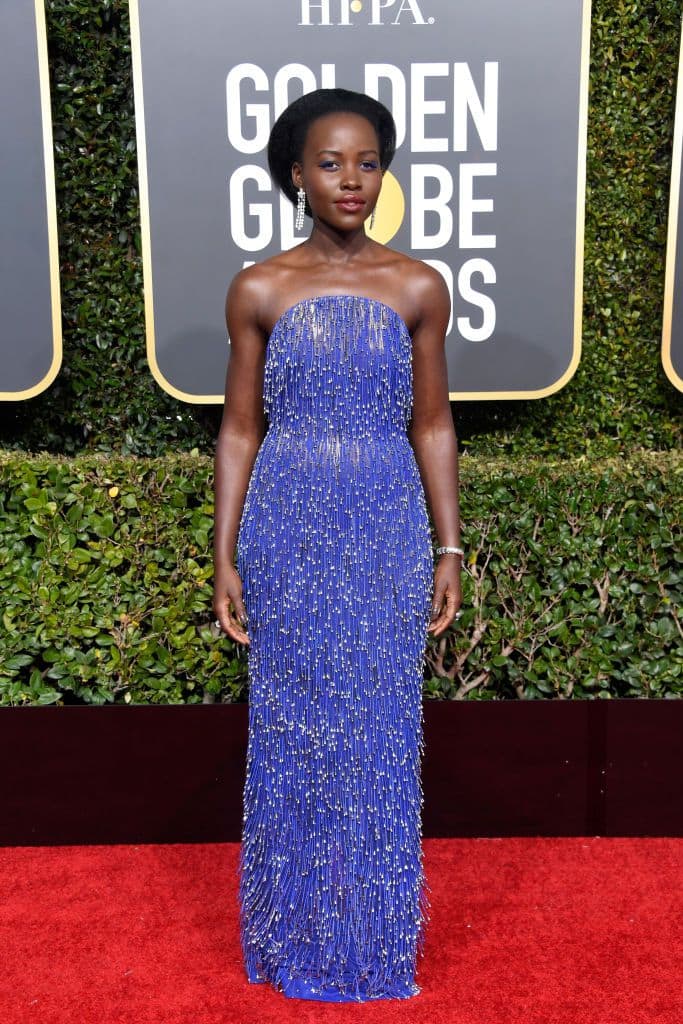 19
Halle Berry
Halle Berry showcases her enviable figure in a maroon Zuhair Murad dress with lace panels that wrap around her firm frame.
20
Jameela Jamil
The Good Place actress and outspoken female rights activist Jameela Jamil is an alluring sight in her coral Monique Lhuillier gown embroidered with floral accents, but what really wow-ed was the fact that she had a pair of jeans on under the dress throughout the ceremony to fight the cold, because comfort first, obviously.