This year has given brands the opportunity to go against the grain and reimagine their fashion shows.
Some have tried TikTok, others have tried virtual fashion shows. Gucci has proposed GucciFest — a fashion film festival that unveiled the Italian brand's Spring/Summer 2021 collection.
Creative director Alessandro Michele has always taken an unconventional approach when it comes to fashion shows; earlier this year, he staged Gucci's Fall/Winter 2020 show on a carousel, allowing guests to watch as models were fitted into their outfits. The backstage became the front stage. A similar effect was achieved when Michele revealed the Cruise 2021 collection, "Epilogue", at Milan Digital Fashion Week. He had his team of designers model the looks instead, calling it "a process of role reversal."
At GucciFest, Michele once again opened up the possibilities of the fashion show. The week-long event obviously married the worlds of cinema and fashion, but there was also dance, art, music and poetry to be found across the seven short films. Below, we list everything you need to know about the festival.
Gucci traded the runway for the real world
At the heart of GucciFest is the episodic film, "Ouverture of Something that Never Ended". It takes us through a day in the life of Silvia Calderoni, an Italian actress who is also the perfect model for Gucci's brand of androgyny. We follow Silvia through several quotidian spots in Rome — a café, a post office, a vintage shop — that are made magical through the characters that Silvia encounters. Everyone is "costumed" in Gucci. For the first time, we got to see exactly the type of people that Alessandro Michele envisions when he designs a new collection; more often than not, they're dreamers like him.
There's a collaborative spirit to GucciFest
Ouverture was Michele's idea, but the Gucci designer tapped on American filmmaker Gus Van Sant to realise his vision. "We chose each other for the affinity of our gaze, for the care we both take in creating inclusive narrations," shared Michele.
Van Sant, who is known for films like My Own Private Idaho and Good Will Hunting, got cinematographer Christopher Doyle on board, which is why every frame in the Ouverture series looks as poetic as a Wong Kar-Wai film. Sonic Youth's Kim Gordon did the music, while frequent Gucci collaborator Harmony Korine shot the mini music video that appears in one of the clips.
But what's even more impressive than all those big names is that Gucci's hive of creatives extended to other fashion designers: Mowalola, Bianca Saunders, Collina Strada, Yueqi Qi, and a host of other emerging talents each showcased their own collections throughout the festival. "We are the stories we tell ourselves, in the end," explained Michele. "That is why I decided to let them dance on a big stage, all together."
Alessandro Michele revived looks from his first Gucci collection
Remember when "pussy bow blouses" and "fur loafers" first entered your vocabulary, and later, your wardrobe? We had Michele's Gucci debut from all of five years ago to thank. The designer shook the fashion world with the unabashedly romantic and slightly off-beat collection he showed for Fall/Winter 2015, from which several pieces soon became bestsellers.
A handful of them, including the floral print silk plissé dresses and pleated leather skirts, have been reissued for the Ouverture collection — seemingly nodding to the larger, sustainability-driven trend of fashion embracing the old. According to Michele, though, the decision to bring them back stemmed from the enduring beauty of the clothes alone: "Time is not relevant. It doesn't exist when I go back to the flower print red dress or the pussy bow. It's still beautiful. What I did then is still powerful."
The star piece is a pink varsity tee — worn by Harry Styles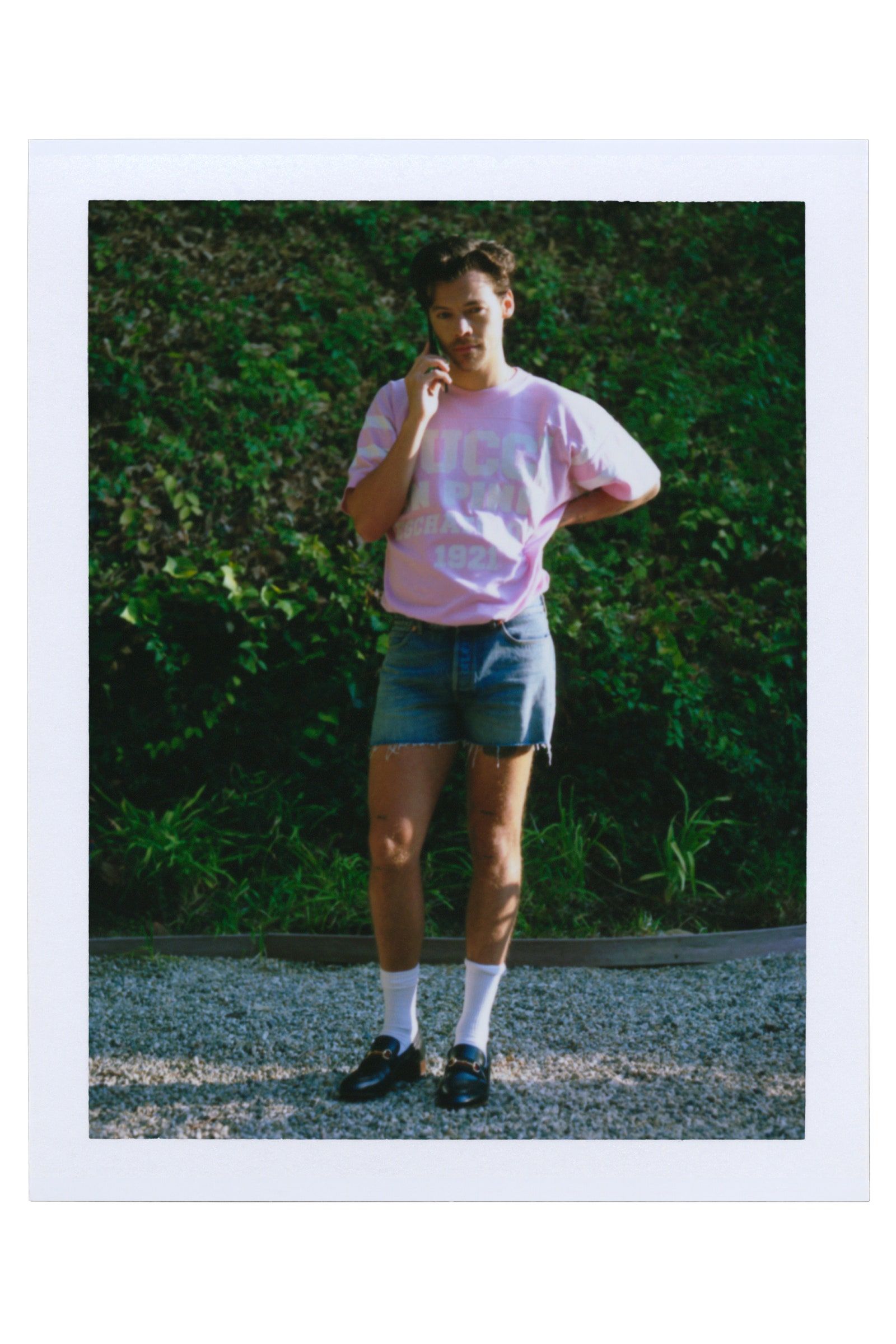 Few male celebrities can cause as much commotion with their clothing as Harry Styles. Earlier this month, the English singer wore a Gucci gown for his new Vogue cover. At GucciFest, he followed up with an appearance in an Ouverture episode, sporting a baby pink varsity jersey and denim shorts. Another look, another talking point.
The latter outfit encourages a more philosophical discussion; Styles' shirt, like several pieces from Gucci's new collection, was labelled with the word "Eschatology", a theological concept that focuses on the end of the world. Maybe Alessandro Michele isn't as optimistic as his vibrant designs may suggest. Maybe he's poking fun at the fatalistic attitude that we have adopted since the start of the pandemic. One thing's for sure: from the star power of Harry Styles alone, you'll soon see that pink tee everywhere.
Billie Eilish debuted a new music video at GucciFest
Earlier this month, Billie Eilish offered up her new single, "Therefore I Am", by way of a DIY music video that showed her running around an empty mall. If that felt underwhelming, the pop star made up for it with her cameo in Ouverture. This time, she appeared in a Harmony Korine-directed music video set in her home in Los Angeles. Her co-stars were a pack of Boston Dynamics robot "dogs", the same uncanny machines that are now patrolling parks in Singapore.
There were other musicians to behold at GucciFest: English songstress Florence Welch shared her poetry in one of the films, while Chinese singer Lu Han dances with a red dress (also a F/W 2015 piece) in another.
Header photo credit: Gucci