Balmain opened Paris Fashion Week with shoulders.
You couldn't miss them: they were pointed, protruding, and peaking high atop the torsos of almost every model at the show. They were dramatic. Daring. These were the kind of shoulders that would have made a Fame-era Lady Gaga swoon. And they continued their reign long after creative director Olivier Rousteing took his bow.
Those statement shoulders were supersized at the Rick Owens show ("an exaggerated middle finger to doom," described the designer). Then they were sharpened for the embossed leather capelets that Matthew M. Williams presented at his Givenchy debut.
But it's not just a Paris thing: we spied a peek of them at Silvia Venturini Fendi's swansong show in Milan. Even before Spring/Summer 2021, Balenciaga's Demna Gvasalia has spent seasons experimenting with those pagoda shoulders, as they're called.
Yet, for all their perceived newness, the strong silhouette houses a history that takes us back almost half a century — and, surprisingly, to China.
Pierre's powerful shoulders, made in China
In 1978, Pierre Cardin had two obsessions: the future and China. The Italian-born, French-based couturier had already spelled out the former in the two decades following the launch of his fashion brand. He was eager to dress the men and women of the Space Age, offering his exciting, sci-fi take on fashion.
Cardin couldn't go to space, but he satisfied his love for travel with a trip to China. He climbed the Great Wall, strode through the streets of Beijing, and fell in love with Chinese architecture and attire. The Land of the Red Dragon would heavily inspire Cardin's collections, especially the five that he showcased in the country in 1979 — making him the first Western designer to do so.
It was then that the pagoda shoulders first took shape. Referring to the cornices of Chinese towers, Cardin invented a new shoulder silhouette that dipped from the collar along the shoulder line, before ascending several inches from the edge. The line of the pagoda shoulders reflected their success: they were soon adopted by tailors as a signature style, especially in suits made for men without the physique of a bodybuilder. Cardin himself wore his extravagant shoulders proudly over the next decade — the excessive '80s.
Transforming into a Balmain symbol
Of course, we know what came next: '90s minimalism, with its simple silhouettes and stripped-back aesthetic. The stiff, pagoda shoulders were replaced with relaxed, regular shoulders, and we wouldn't see much of them again until Christophe Decarnin took the reins at Balmain in 2005.
The designer shook up the French house with a look for the new Balmain girl: one inspired by rock, glamour and excess, the same excess that ruled the '80s. Decarnin created a new Balmain signature in the form of the military jacket, blinged out with Swarovski crystals and emboldened with pointed, "tennis-ball" shoulders.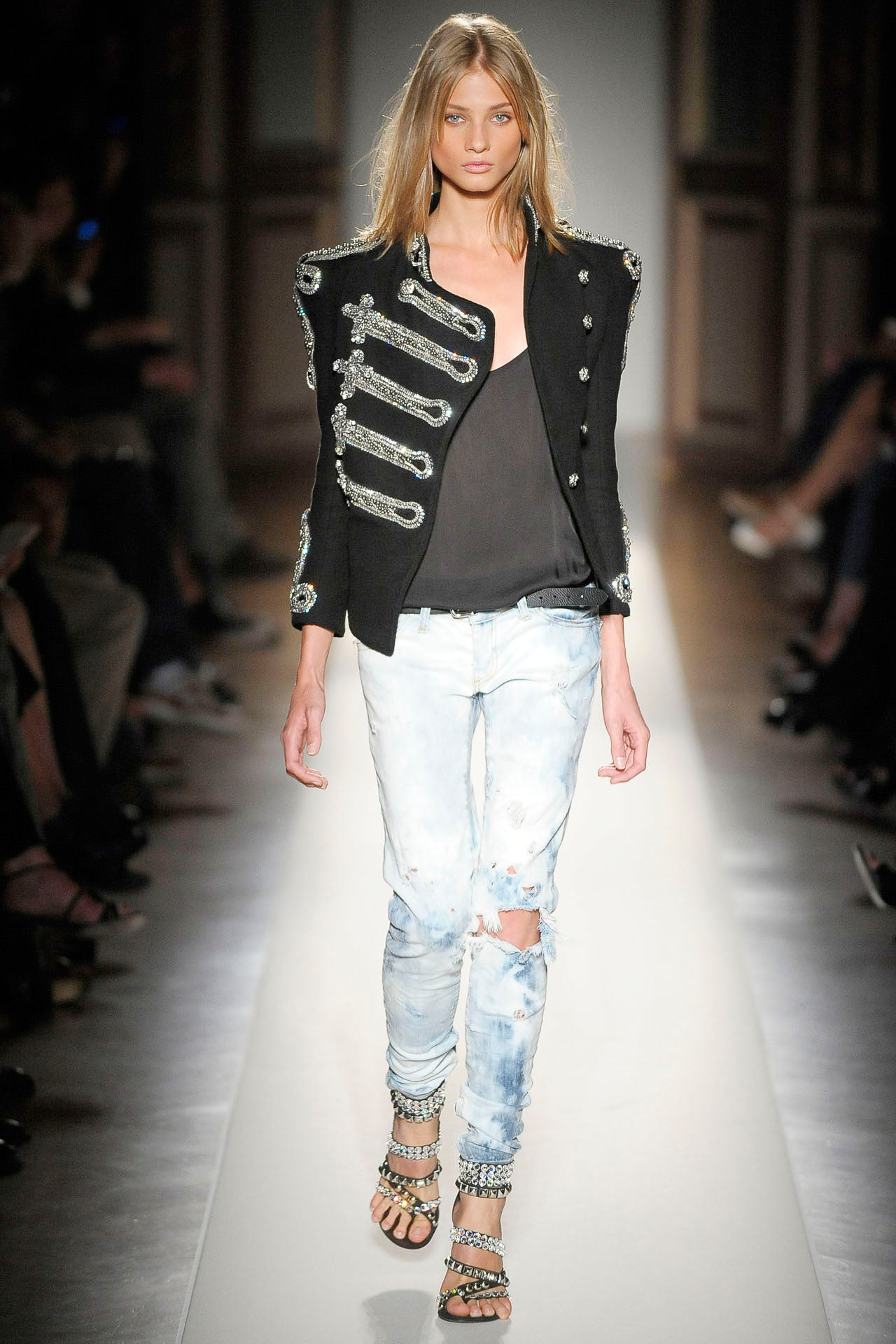 The rule, as in Cardin's heyday, was the bigger, the better. And it worked. Balmain's jackets, priced around USD$15,000 (S$20,385) a piece, kept selling out. They found famous fans in Beyoncé, Rihanna and, of course, Lady Gaga.
Decarnin did his take on the pagoda shoulders to death, right up to his exit from Balmain in 2011. Yet the house codes he established has spilled through into Olivier Rousteing's tenure — most obviously in the latter's latest collection.
Becoming the perfect statement for the Zoom era
When asked about his choice to bring back Balmain's pagoda shoulders, Rousteing shared: "My lockdown moment [was] when I realised we all dressed not head-to-toe but head-to-waist. Half of my team was dressed like that, and then jogging pants… The architecture of the jacket was important to bring back."
He has a point. In more ways than one, the pandemic has turned the world upside-down. Before, fashion focused so much on footwear. The must-have products, save for handbags, were often limited-edition, designer sneakers, sandals or slides. But now, fashion fans around the world have few occasions to dress up and show off for — except for that Zoom call.
Perhaps that's why so many designers, like Rousteing, have created collections that emphasise on the waist up for S/S 2021. It's not just for business meetings. From awards shows to panel discussions, the world is slowly shifting towards a new mode of communication that encourages us to put our best face forward. We want to appear dressed to the nines, at least in front of our laptop screens. What better way to do that than with a pair of powerful shoulders?
Header photo credit: Balmain