While other brands at Men's Fashion Week proposed clothes for The New Normal, Virgil Abloh used his Louis Vuitton show to question what normal even is.
Think, for example, about what a child might aspire to be. An artist, a designer, a writer, an architect — all relatively conventional roles in society. Now think of what they look like in your head. Probably male, probably white.
"Our collective view of those characters is still connected to archaic attributes of race, gender and sexuality," suggests the notes that accompanied Abloh's latest menswear collection. "Until we alter [our view of] normal, normality remains a privilege afforded to the few."
Consider Louis Vuitton's Fall/Winter 2021 film as one such attempt to change our minds. The stunning film, directed by Wu Tsang, showed us a reimagining of those aforementioned archetypes.
Abloh played around with menswear codes — the cowboy hat, the suit, the military jacket, the trench coat — to create new uniforms that could be worn by anyone, regardless of their genetic make-up. (A wardrobe for a New, New Normal, if you will.)
In other words, the new Louis Vuitton collection has something for everyone. Below, we spotlight 10 pieces from the runway that will likely appeal to the masses — just like almost everything Abloh designs.
Silver Monogram PVC briefcase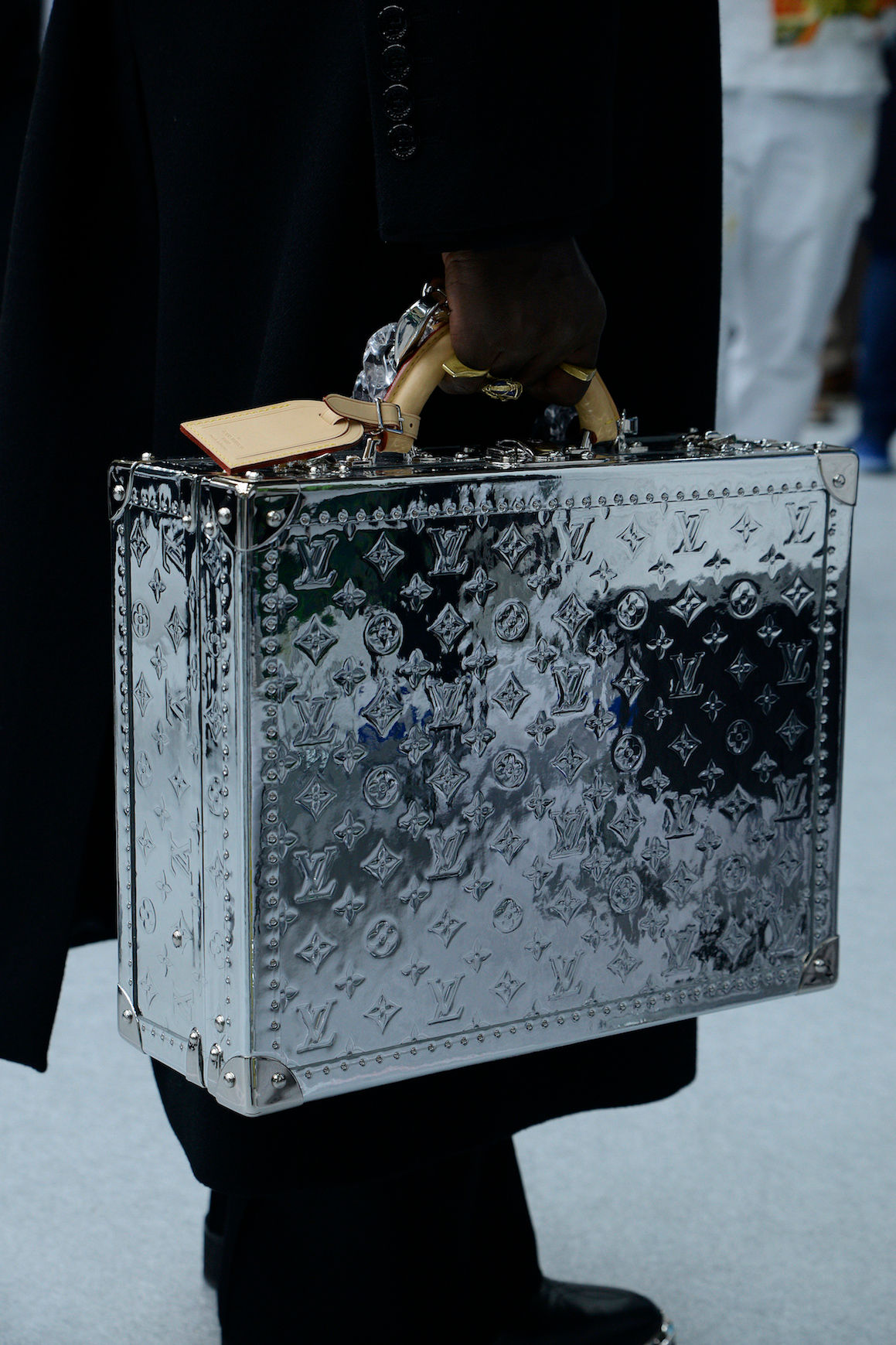 This bag was the star of Louis Vuitton's fashion film, appearing in both the opening and closing looks. The briefcase is traditionally associated with bankers, but Abloh liberates the staid accessory from stereotypes with his signature use of reflective materials. Add this to your collection of Louis Vuitton mirror monogrammed trunks.
The transparent suit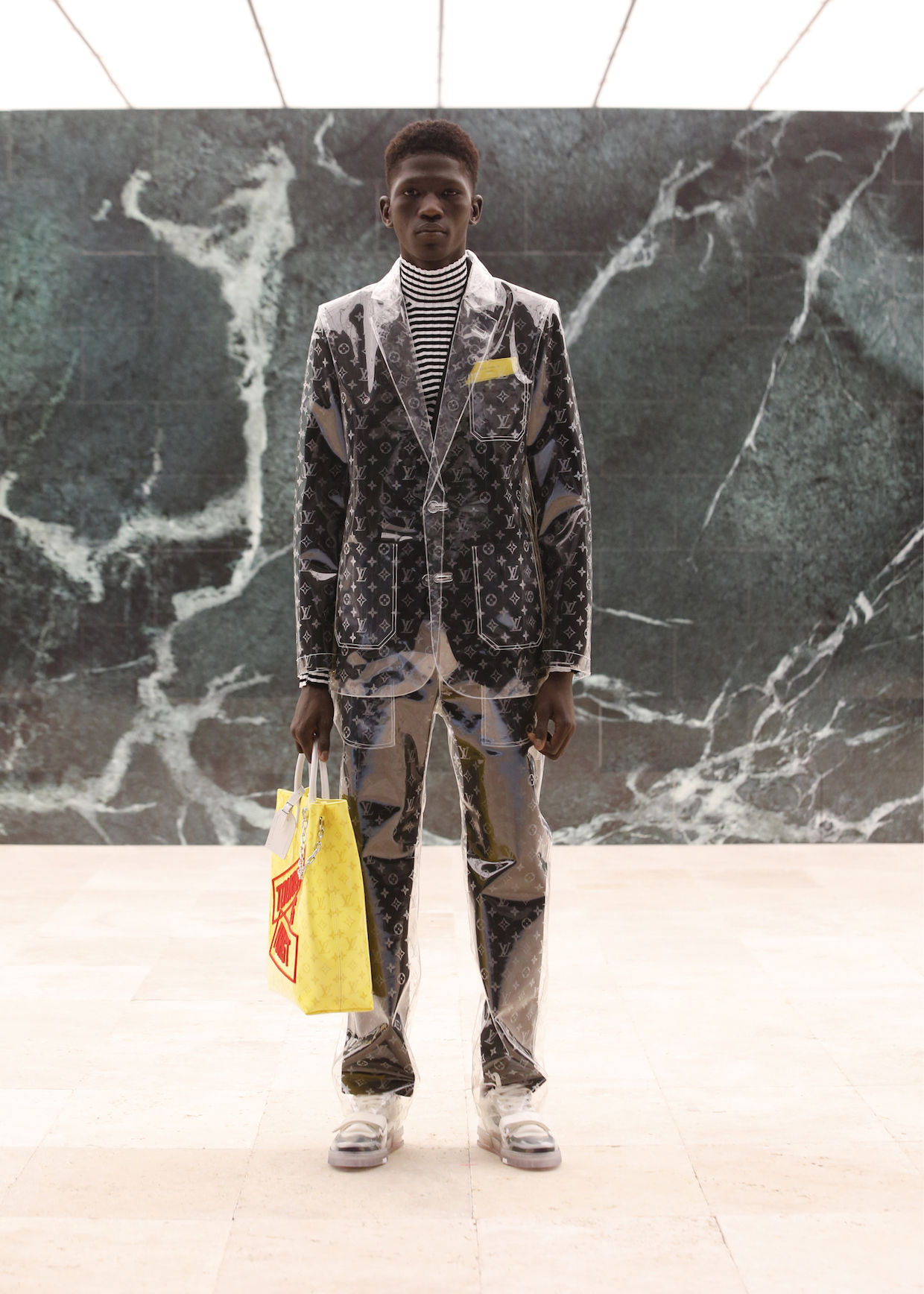 The suit, one of the most important silhouettes in menswear, comes in many different forms in the new Louis Vuitton collection. This one, crafted with PVC leather, is the most ambitious. Sure, it hides nothing, but it will at least keep you covered in the rain.
LV Trainers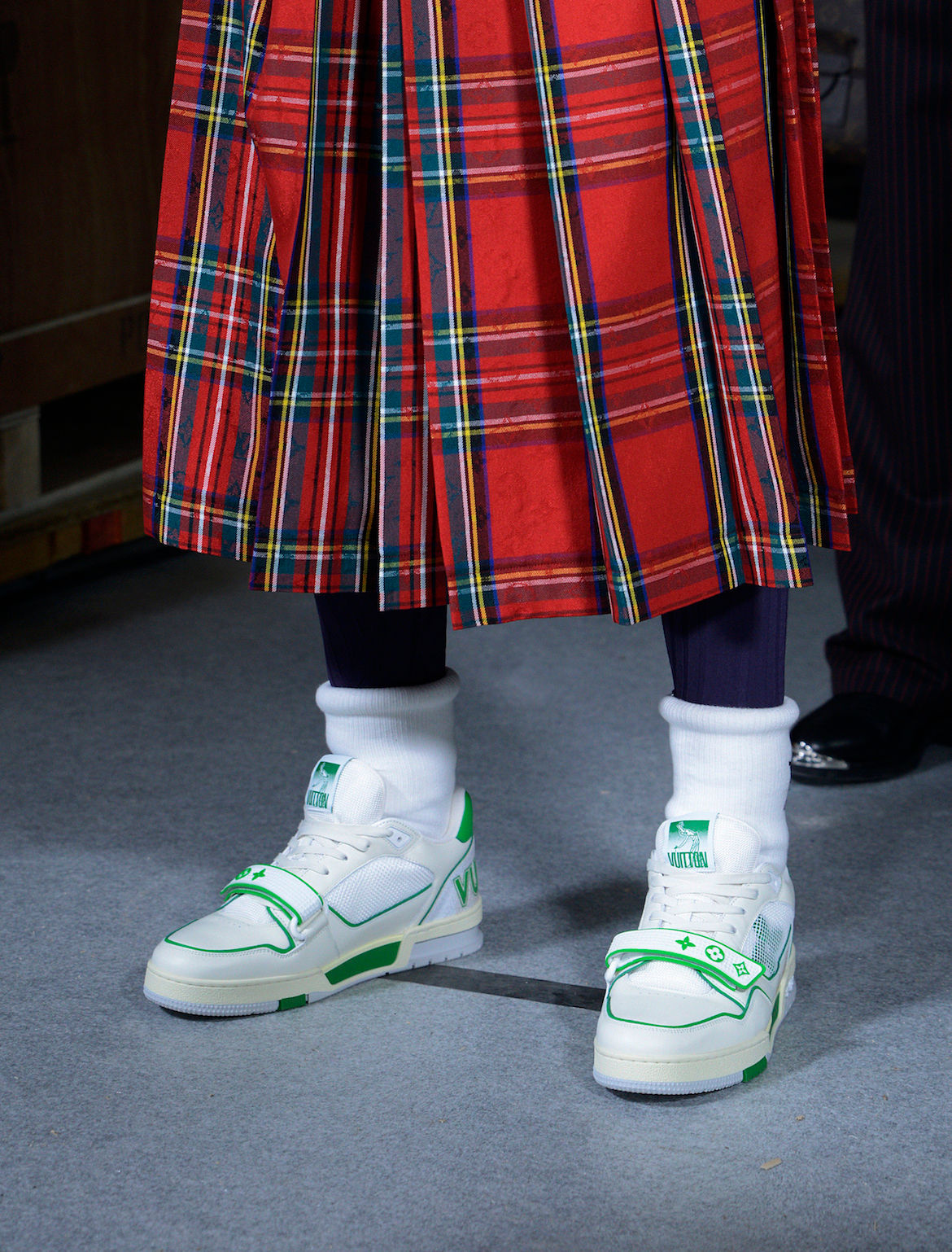 Besides cropped cowboy boots and polished derbies, this season's shoes included a new line of LV Trainers. They mostly came in white with vibrant green, red or purple accents, and featured velcro straps adorned with Louis Vuitton's floral emblems.
The Moto-Suit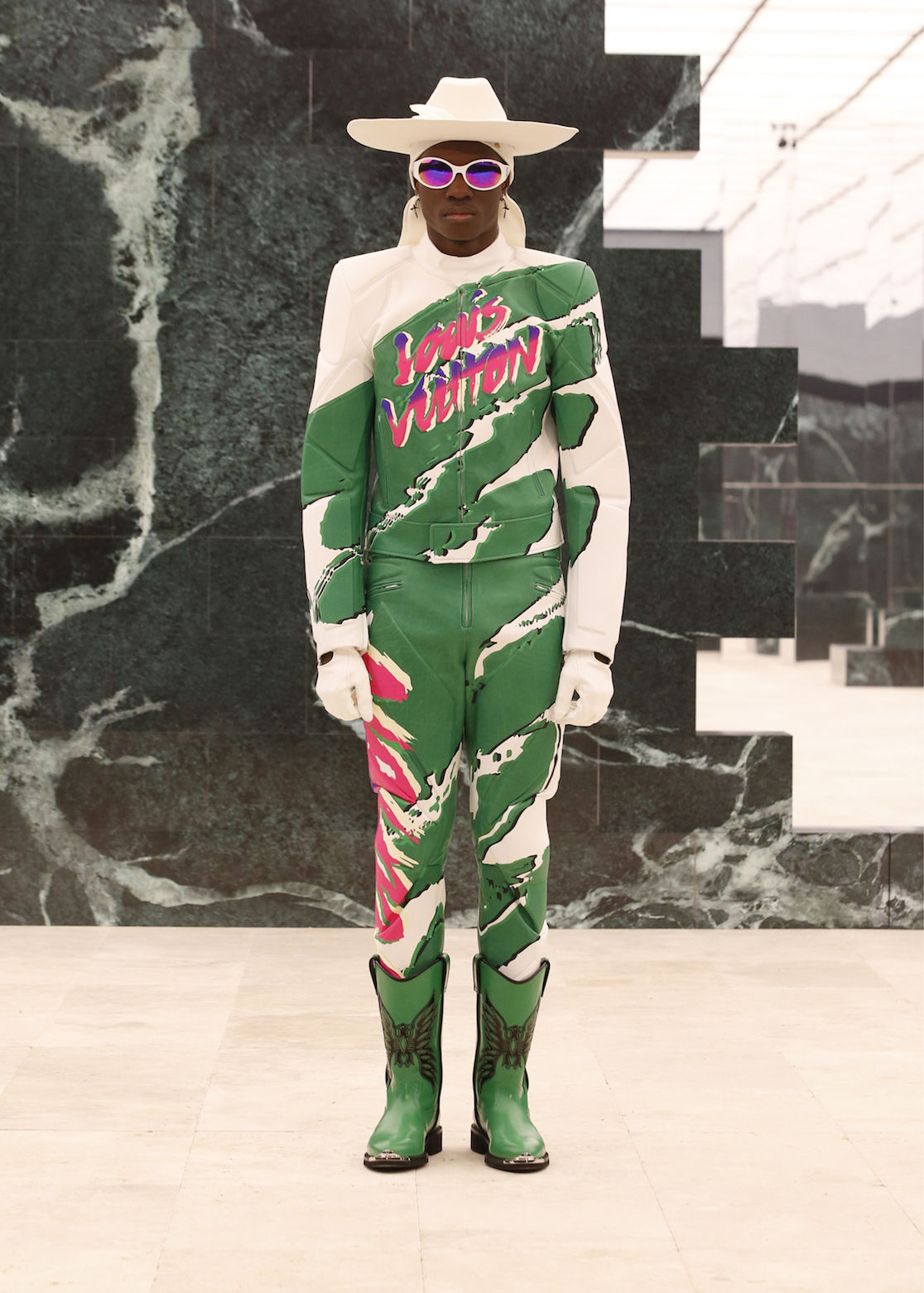 Meet the Moto-Suit, Virgil Abloh's reinterpretation of the iconic biker jacket into an everyday suit. Theoretically speaking, at least. Still, we can see this printed leather ensemble becoming the uniform of someone like Lil Nas X.
Épi Keepall bag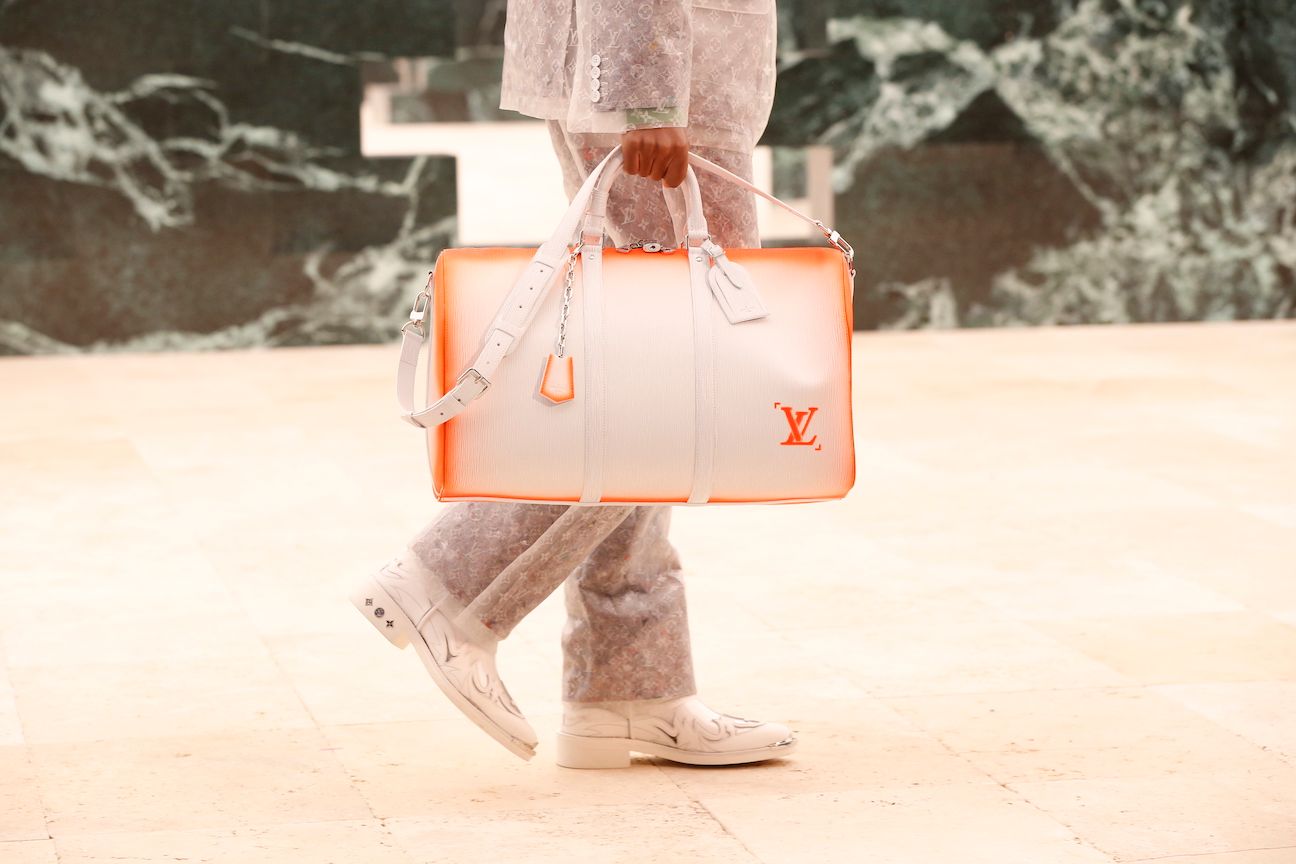 This season, Louis Vuitton's iconic duffel bag comes in white with graffiti-style, fluorescent orange edges and metal chain details. Something to consider packing your stuff in for your next staycation, perhaps?
The marble suit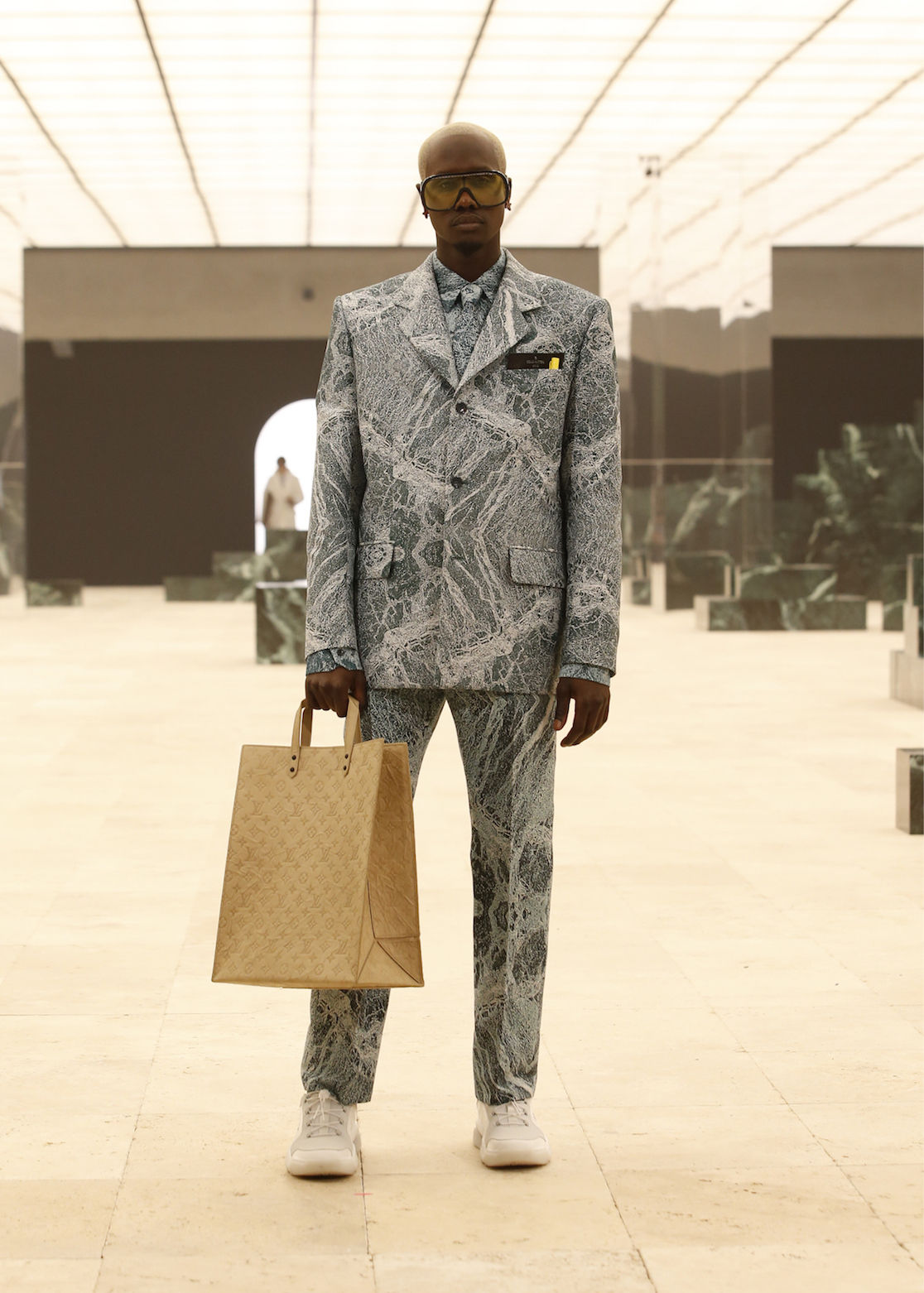 This season, Abloh's tailoring experimentations brings us an array of suits that mimic the complex texture of marble — the same one that is used in the Louis Vuitton show set. Aside from jackets and shirts made of wool, jacquard and silks, the marble effect can be found in matching ties, earrings and sunglasses throughout the collection.
Airplane Keepall bag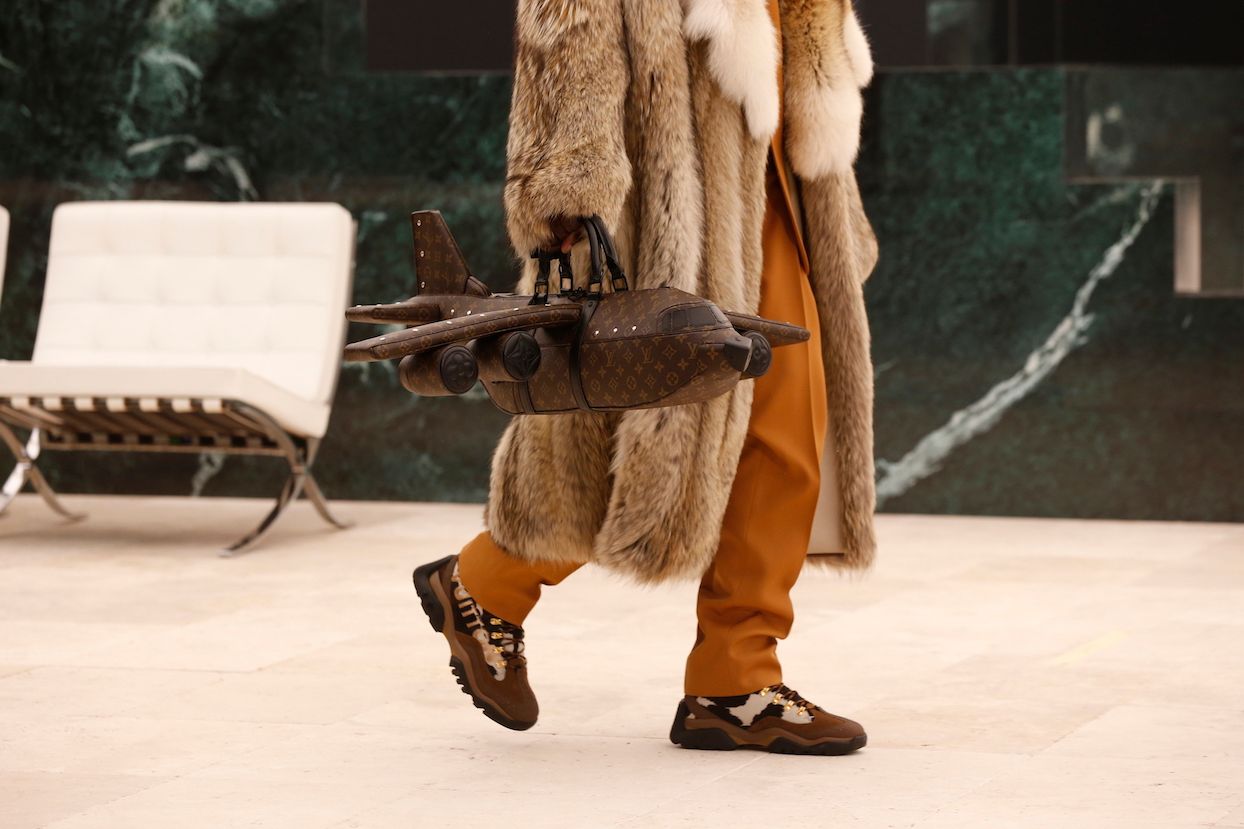 The plane, a symbol of boyhood, travel and imagination, figures heavily in Abloh's latest collection. You'll see it on earrings, suit buttons, or on the front of a jumper, but it comes in its most literal form through this Monogram Ebene leather bag. Do you play with it? Or actually carry stuff with it? Abloh leaves it up to you.
Silk pyjamas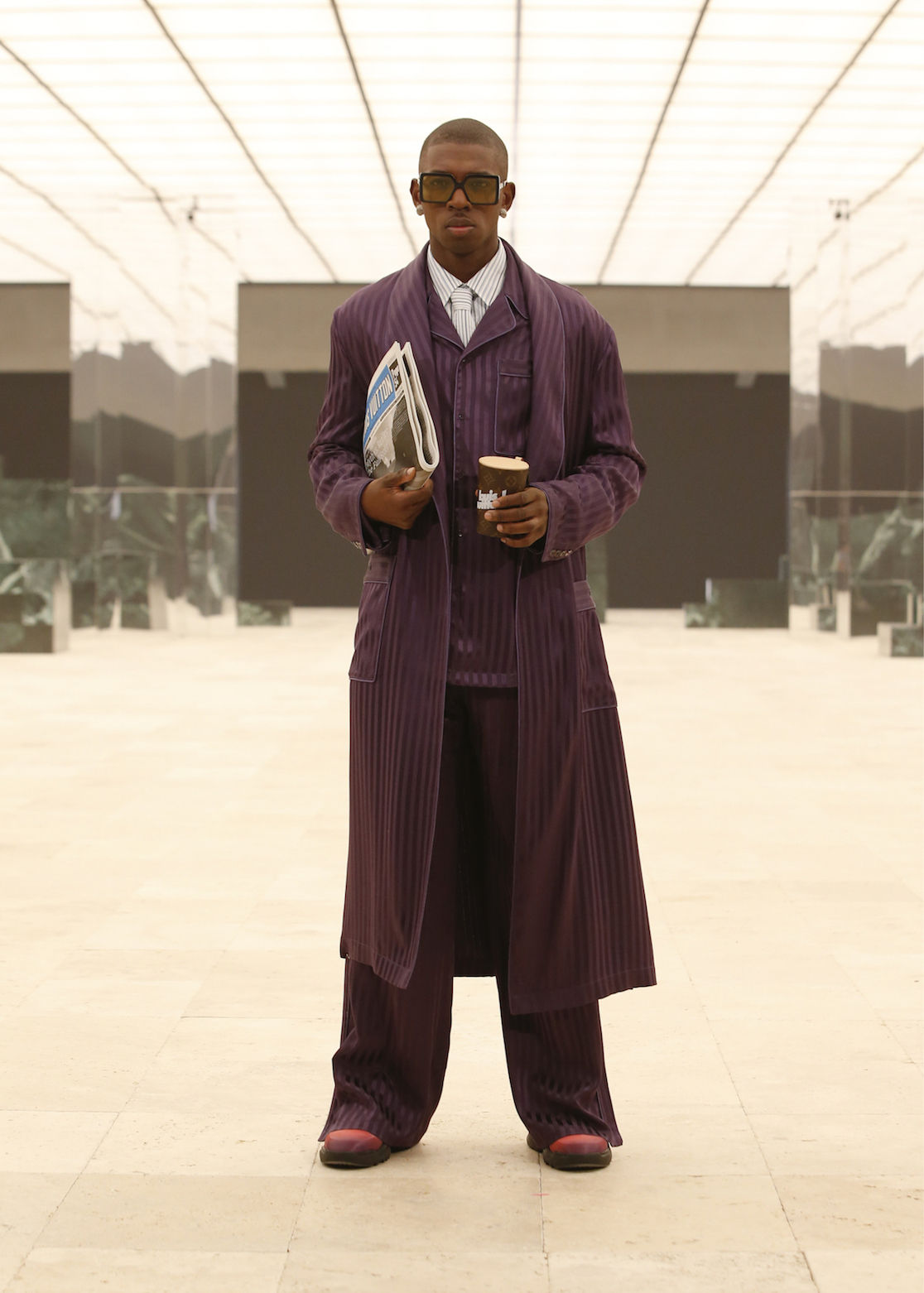 Behold, Louis Vuitton loungewear. This look, comprising a sumptuous purple silk evening robe and matching pyjamas, is as far as the French brand is going with the comfort-first trend that has taken over fashion. That's a shame, because this pyjama set sure seems to promise some sweet dreams.
"Somewhere Somehow" Keepall bag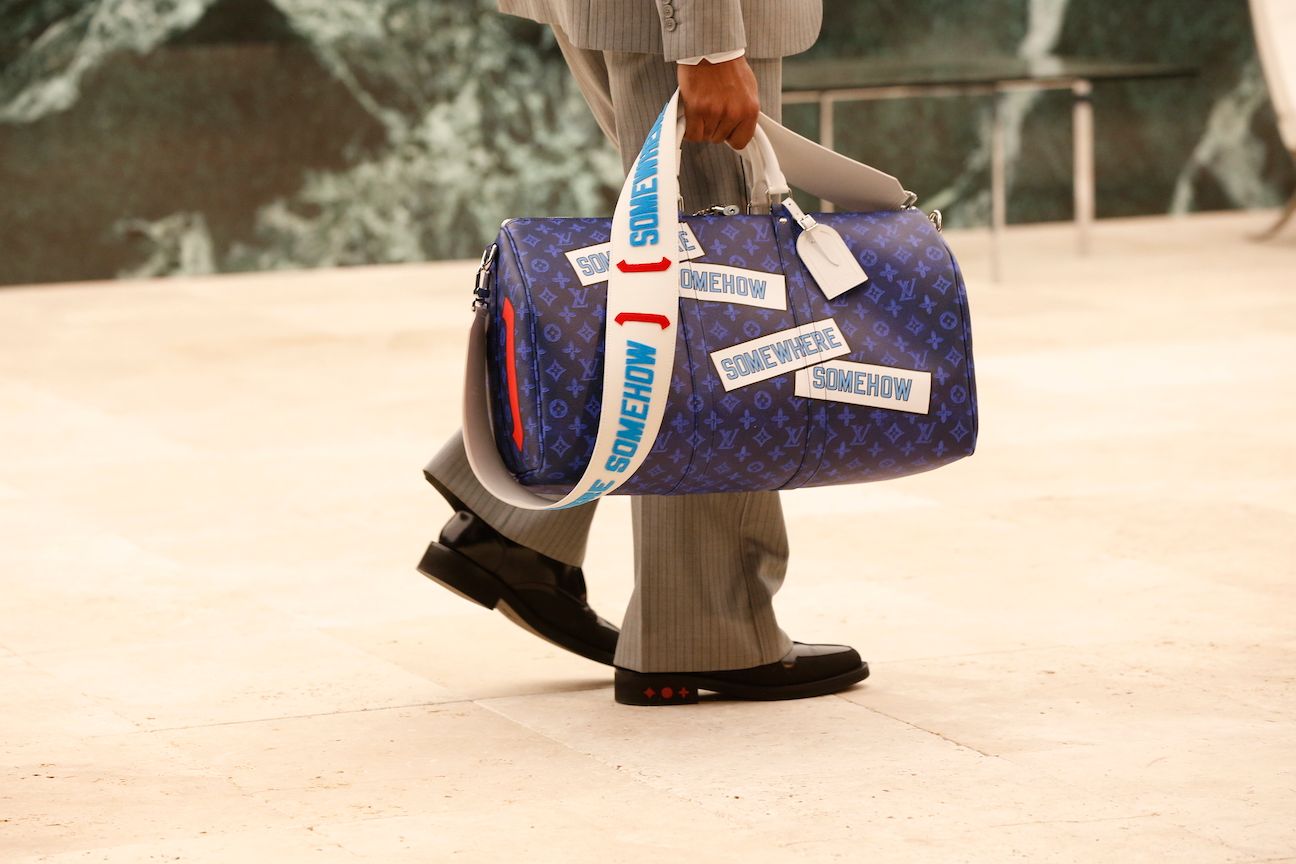 A handful of the collection's accessories feature slogans by Lawrence Weiner, an American conceptual artist that Abloh is a fan of. One such collaborative piece is this Keepall bag, made with Louis Vuitton's vintage Monogram leather in cobalt blue. We think it perfectly captures our present attitude towards travel.
Louis Vuitton Coffee Cup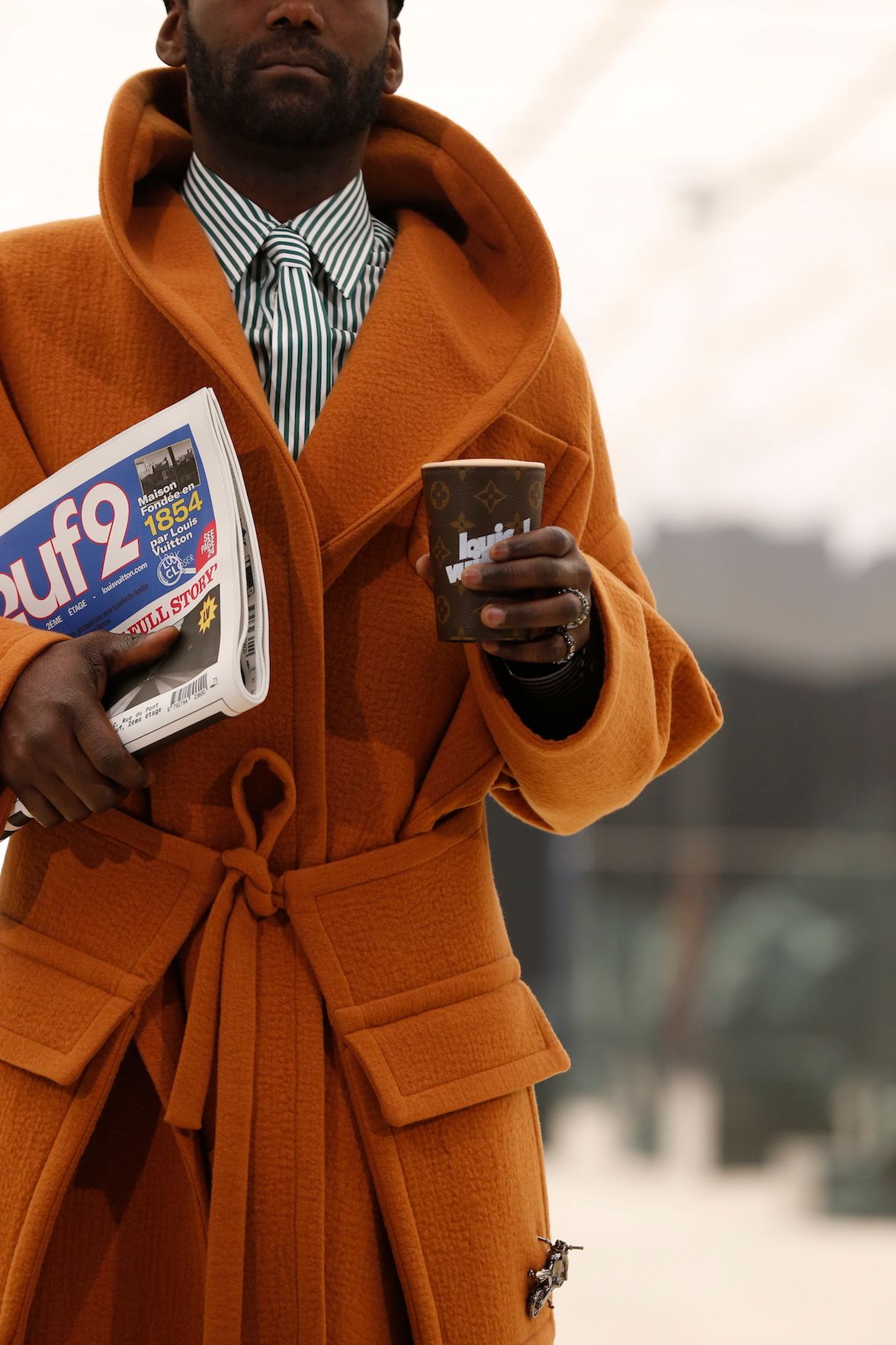 The coffee cup is one of many ordinary, universal (or "un-designed") items that Abloh incorporates in his latest collection. Since it can't be pinned down to any particular culture or artist, Abloh has carte blanche to redesign the coffee cup however he wants (without being called a copycat). He does so with Louis Vuitton's Monogram Ebene leather, turning the everyday item into a cult piece that logomaniacs will thirst over.
Header photo credit: Louis Vuitton