After a hurricane of collections and a visual feast from the men's spring summer 2020 shows, it's time to digest it all. In summary, we've witnessed designers exploring classic spring summer silhouettes but in refreshing new fabrications, the play of lightweight textures and the introduction of translucency.
Our main takeaway? Stylish men who are sniffing out the next fashion statement should get their hands on tailored suits with printed silk shirts or invest in a comfortable pair of sneakers.
Dior Homme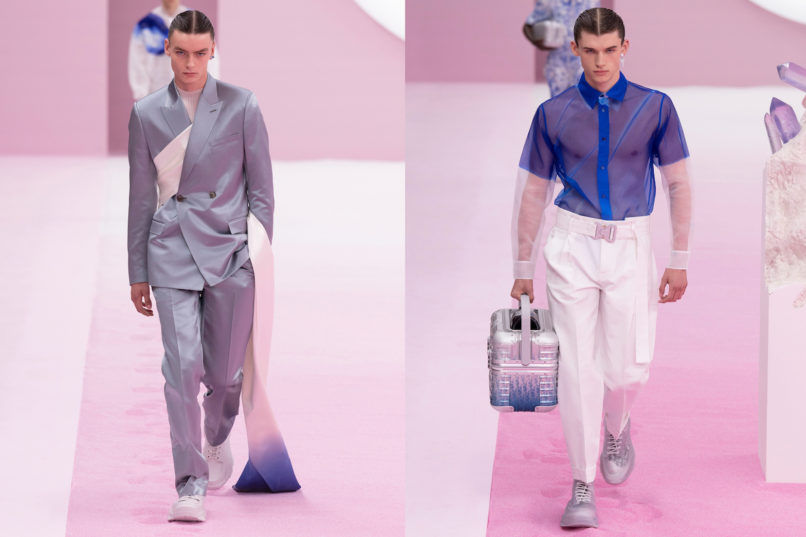 Designer Kim Jones revisits Christian Dior's core elements alongside sculpture and architecture. By this, we mean the construction of clothing and the moulding of garment silhouettes. Dior's spring summer 2020 collection sent models down the runway of pink sand decked out in soft yet sculpted forms, some punctuated with gradient blue, bright pink and orange hues. Dior's collaboration with Rimowa also made its appearance on the runway in gradient hues. The standout piece for us was its signature suit with sash look that is paired with sneakers — a classy yet street luxe combination.
Louis Vuitton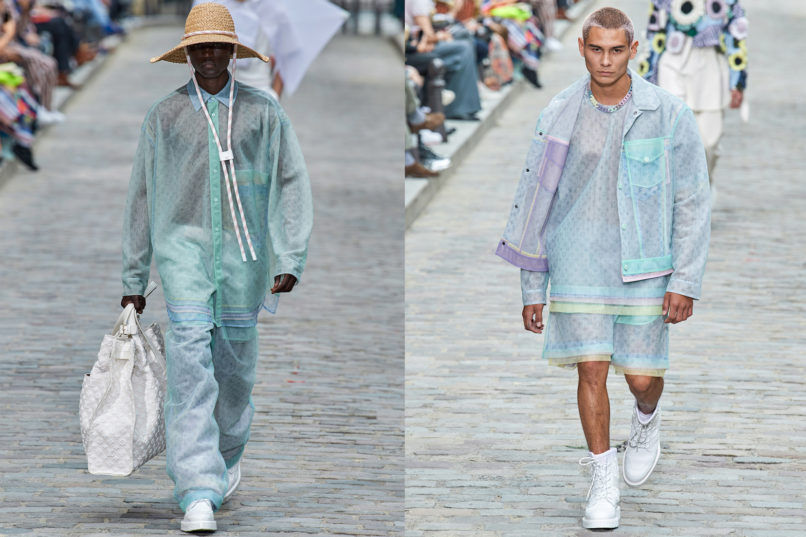 Apart from parachute-like coats, Louis Vuitton's sheer printed pastel looks really put us in the mood for summer. Additionally, the monogram see-through pieces also make a stylish yet refreshing layering option for the fashion-forward individual. With Virgil Abloh at the helm, one can truly only expect the unexpected.
Hermès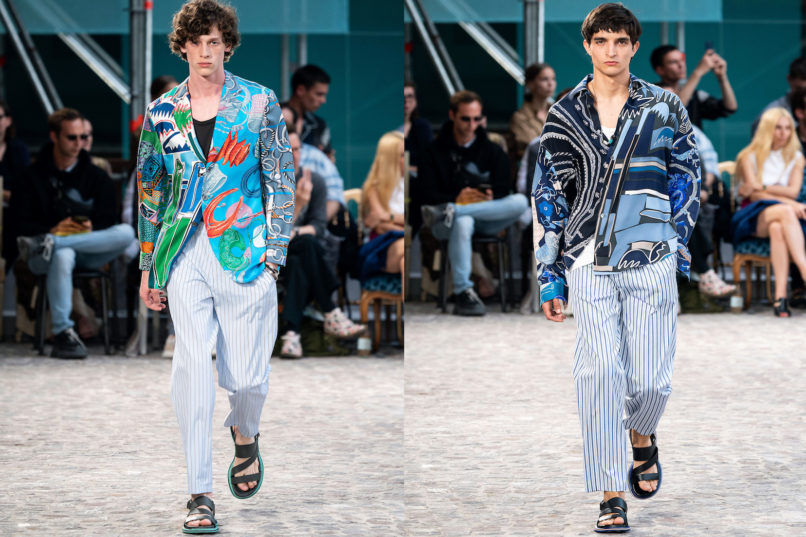 Véronique Nichanian continues to propel the luxury status of Hermès to greater heights this men's spring summer 2020 with a new staple: boxy cut pants in crayon pink, camel and pewter. Though the collection includes classic wearables like shirt jackets and billowy coats, we've got our eyes on those graphic printed pieces with a resort party vibe.
Givenchy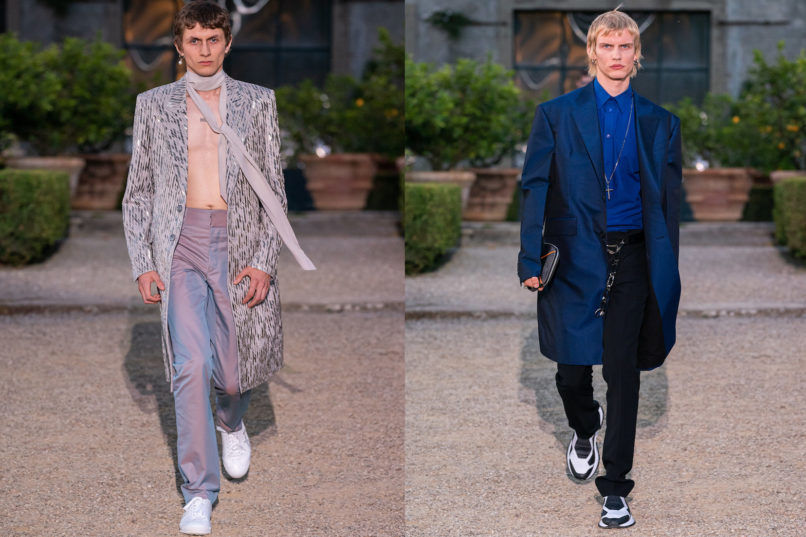 Sneakerheads were caught off guard during the unveiling of the surprise collaboration between Givenchy and Japanese brand Onitsuka Tiger on the runway. Designer Clare Waight Keller gave a modern twist to Onitsuka Tiger's classic Mexico 66 kicks paired alongside with the house's fashionable combos. Her offerings are a version of ultra stylised and effortless cool that is predominantly present in men's fashion in Seoul, South Korea. We walked away dreaming about the androgynous blend of forms and nonchalant dapper looks.
Fendi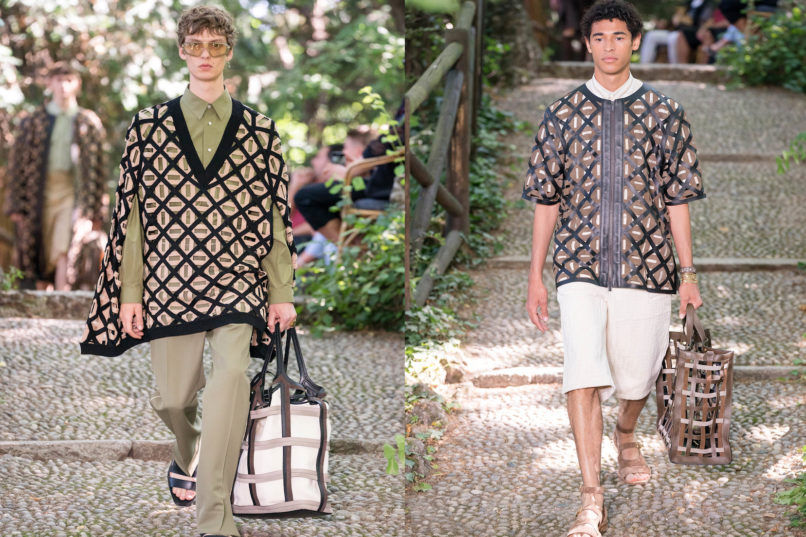 Fendi's men's spring summer 2020 collection placed focus on the introduction of outdoor utilitarian workwear styles in hues of green, earthy tones and khaki. The looks are conceptualised by designer Silvia Venturini and this collection's collaborator, film director Luca Guadagnino. Interlaced weaves inspired by a sketch that Guadagnino did during his childhood years in Ethiopia feature strongly across the collection, applied on a couple of Fendi's looks including some knit pieces. The mix is balanced out with a variety of functional garments like utility vests, washed denim separates and clean-cut garments with cargo pockets.
Prada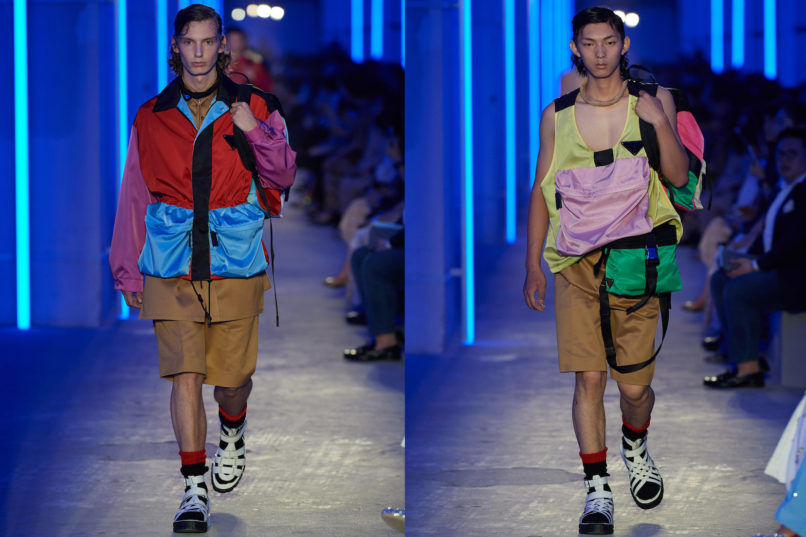 Mrs Miuccia Prada brought the party to Shanghai's Minsheng Art Wharf to showcase her free-spirited sporty menswear looks. The collection celebrates the fun-loving nature of the house with colour block combinations juxtaposed with a number of khaki toned pieces like outerwear and shorts. These playful looks truly inspire a stylish hiking adventure. Wherever these boys are going with their packed Prada nylon bags, we're up for it.
Ermenegildo Zegna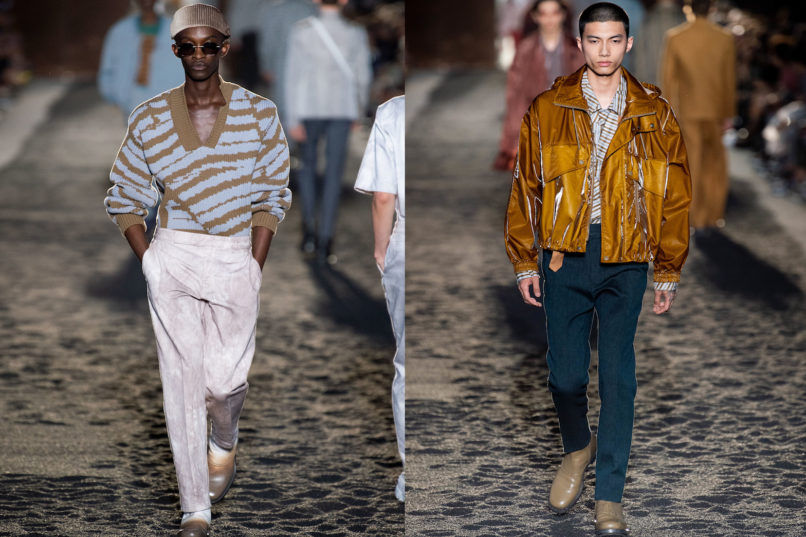 Our style prediction for Ermenegildo Zegna's spring summer menswear collection came true after we caught a hint of the show location, the Falck iron mill. The industrial looking structure got us thinking of lightweight utilitarian pieces, flowy parkas and a couple of statement outerwear looks. Since the season naturally calls for softer fabrication, designer Alessandro Sartori took off from his previously sports inspired collections, kept the athletic details and took the rest into a state of refining.
Yohji Yamamoto
Known for his full black designs, Yohji Yamamoto rarely does print or colour. However when he does, some of his avid collectors are already armed with their credit cards, willing to take that shot. In recent years, especially after his breakthrough collaborative fashion creations with artist Yasuto Sasada in his fall 2014 collection, his coloured looks are rising in demand. That said, his classic dark oversized silhouettes are still a constant throughout his designs. Despite the overdose of dark tones, Yamamoto enjoys toying with the variety of black surfaces in his collections from brushed velvet, suiting fabric to seasoned cotton twills.
Rick Owens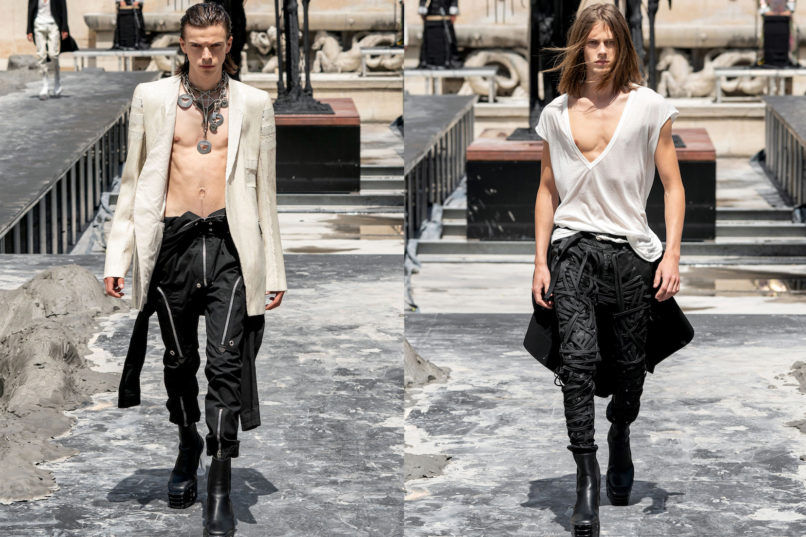 The dark lord of fashion, Rick Owens has summoned an army of men onto the sculpted clay runway dressed in bondage laced pants, structured suits and zippered workwear layers. Interestingly, this season highlighted a couple of boxy outerwear and experimentation with oversized forms — elements that were uncommon since most of Owens's clothing were often slim cut. Through styling, Owens proposed an edgier summer look for men by loosening the control of proportions for tops and to streamlined the silhouette on the bottom.
Thom Browne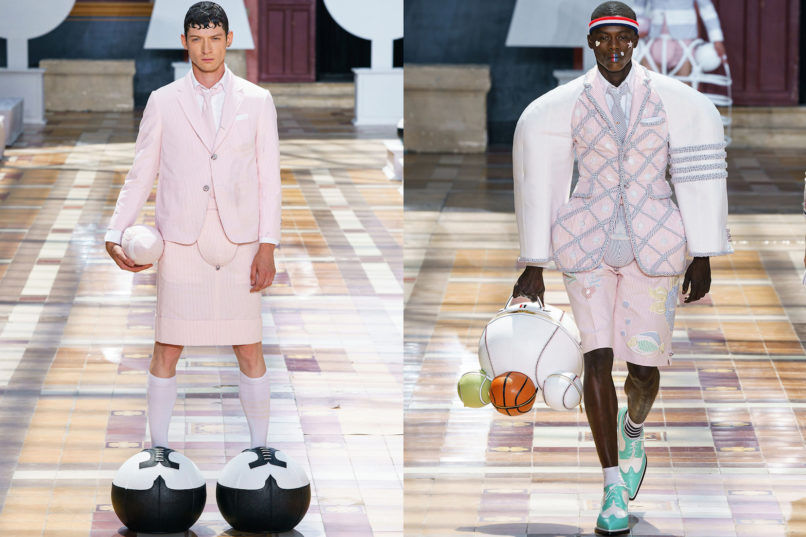 On a lighter note, we're ending our list with the eccentricity presented on the runway of Thom Browne. Though it was often mentioned that sports was an inspiration for the brand, designer Thom Browne's take was to add a whimsical twist to his collection. By doing so, he took his collection from sports court to a comical world of distorted dreams. Also inspired by balls from popular sports, he worked them into fashion items such as shoes and bags. Browne also sent down various unconventional suit looks that mimics the padded silhouette of an ice hockey player in the cotton candy tones of pastel pinks, baby blue and rainbow.