Paris Fashion Week is done and dusted, and with it yet another season comes to a close.
Upon reflection, the Fall/Winter 2020 runway shows didn't provide much in terms of escapism. Instead, it felt like there was a dark cloud hanging over the French city, very much like the ones at Balenciaga, one of several apocalyptic presentations this season. Even Valentino, a typically joyful affair, traded its neon hues from Spring 2020 for a sombre palette of black, navy and grey.
And then there was the Comme des Garçons show. It's telling that Rei Kawakubo, often regarded as a seer of fashion, had to revive her iconic designs from the past for a collection she called "Neo Future". Is there still one left? Rei's contemporary, Yohji Yamamoto, wasn't hopeful in his interview for System Magazine: "People my age have more future than young people."
Regardless of age, what everyone wants is a break from the present. "Humankind cannot bear very much reality," as T.S. Eliot once wrote. Yet faced with its gloomy circumstances as we constantly are, our collective reaction can probably be summed up by the primal scream let loose by North West at her father's Yeezy show. (It's called rapping, look it up.)
And we will gladly take any distraction, be it Kim Kardashian's latex Balmain outfits, Timothée Chalamet's front row sighting at Haider Ackerman, or Michèle Lamy's "bag" in the form of her partner Rick Owens' head. Thankfully, PFW also offered plenty of moments that were a lot more meaningful — and less bizarre. Read on for a list of Paris Fashion Week highlights.
Dior celebrated the power of women
Has Dior reached peak feminism? Not if creative director Maria Grazia Chiuri has anything to say about it. In fact, she had the French brand's latest show space covered with feminist art. On the runway were newspaper-style artworks by Claire Fontaine; from the ceiling hung neon signs of powerful aphorisms by the late Italian art critic, Carla Lonzi. One of them even made it to a slogan T-shirt, now a hallmark of Chiuri's Dior collections. But the most significant of Lonzi's signs was the single word "Consent" — a term properly defined by the #MeToo movement that got Harvey Weinstein convicted, just a day before the Dior show.
Saint Laurent spotlighted this season's biggest trend
Closet freak or not, prepare to have your wardrobe taken over by the most fetishistic of fabrics next fall. Think latex coats, latex skirts and latex dresses — all present at the Saint Laurent show. Creative director Anthony Vaccarello wouldn't call his collection sexy, although that's exactly what it was. It was also classic YSL: see the 1980s power shoulders, the slinky silhouettes that recalled Yves' 1990s designs, or the bold colours that broke Vaccarello's all-black spell since joining the fashion house. But Vaccarello channeled the master couturier the most with his perversion of bourgeoisie style codes — with the help of a lot of rubber.
Margiela introduced an upcycled clothing line
John Galliano takes the state of the environment very seriously. He didn't show it with a flooded runway or a collection for a post-human race. Instead, he did so by launching a new line at Maison Margiela: Recicla. The name means "recycle" in Spanish, but it's also a twist on the brand's Replica line, which reproduced vintage garments sourced from around the world. Galliano's iteration uses those very garments instead, whether as is (the collection's vintage wicker handbags, for example) or creatively reimagined into new garments like coats or dresses, best styled with Tabi pumps.
The Hadids won Paris Fashion Week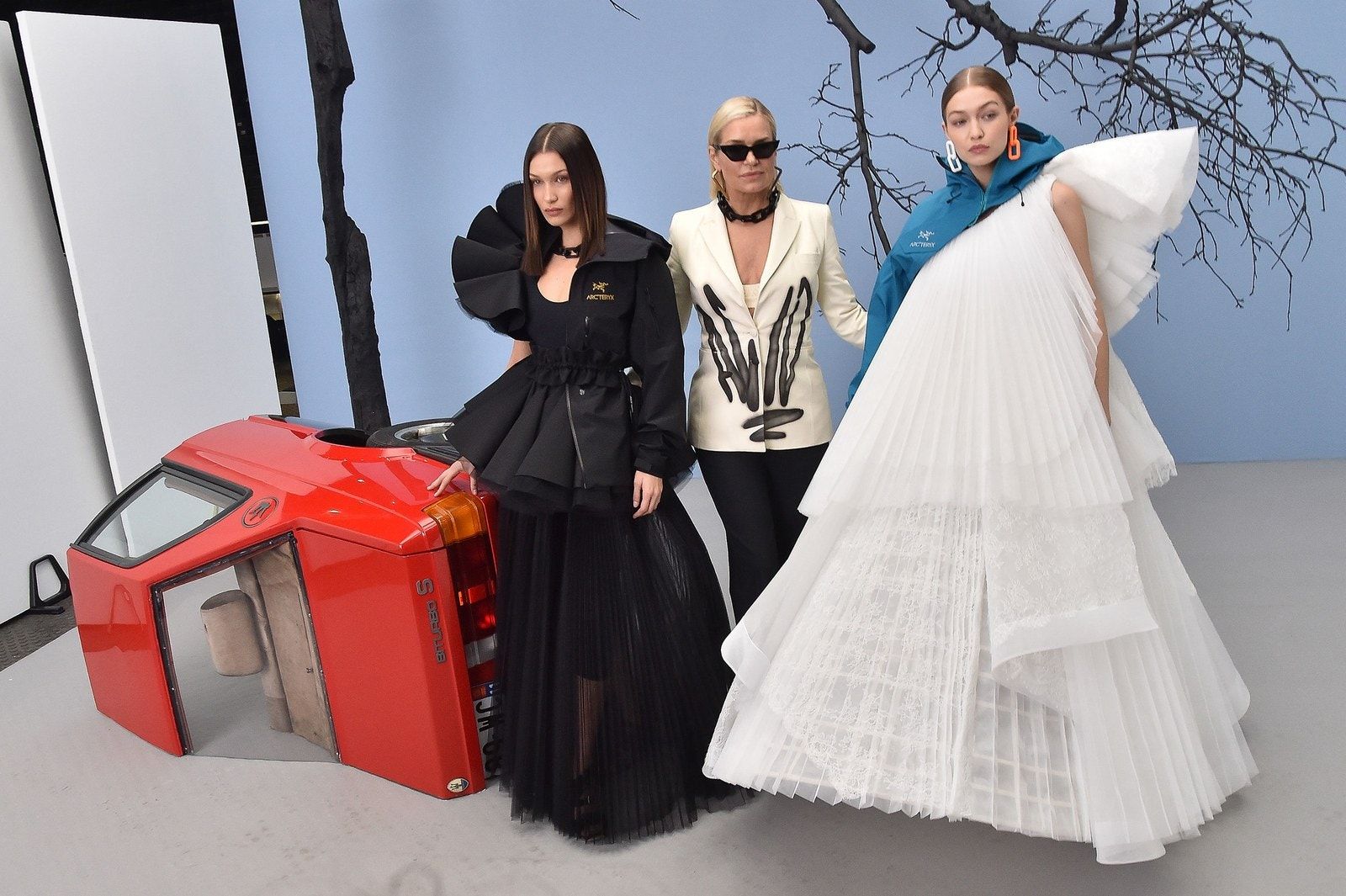 While Bella Hadid stole the Vivienne Westwood show as a knife-wielding bride, and Gigi Hadid closed Chanel (see below), their mother Yolanda Hadid made perhaps the most iconic runway cameo in their family this season. The 56-year-old former model joined her daughters at the Off-White show where she wore a white graffiti blazer, cigarette pants and cat-eye sunglasses. Perhaps this means she's just as chummy with Virgil Abloh as the Hadid siblings?
Gigi Hadid closed the Chanel show with Parisian grace
If you livestreamed Chanel's latest show, you would have spotted Gigi Hadid smiling and walking hand in hand with two fellow models — the image of French nonchalance. Gigi's outfit — a set of bouclé crop top and shorts, Chanel logo tights and pirate boots — was also representative of the rest of the collection, which designer Virginie Viard called an ode to Chanel. If anything, Karl Lagerfeld would have certainly approved of the supermodel cast, which also included Kaia Gerber, Fran Summers and Vittoria Ceretti.
Louis Vuitton brought fashion history to the runway
Time is on everyone's minds these days, but most of all on Nicolas Ghesquière's. He is, after all, the host of this year's Met Gala, titled "About Time". That probably explains why, for his latest Louis Vuitton show, he brought the ghosts of fashion's past to the runway. Technically, they were a vocal choir that complemented the show's soundtrack, but spotlighted and dressed in garbs of centuries past, they looked absolutely ethereal. Their outfits, courtesy of costume designer Milena Canonero, were radically remixed by Ghesquière on the runway, who clashed 19th century couture with 21st century sportswear.