12 years in, and Givenchy without Ricardo Tisci seems like an unfathomable concept. The French maison has been a consistent nucleus of fashion's forwardness in an ever-changing industry. becoming a powerhouse for electrifying runways, edgy apparel, and meticulous construction. Beyond that, Tisci's influence has allowed Givenchy to attain the ideal balance of appeal, gripping sartorially-conscious consumers both young and mature.
In a sudden turn, Tisci announced his departure from Givenchy. His fall menswear and spring couture lines, showcased January 20, were the last he will exhibit under the label. The split was touted to be "mutual and amicable" according to WWD, following the end of his contract on January 31.
There are no replacements in line to take over Tisci as creative director yet, and the house will not be showing at the upcoming Paris Fashion Week in light of the change. Murmurs are intensifying that Tisci will be joining Versace, who admitted earlier this month that they have been pursuing the designer.
Before the dust settles and Tisci's influence becomes divorced from Givenchy entirely, we look back at some of the iconic pieces that'll remain his legacy.
1
2009: Tisci has always turned to cultures and subcultures beyond the West in his collections, and his FW'09 couture line was no exception. Neo-Gothic sensibilities applied to Middle Eastern influences gave birth to a line that solidified Givenchy and Tisci's edginess.
Photo: Getty
2
2010: Givenchy's FW'10 couture line still remains a red carpet favourite today. Characterised by ornate embellishments, sheer fabrics, feathers and delicate embroidery, the intricate line has heavily influenced budding designers like Zuhair Murad and Peter Dundas.
Photo: Getty
3
2011: It would be an injustice to mention the best of Givenchy without harkening back to the Rottweiler print. Appearing on shirts, bags, and countless celebrities, this print, and the other printed Givenchy offerings to follow, re-defined what a designer signature meant in contemporary fashion.
Photo: Getty
4
2012: Four words: massive, ornate septum rings. This was a collection that depicted the mastery Tisci possessed when melding alt aesthetics, non-Western influences and couture workmanship. Tribal-esque jewellery complemented flowing sequinned gowns, cementing this collection as one of Tisci's most ethereal.
Photo: Getty
5
2013: The Madonna graphic print was the controversial successor to the Rottweiler. At this point, Givenchy's cult status with the street-style crowd burgeoned as many rushed to adopt oversized, dress-style T-shirts, kilts and printed jerseys.
Photo: Getty
6
2015: Goth meets the Mexican Day of the Dead with Givenchy's FW'15 menswear collection. Aside from ostentatious suits in Aztec-inspired prints, Tisci also sent models down the runway in skull face paint. The restrained use of colours in this collection also added to the dynamism.
Photo: Getty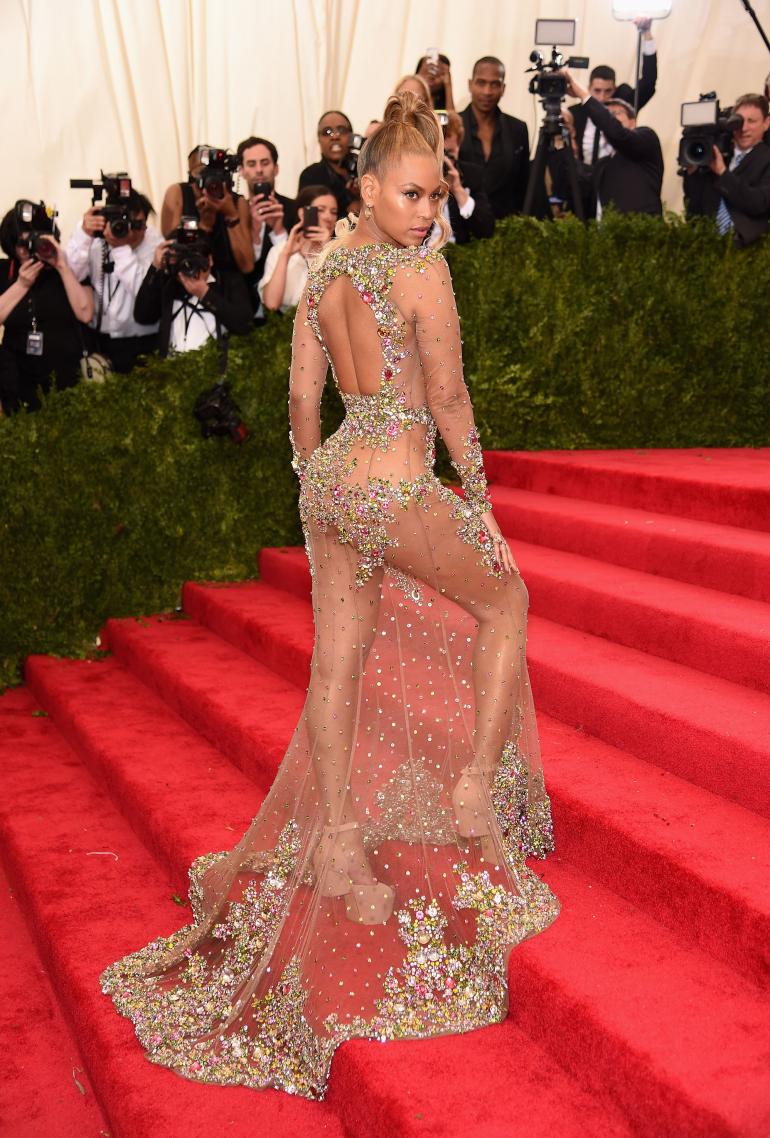 7
2015: Beyonce's flawless body in Givenchy couture was a jaw-dropping moment on the Met Gala 2015 red carpet.
Photo: Getty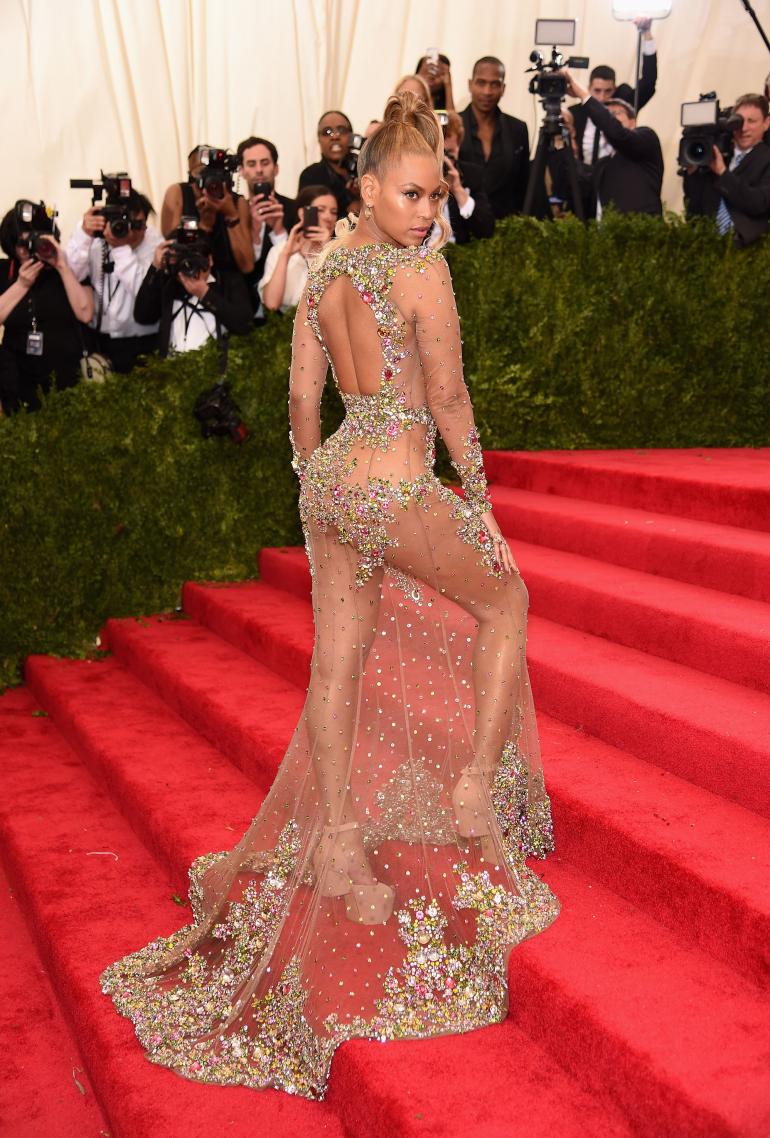 8
2016: As one of his final curtain calls, Tisci revisits the tailoring methods of his earlier couture ranges while amplifying them with geometric embroidery. Sending models down the runway with a face full of feathers was another massive hit.
Photo: Getty
9
2016: The Kardashian family calls Tisci's designs a firm favourite, so it's unsurprising that the man was employed to create a custom gown at Kim's wedding to Kanye
Photo: Elle UK