"We miss dressing up to travel, we miss flying up through the clouds in planes…"
Just like that, Charlotte Stockdale and Katie Lyall sum up what we've all been feeling. The duo are the creative masterminds behind Chaos, the London luxury label that offers punchy phone cases and travel accessories loved by Kendall Jenner, Gigi Hadid, Beyoncé and more.
Together, Stockdale and Lyall have built a brand that injects fun and functionality into our everyday essentials. Their winning formula has worked on the likes of Chanel and Fendi, for whom Chaos has created distinctive cases to upgrade your smartphones, AirPods and laptops. And it's even what led them to land a collaboration with Rimowa, the German luxury luggage giant.
"Prior to the collaboration, we were fans of Chaos' line of accessories," shared Rimowa's chief marketing officer, Emelie De Vitis. "We like the bright and fun universe they've created and the sharp British humour that underpins it. The partnership felt like a natural fit, with Rimowa's iconic suitcases being used as a blank canvas for Chaos' creativity."
Indeed, Chaos has taken liberties with those sleek, thousand-dollar aluminium suitcases: they've given them a splash of colour by way of dripping paint and graphic luggage tags and charms that you'll never lose sight of in a sea of suitcases. Baggage claim, once an arduous airport ritual, will now be a breeze if you're picking up a Rimowa x Chaos Essential Cabin.
Below, we catch up with Stockdale and Lyall to tell us just how they dreamt up those exuberant designs, and why they're on a mission to make travel exciting again.
How did Chaos' collaboration with Rimowa come about?
Pre-pandemic, we travelled regularly across the globe to cities, resorts and far-flung shoot locations. We took planes, trains, even boats to get where we were going, often with a lot of luggage. Chaos was born out of the experiences we have had working and playing while travelling. Rimowa is our favourite luggage brand because of quality and aesthetics so it was natural fit for us. We were thrilled when the opportunity to create a full Rimowa x Chaos collection came about.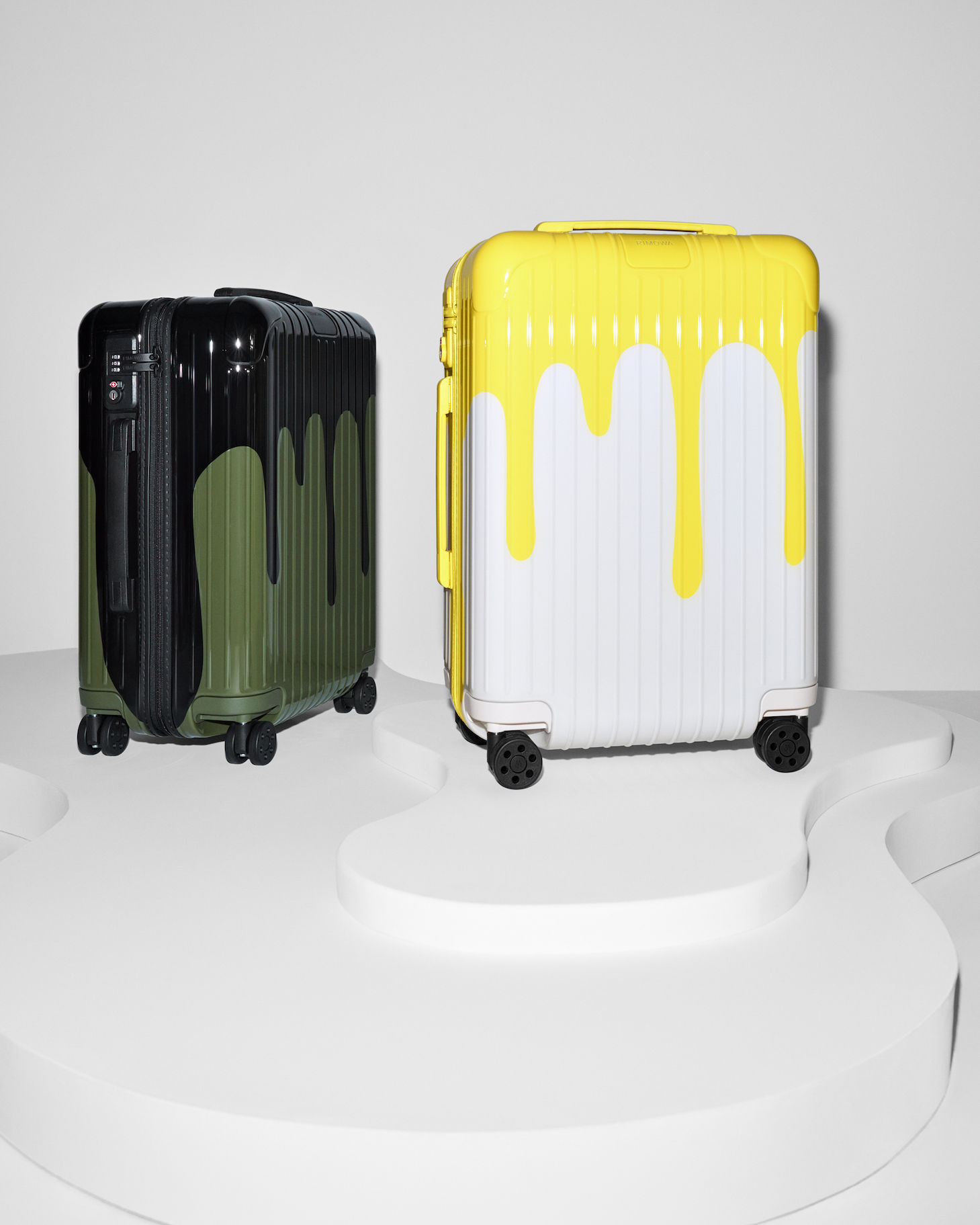 Let's talk about the Rimowa Cabin. What inspired those distinctive paint-dripping designs?
We are quite fascinated by wet paint and how it catches the light in a particular way. We are also drawn to the pleasing curves that form as it drips — there's something immensely satisfying about the look and texture of it. We wanted to create this same sense of freedom and movement over the iconic straight grooves of the Rimowa Essential suitcase.
And what about those unique colour combinations?
We decided to work with existing colours in the Rimowa Essential collection to see what kind of contrasts we could achieve. The result was two different colour palettes: a light an airy White and Saffron, and a more urban-looking Black and Cactus.
How did you come up with idea of the luggage harness?
The harness is our answer to the many challenges of travelling. We are into solving problems at Chaos. We would be surprised to come across anyone who hasn't at least once in their life not been able to fit everything into their suitcase on a return journey, or not had the stressful moment of digging around an overly stuffed bag to find their passport. The harness allows organised, fast access to your headphones, book, passport, laptop, water — anything you need to keep close at hand. All the storage is at the front so it's still easy to place your suitcase in the overhead locker of the plane, and it looks cool.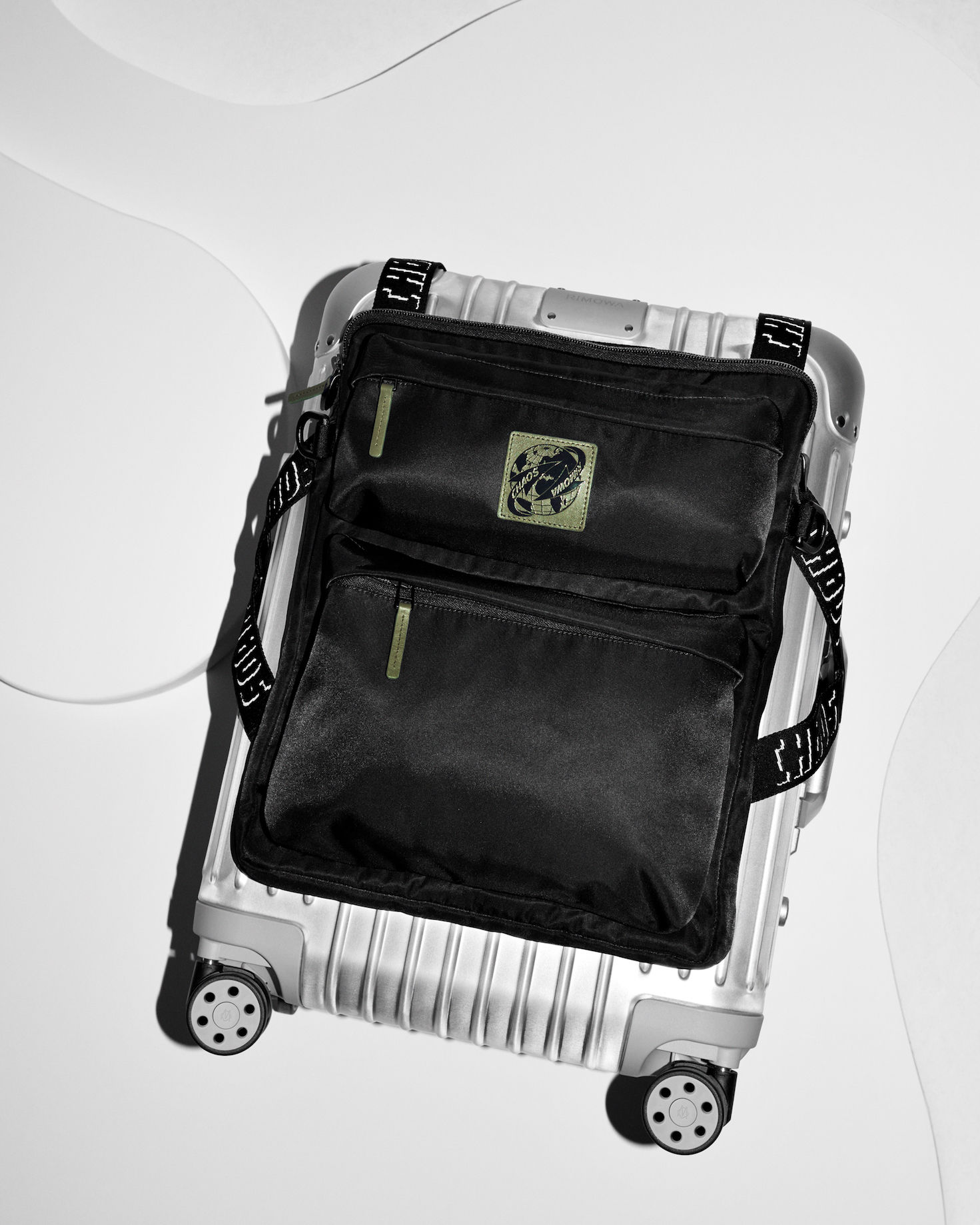 Another thing that really stands out are the quirky motifs seen on the bag charms and luggage tags. What's with all the fried eggs and the "chill pills"?
We love a little cheekiness at Chaos and each of these symbols have fun references to play on. The apple is such a wholesome symbol of health. "An apple a day keeps the doctor away", but it's also a symbol of temptation. The same with the pill, a longstanding Chaos icon. And of course, we are British and who doesn't love a fried egg in an English Breakfast! Yet an egg is also the beginning of life. All three are everyday icons and we love the simple lines and joyful colours. We wanted the textures to be pleasing visually and to the touch. It's a classic Chaos move to play with a smooth, hard texture next to a fluffy, tactile one, emphasising both their contrasts.
How did you choose the destinations on the collectible city tags?
Our printed leather destination tags are either mementos of places you might have been, or inspiration to remind yourself or where you might like to go. We are graphic addicts and love playing with the emotions that different combinations of fonts and colours can evoke. We worked to create graphics and illustrations that had the energy and references to destination cities we had chosen together with Rimowa.
Overall, the collection is very fun and vibrant. Was this a way to make people excited about travel again, especially during the pandemic?
Yes! We have never gone more than a month without travelling in the last 20 years! Chaos is all about moving around, being busy and dressing up your life. We hope we will all have a new appreciation of the freedom to move around and that the Rimowa x Chaos travel collection will be an enjoyable and inspiring part of these journeys. We believe your luggage and its accessories can be as individual and fashionable as all the other areas we spend on to make us feel good and stylish.
Do you have plans to expand Chaos' offerings in the near future?
We do indeed — more accessories and apparel and some new and exciting categories but you will need to sign up to our club on Chaos.club to find out about those!
What do you both miss the most about travelling?
We miss hot places and cold places, we miss room service and turndown service, we miss dressing up to travel, we miss flying up through clouds in planes and the sense of excitement as you get into the car to drive away from an airport or a station to wherever you are going… We can't wait to pull out those suitcases and get going!
Shop the Rimowa x Chaos collection at Rimowa stores, or online at Rimowa.com or Chaos.Club.
Header photo credit: Rimowa