Apples and mushrooms and pineapple leaves — these are a few of fashion's favourite things.
Natural materials are now kindling an interest within the fashion industry, which had long been distracted by shiny new synthetics. It turns out that life in plastic is not so fantastic; man-made materials like rayon, nylon and polyester, which are used in more than half of all the clothes in the world, are polluting the environment in more ways than one.
It's no wonder that plant- and fruit-based fibres are having such a moment right now. Brands like Hermes, Gucci and Chanel are experimenting with leathers derived from mushrooms, pineapples and even grapes to make their thousand-dollar accessories. Organic materials like linen and straw have dominated the summer offerings of Loewe, Fendi and Prada, for reasons beyond their aesthetic appeal. H&M has begun dyeing its clothes with coffee, while Dior has championed eco-printing achieved with dried flowers and foliage.
It's within this eco-friendly landscape that Stilnook, a homegrown fashion label, takes root. It began as a pandemic passion project for Fiona Ng, a Temasek Polytechnic graduate, to experiment with plant-based textile techniques. Her interest in natural dyes stemmed from a course she had taken as a design student.
While the rest of us were baking or knitting or painting, Fiona was creating beautiful patchwork bags coloured with the help of onion skins and avocados. She shared the results, named after natural forms like "Mesa" and "Cupule", on her Instagram. Before long, her bags found buyers. They found even more through a pop-up at itto+lim.
What goes into making these one-of-a-kind accessories? Below, the 22-year-old designer behind Stilnook tells us more about her creative process and her love for craft.
What inspired you to launch Stilnook?
I've always loved craft and getting hands-on in making things. The idea of making a bag of my own had always been on my mind, too. The pandemic and lockdown was sort of a push for me to do it. I started with making pouches from leftover fabrics from my graduation collection. I posted them on my Instagram, and the response was good. I created Stilnook as a space for me to sell my work and at the same time explore different textile techniques and crafts.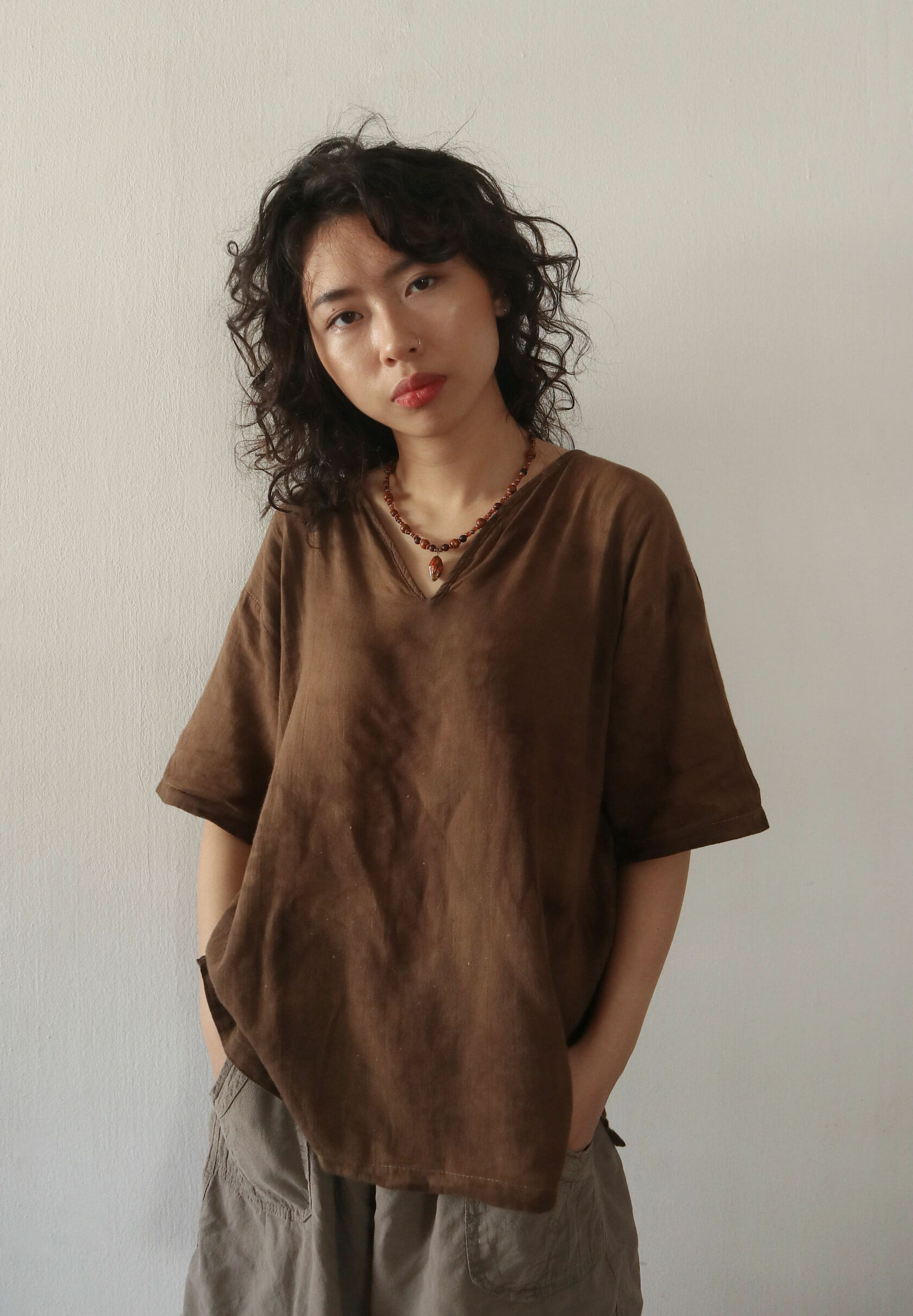 How did your experiments with natural dyes begin?
I first discovered natural dye during my second year of polytechnic for a sustainable project. I was intrigued by the craft so I continued to use natural dye for my graduation collection in my final year. After I graduated, I wanted to explore more. I found that there are a lot more plant sources you can work with and then came across eco-printing — a technique of bundling leaves and other plants on fabric, then steaming these bundles to create prints. And once I ran out of my leftover fabrics, I decided to make my own using these techniques. I always knew I wanted to use natural dyes for my products but I needed to research and understand more about it.
What are some interesting materials you've worked with?
I've worked with onion skins, avocado pits and skins, turmeric, rust pigments, blue pea flowers, eucalyptus and more. I've recently tried out extracts such as pomegranate rind, kakishibu (unripe persimmon fruit) and cutch (wood from Acacia Catechu tree). The fact that we can extract colours from nature is so fascinating and interesting. There's so much more to learn and plant sources to explore. The learning journey so far has been a rewarding one.
The Sashiko stitch, a type of Japanese embroidery, features in quite a few of your bags. How did you learn it and what do you like about it?
It's mostly self-taught. I first did it for my graduation collection and I just love how it accentuates the pieces. Also, there's no right or wrong when it comes to freestyle Sashiko stitching, it's more of a meditative process where you let your hands do the work.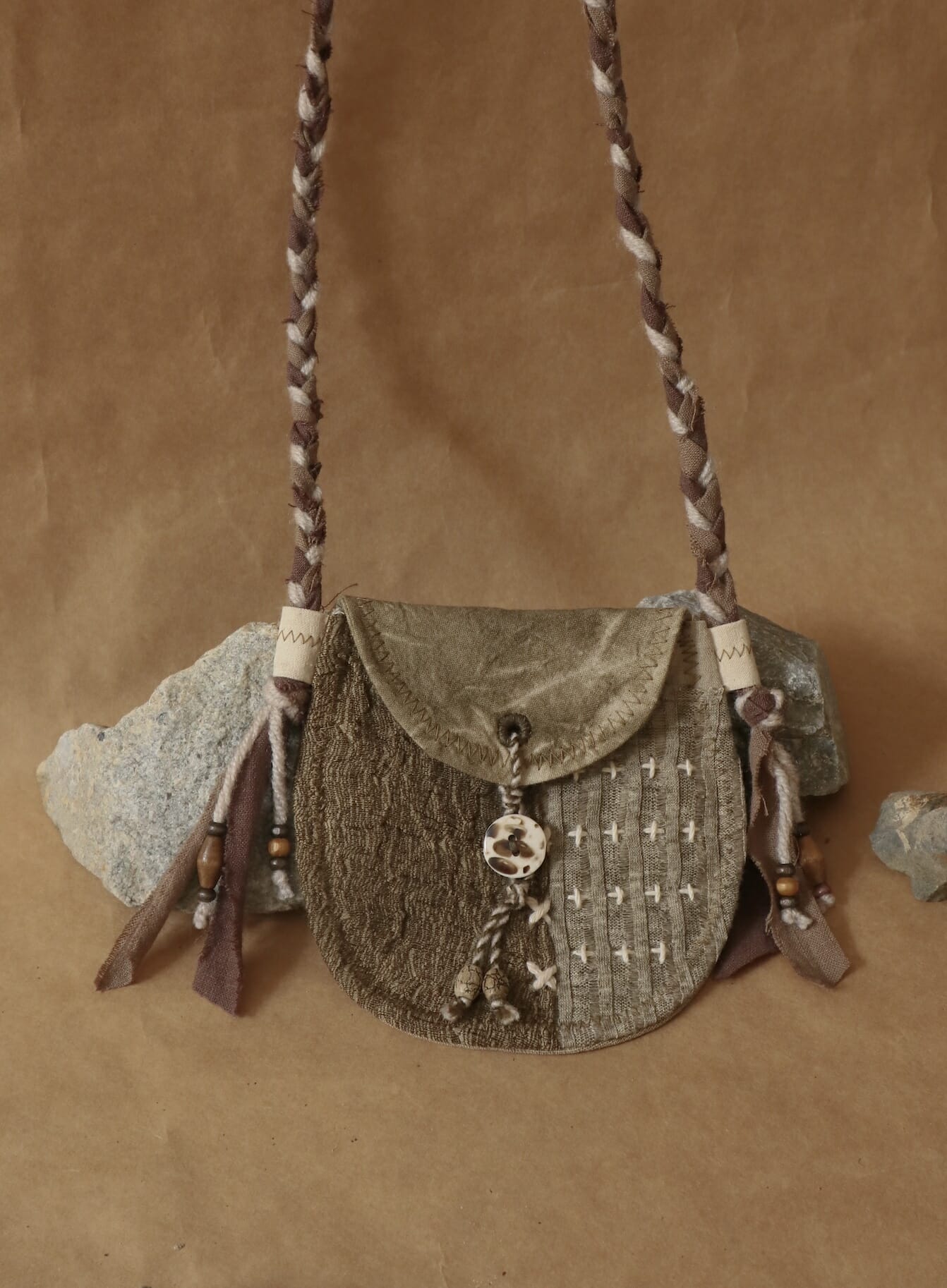 How long does a crossbody pouch usually take you to make?
About four to five hours, excluding the natural dyeing process. I do my natural dye in batches. The process alone takes four days or so, and lots of steps are needed to achieve the perfect colour — including washing fabrics, pre-treating, simmering, soaking overnight, rinsing, and drying.
Besides bags, you also make cyanotype art prints and naturally dyed cards. Where does your love for craft-making come from?
I don't know if you can say it's a part of me, but it's just something I've always gravitated towards. It helps that my sisters are also creative people, who don't mind getting their hands dirty to create something. We sort of influence each other in either our work or hobbies. I also had a little corner at home growing up, where I was always doing something DIY-related. That's actually where the name Stilnook came about. My little nook of still moments where I create.
What do you think is the importance of craft-making skills and traditions today?
Craft-making skills are traditional methods that are important to preserve culture and history. I believe craft allows one to form a connection with nature. It's also a way to connect with the past and present as everything was done by hand in ancient times. We are constantly surrounded by mass-produced items these days, so it is good to own some handmade items with unique characteristics and a story behind them too.
What are some new textile techniques and fabrics you've been experimenting with lately?
I've recently tried working with Faux Chenille technique and knotting for my new designs. But I've been wanting to try exploring Cyanotype on fabrics.
You've recently interned at local label Graye Studio, which also shares your appreciation of slow fashion and eco-friendly materials. What did you learn there?
I've ended my internship with Graye Studio and I had a great experience there! I got an insight into how a brand operates and the processes behind it. Also, I was exposed to how Graye utilises fabric scraps to create upcycled products and functional pieces.
What can we expect from Stilnook in future?
I'm still figuring it out, so it is an experimental space for now. Stay tuned!
Header photo credit: Fiona Ng / @Stilnook