Being innovative, game-changing, and boundary-pushing is what fashion has been known to creatively posit. Still, it's also about not taking things too seriously. Enter: Fantastically bizarre fashion accessories.
As Spring 2018's fashion month comes to a close, we have observed an escalating accessory trend afoot. Living in times where we're bombarded with a lineup of natural disasters, desperate political climates, and incessant awful news the world over, designers are balancing all that with a good dose of optimism — and escapism — on the runways.
Balenciaga and Saint Laurent, for example, cashed in on comfort footwear — offering flood-resistant Crocs and cozy-looking yeti booties, respectively. Maison Margiela and Mother of Pearl took it more literal as they extracted the snugness of home by way of pillow bags.
Below, scroll down and get a recap of the peculiar fashion accessories that made it onto the Spring 2018 catwalks.
(Main image: Alessandro Garofalo; featured image: Maison Margiela, Helmut Lang, and Gucci)
1
Platform Crocs
Where: Balenciaga
Demna Gvasalia may not exactly be the first to propose the hideous footwear as runway-worthy — Christopher Kane had two seasons with bedazzled and marble-printed renditions — but he'll be the first to elevate them with platforms, vile colours, and floral logomania Jibbitz (in case you didn't know, it's Crocs' patented name for its shoe charms). Ugly-chic gone wrong?
2
In-flight essentials
Where: Maison Margiela
While spending a day in transit at Mexico City airport, John Galliano sat down and observed travellers from all over the world passing by in various dishevelled states. Proposing a new type of glamour by dressing in haste, his Maison Margiela outing had models carrying in-flight essentials — sleeping eye covers, fluffy neck pillows, pillow bags — to amplify their jet-setting disarray.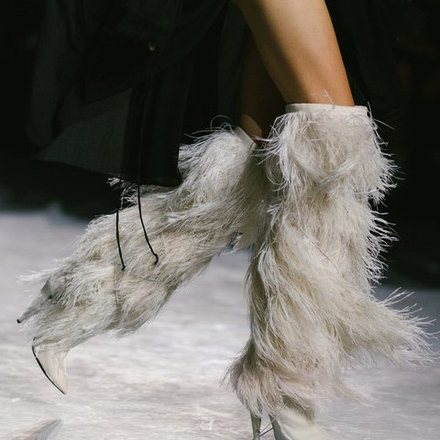 3
Yeti boots
Where: Saint Laurent
Anthony Vaccarrello dusted off and presented a revival of the '70s yeti boots at his spectacular Saint Laurent Spring 2018 show. The hirsute moon boots came in different heights — thigh- and shin-skimming — and different shades of black, blue, and white. Coy or confusing?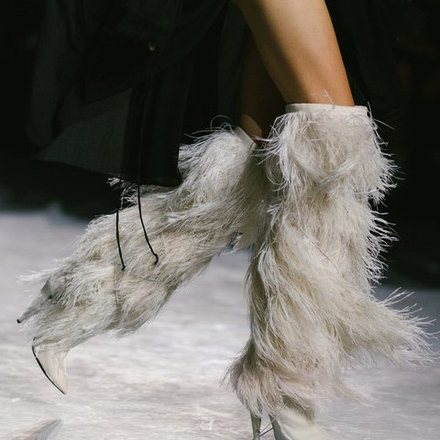 4
Bra bag
Where: Helmut Lang
Say goodbye to cumbersome cash and sweaty phone screens. Thanks to Helmut Lang's designer-in-residence Shayne Oliver, now you'll get to snugly store your vital belongings in a bra sans all the uncomfortable hassle.
5
Farmer straw hat
Where: Gucci
On your next summer getaway, take notes from Alessandro Michele's Gucci girl and deflect harmful UV rays — and future wrinkles — in style by putting on a chic wide-brimmed farmer straw hat. Tied on tightly with a black satin ribbon, it covers all of the exposed parts, while tripling as a chic necktie.
6
Air freshener mini bag
Where: Moschino
It comes as little surprise when Jeremy Scott's Moschino transforms an everyday object into another one of the brand's kitschy tchotchkes. There was the window cleaner spray perfume, the Barbie mirror iPhone case, and the trash can lid beret. This time, Scott took a domestic approach and created a mini bag out of a home air freshener made by "Fresh Cut Flowers".
7
Scrunchie
Where: Mansur Gavriel
Scrunchies are meant to stay within a five-metre radius from home ground. Beyond that, they look sloppily unacceptable — or so we thought. The throwback accessory just got New York Fashion Week's stamp of approval, via Mansur Gavriel. "When I heard scrunchie, I was like, 'Ahhh! My nightmare!' " said hairstylist Laurent Philippon backstage. "But it's actually done in a very cool way."
8
Pillow bag
Where: Mother of Pearl
If Margiela took inspo from comfy white pillows you can't wait to sink your head on, Mother of Pearl looked to Renaissance palace-worthy frilly ones. The British label's models clutched the plush leather pillows, which doubled as fully functional bags with zippers across the top.
9
Fidget spinner necklace
Where: Tory Burch
The buzzy toy that had everyone clamouring for one at the peak of its popularity, was bound to make at least one Fashion Week appearance. Despite predicting Rick Owens as the first to bring it on the runway following the viral SSENSE spoof, it was surprisingly the prim and proper Tory Burch who took it out as a pendant necklace at her garden show.
10
Pom pom bag
Where: Calvin Klein
The cheer squad came out in full force for Raf Simons' first Spring collection at Calvin Klein. But if you're not brave enough to carry a pom-pom bag, these bedazzled purple knee-high boots will do the trick, too.