You've taken her on the perfect dinner date and whisked her away to a romantic getaway. How else can you spoil your significant other on Valentine's Day?
Jewellery is an obvious answer. Nothing says "I love you" quite like an accessory that has been exquisitely crafted using the most precious gems. And it comes with plenty of choices: if your partner is fond of traditional crystals, for example, then she might appreciate modern jewellers' spin on jade. Or if she, like Holly Golightly, simply adores pearls, you can surprise her this V-Day with any of these contemporary takes on the classic pearl necklace.
If you're not popping the question on February 14, here are all the other jewelled creations that will bring some sparkle to her life and a smile to her face. Trust us, she won't be disappointed.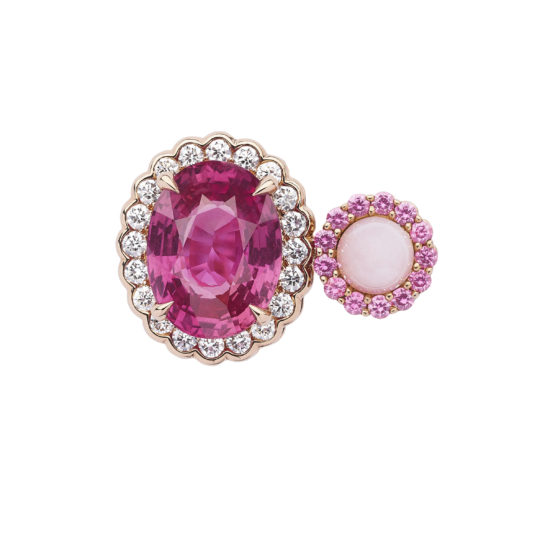 1
Dior et Moi pink sapphire and pink opal ring
Besides wedding rings, nothing is more emblematic of a couple's union than Toi et Moi rings. Or, this Dior et Moi ring, which is the French brand's take on the romantic jewellery tradition of a ring that features two stones — one for each lover. Doll your partner up in this piece, irresistibly made with a pretty-in-pink sapphire and opal.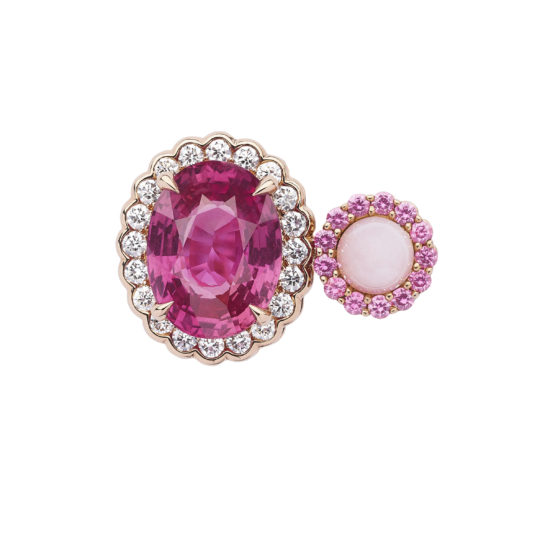 2
Prada Fine Jewellery gold bracelet
Let your significant other know that she has the key to your heart with this Prada bangle. Made exclusively with 18-carat gold from Responsible Jewellery Council (RJC)-certified suppliers, this piece earns a bonus for its ethical craftsmanship — on top of its one-of-a-kind design.
3
Louis Vuitton B Blossom ring with pink gold, white gold, pink opal and pavé diamond
Why not add to her collection of Louis Vuitton B Blossom rings with this one in pink? With its diamond pavé and dainty flower motif, this 18-carat gold ring is perfect for the season of love. And it's pretty versatile: it can easily be stacked with the other rings from the French brand's fine jewellery line.
4
Tiffany HardWear freshwater pearl lock necklace in sterling silver
Tiffany & Co., predictably, has an array of romantic V-Day options to choose from. But this chain necklace stands out for its unconventional combination of materials: sturdy, sterling silver and delicate freshwater pearls. Get it for the girl who blows you away, likewise, with her many unexpected sides.
5
Chaumet Liens Séduction ring
Maybe you haven't found it in you to propose yet, but you can still show how devoted you are to her with this 18-carat pink gold ring from Chaumet. Its distinct ribbon design will remind her that no matter what, you two will always be tied together — for better or for worse.
6
Bvlgari Diva's Dream bracelet
If she likes to make a statement, she'll easily do that with this Bvlgari bangle. The gold bracelet stands out with its bold, fan-shaped motif made with mother-of-pearl in red. And with no clichéd heart pendant in sight, it also makes for a subtle gift for you to express your love with.
7
Cartier Love necklace
If subtle is not what you're going for, spell out your love — literally — with this Cartier necklace. Like the other designs in the jeweller's Love collection, the yellow gold necklace is engraved with the word "LOVE". It also features the line's signature screw detail, which gives the piece an industrial edge.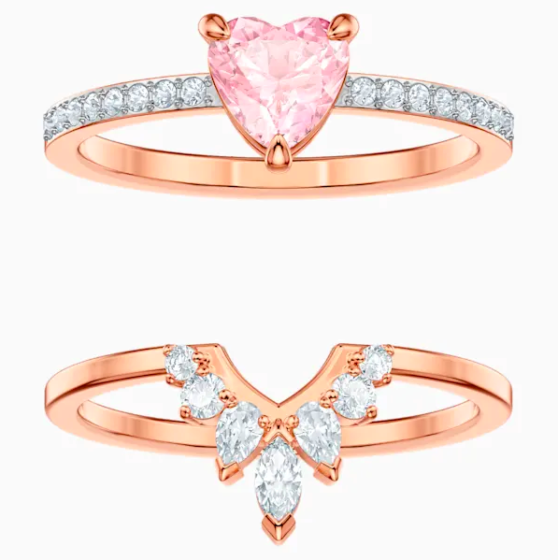 8
Swarovski rose gold-plated rings
Why stop at one ring when you can get her two? Swarovski makes a convincing case for it with this set of rose gold rings, which can be styled together or separately. The first ring is adorned with a heart-shaped crystal and a lavish pavé-embellished band, while the second boasts a modern V-shaped design lined with crystals. Get them for the girl who can never make up her mind.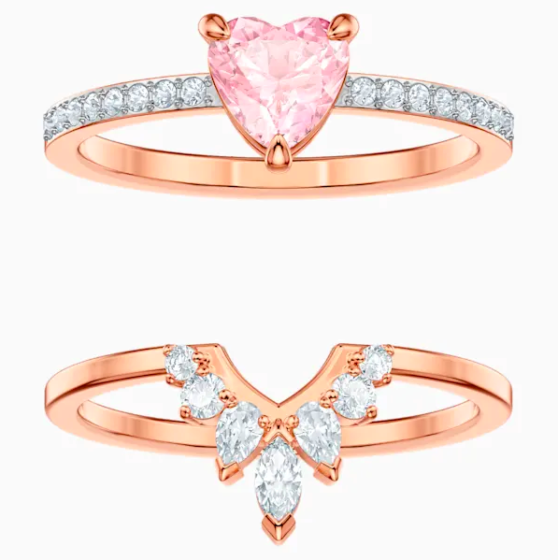 9
Chanel Tweed Couture necklace
The Tweed de Chanel collection is inspired by, well, tweed. Its designs, like this necklace, does a brilliant job at replicating the fabric that Chanel made iconic. For this piece, pearls, diamonds and onyx gems are all intertwined delicately with a gold chain — a feat that was completed in no less than 980 hours. That's a fun fact to share with your loved one when you surprise her with this necklace.
10
Van Cleef & Arpels Sweet Alhambra effeuillage ring
She's constantly checking Co-Star and she has told you how lucky you will be in 2020 according to your Chinese zodiac. In other words, she's superstitious, which means she'll love this little token of luck from Van Cleef Arpels. The ring cleverly recreates the shape of the four-leaf clover with hearts made of carnelian and lined with delicate gold beads.