Diamonds may have long been a girl's best friend, but is jade becoming a worthy contender for that title?
Sure, any mention of the stone may bring to mind something rather old-fashioned; you might remember the ornamental, emerald-hued pendants that hung from your grandmother's necklaces, or even the milky green bangles that she adorned her wrists with in stanch belief of their mystical healing properties.
But there is nothing superstitious about the recent (and growing) popularity of jade — or, more accurately, jadeites and nephrites. That's all thanks to contemporary jewellery brands that have been embedding their designs with the revered stones to suit the tastes of the modern woman.
Some do away with traditional shapes and instead employ whimsical silhouettes like butterflies and tulips. Others prove that jade jewellery can be a colourful affair, using Burmese jadeite stones in hues like yellow, lilac and even black.
Local jewellery label Choo Yilin, which is often credited with putting jade back in the spotlight in the jewellery world, is sadly now on hiatus — but don't fret. We've made a list of jewellery brands that you should check out for jade designs that will leave others green with envy.
Gen.K
Nature has long been an inspiration in jewellery design, but floral and fauna motifs attain another level of beauty when captured in jade. Gen.K's designs are proof of this. Birds, bees and butterflies often pop up in the local jewellery brand's exquisitely crafted rings, earrings, necklaces and bangles. Every piece is made with Type A Burmese jade (the highest grade), as well as solid gold and sterling silver. Gen.K occasionally incorporates semi-precious gemstones and intricate metalwork in its designs — and to spectacular effect, as exemplified in its signature Five Gems bangle.
La Putri
La Putri may be approaching its 50th anniversary, but that doesn't mean that the homegrown couture jeweller is out of touch with today's trends. Quite the contrary, as its jade jewellery collection shows us. In the mix are earrings, rings and bracelets that are defined by their geometric forms — much like the earrings worn by actress Constance Lau at the Crazy Rich Asians premiere. The collection also offers plenty of colours to choose from; La Putri uses white, black, lilac and even orange jadeite in its designs. And if you're looking for something festive, the brand recently unveiled a new design dedicated to the Year of the Rat.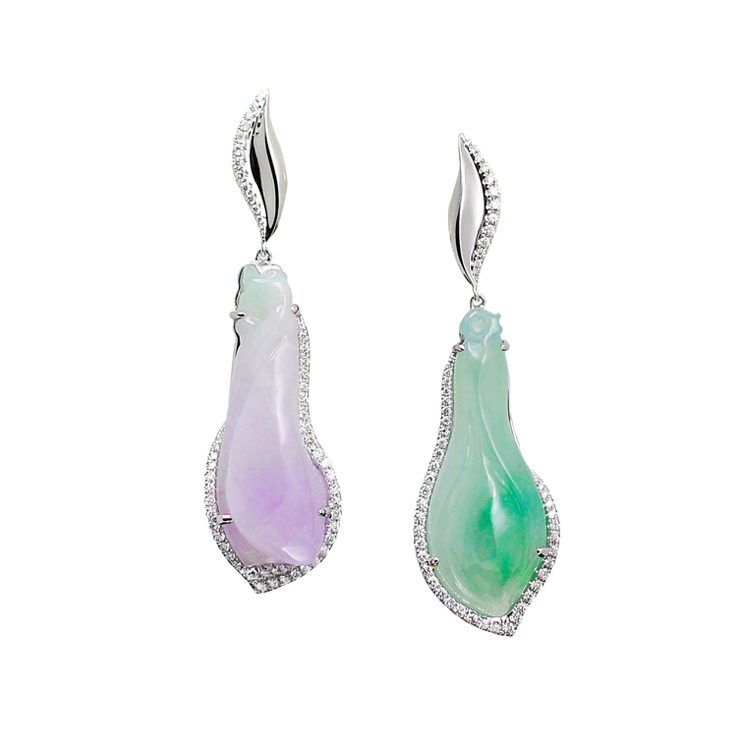 The Jewel Box
For something that's truly one-of-a-kind, why not get your jade fix at The Jewel Box? The Singaporean bespoke jewellery atelier has a flair for making even the oldest stones look contemporary. Its jade creations range from the geometric (like this pair of triangular ice jade earrings) to the romantic (see the brand's feminine twist on the jade disc for this necklace pendant). Above all, The Jewel Box doesn't skimp on the details; its designs often boast intriguing colours for jade jewellery, such as the mint and purple hues in the pair above, or the yellows of these drop earrings.
Annoushka
This beloved British fine jewellery brand is known for bringing an air of whimsicality to its designs, and its jade offerings are no exception. Among them you'll find playful pieces inspired by dreamcatchers, tulips and even the fans of flamenco dancers that are painstakingly crafted in jade, diamonds and yellow or white gold. Annoushka's earrings and necklaces are sure to add a dose of quirkiness to your look — and they'll make great conversation starters too. Loren Stewart
Traditional jade jewellery are known to be bold and ornamental, but Loren Stewart's pieces make a statement with their simplicity. The LA label takes modern jewellery silhouettes that you'd be familiar with — think hoops and drop earrings — and reinvents them with the jade stone and gold (which, in some cases, are upcycled!). With their clean lines and minimal designs, these jade pieces can easily be your go-to accessories for your everyday look.
Verdura
We've established that jade isn't always green, but how often do you see it in black? Verdura puts a dark spin on your grandmother's beloved bangle with its signature black jade cuffs. Originally designed for Coco Chanel, the cuffs are boldly embellished with gemstones like amethyst, tourmaline and sapphire. And if the cuffs are too much of a statement for you, the New York-based fine jeweller also offers rings and bracelets made with the rare stone for you to let out your dark side.