It's official: Rosé is the new face of Tiffany & Co.
The Blackpink singer has been named a global ambassador for the American luxury jeweller, and is set to star in its iconic black and white campaigns. Her first appearance will be for the Tiffany HardWear campaign, which will launch globally on Friday.
The exciting announcement may not come as a surprise for Blackpink fans (or "Blinks"). After all, their beloved idol has often been spotted wearing Tiffany & Co. creations in the last few months, be it for her first Vogue Australia cover, or while promoting her new record-breaking solo album, R.
In fact, eagle-eyed fans may have noticed Rosé flaunting the Tiffany HardWear triple drop earrings in her music video, On The Ground, which became the most-viewed music video on YouTube in a single day for any K-Pop solo act. She also wore the collection's statement rings (one in 18k gold, another with a South Sea white pearl) in a teaser for her album.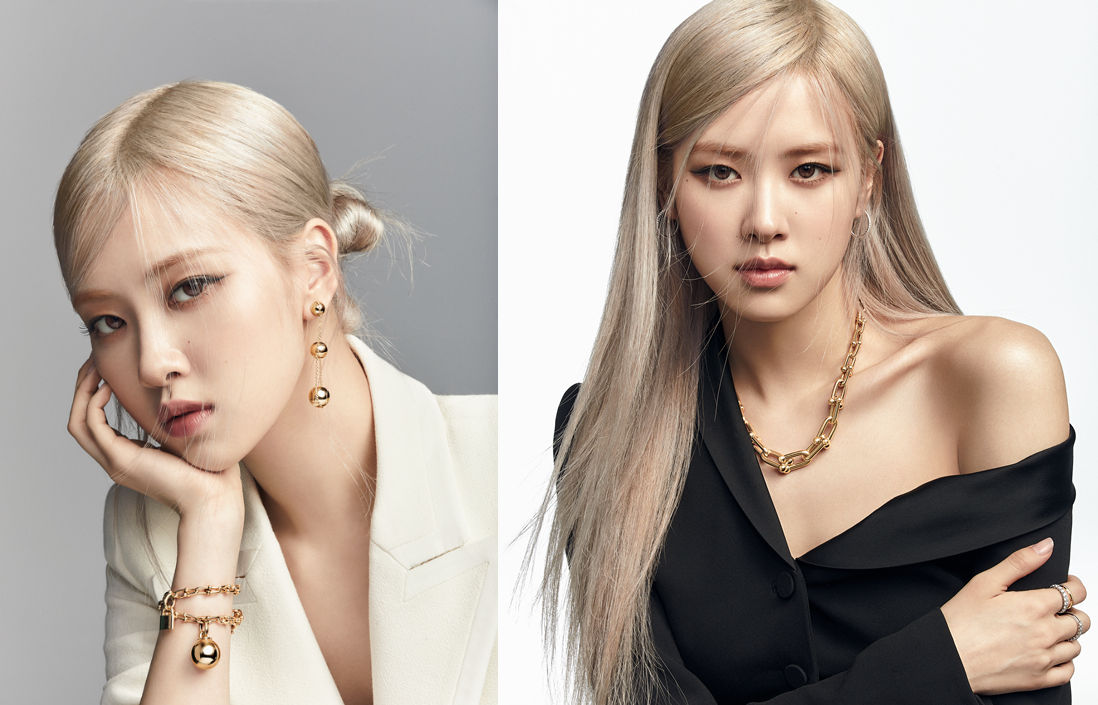 The partnership between Rosé and Tiffany & Co., both icons in their own right, couldn't be more perfect. For over 100 years now, the American jeweller has made a name for itself with its timeless, distinctive creations — like the Tiffany T bracelet, or the Elsa Peretti Bone Cuff, to name a few — that capture the unique energy of New York City. Rosé may not be a New Yorker herself, but as a talented artist with a bold personality and a dose of stylistic daring, she sure has the spirit of one.
She's an even better match for the versatile Tiffany HardWear jewellery line. Launched in 2017, the collection has its roots in a 1971 unisex bracelet from Tiffany's archives. It featured a wrecking ball and chains, both emblems of strength that weren't very common in women's jewellery at the time.
Today, the Tiffany HardWear collection continues to stand out with its use of gauge links and other industrial shapes. Like the collection, Rosé embodies a modern kind of femininity — one that comes with an edge. And she's just as original, as she has shown through her journey as a musician. As the first Blackpink member to go solo, the 24-year-old has already made her mark in history by setting two Guinness World Records with her debut album.
Rosé certainly is a tough act to follow. Musical career aside, she also displays her fearless sense of individuality — a quality that lies at the heart of Tiffany & Co. — through her style. On Instagram, the Korean singer has shared photos of her off-duty looks, seamlessly accessorised with Tiffany & Co. jewellery, to her 39.5 million followers.
In one look, she unexpectedly contrasts the softness of her ruffled blouse with the Tiffany HardWear double link pendant necklace. In another, she elevates an otherwise casual outfit with the Tiffany HardWear Link Bracelet, showing that the vintage-inspired design works just as well in 2021.
It's also worth mentioning that Rosé, for all her unparalleled fame and success, has a heart of gold: she recently made the headlines for showing her gratitude to her staff with luxury gifts. Likewise, Tiffany & Co. has a legacy of love; it invented the engagement ring as we know it today, and has brought couples together with its ethically-sourced diamonds for over a century.
No wonder that Rosé's star continues to rise, five years after her debut with Blackpink. Like fellow members Lisa and Jisoo, who are ambassadors for Celine and Dior respectively, Rosé has already linked up with a luxury brand. She is currently the face of Saint Laurent, representing both its high fashion and beauty lines.
Through her partnership with Tiffany & Co., Rosé joins the brand's roster of trailblazing ambassadors, including Lady Gaga and St. Vincent. And just like them, she's already making a name for herself as a one-of-a-kind musician.
Header photo credit: Tiffany & Co.