Planning quick trips over the weekend is a skill most frequent travellers have honed over the years. The number one tip to make the most of precious vacation time is to whizz in and out of the airport as stealthily as possible — which means trying to eliminate time you'd otherwise spend waiting for your luggage at the belt.
Do you really need a 20kg baggage allowance for a two- or three- day trip, though? No, no you don't. When it comes to packing for weekend vacations, you'd want to pack as light as possible. All you need is a piece of luggage that's convenient, durable and light — without compromising on the aesthetics. That way, you can pull up to your swanky Aman or Four Seasons resort in style.
Yes, the words "luggage" and "sexy" would rarely co-exist in the same sentence. Just look around while waiting in the line at any airport, and you'll most likely see beaten suitcases plastered with stickers — the tell-tale signs of a piece of luggage that has gone the distance. But recent years have seen the emergence of more design-led luggage brands that have established cult status amongst celebrities, Instagram influencers, and high-profile jet setters alike. So you now have more options than the standard brands almost everyone else has.
Here, check out the most stylish cabin luggage you can take with you on your next weekend away.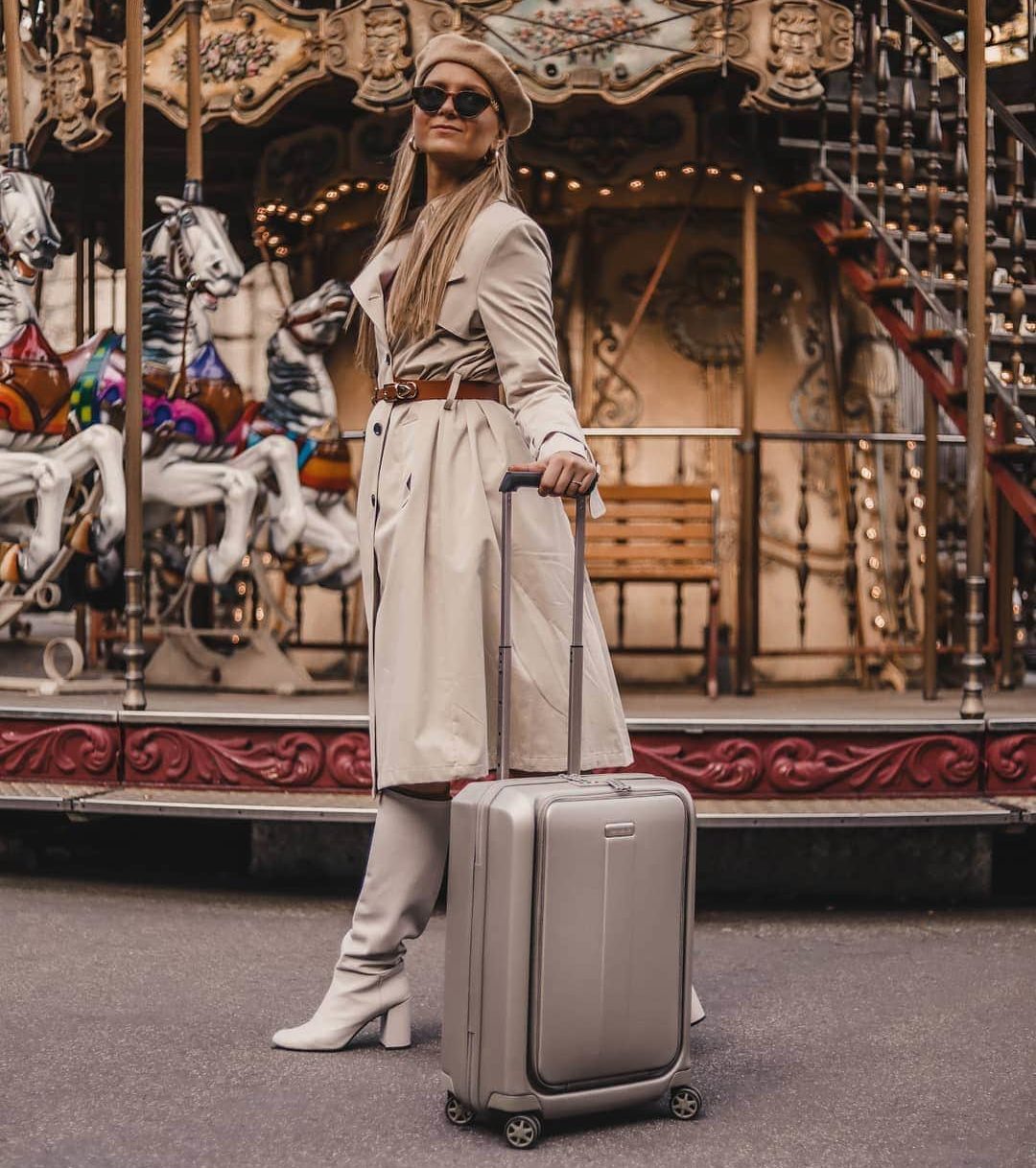 1
Prodigy, Samsonite
Samsonite is known for its functional yet beautiful luggage for every occasion. One of its most sleek designs is Prodigy, a stunning carry-on which comes in black and ivory gold.
The luggage features a front pocket with internal organisation pockets, padded tablet and laptop compartment, an accessory pouch and a removable wet pocket — all the makings of a convenient luggage for frequent travellers. Its fitted with smooth-rolling double wheels, integrated dual tube wheel handle and carry handles. Finally, its flat, integrated TSA lock allow for both compartments to close off separately.
Price: S$610, available at Samsonite boutiques in Singapore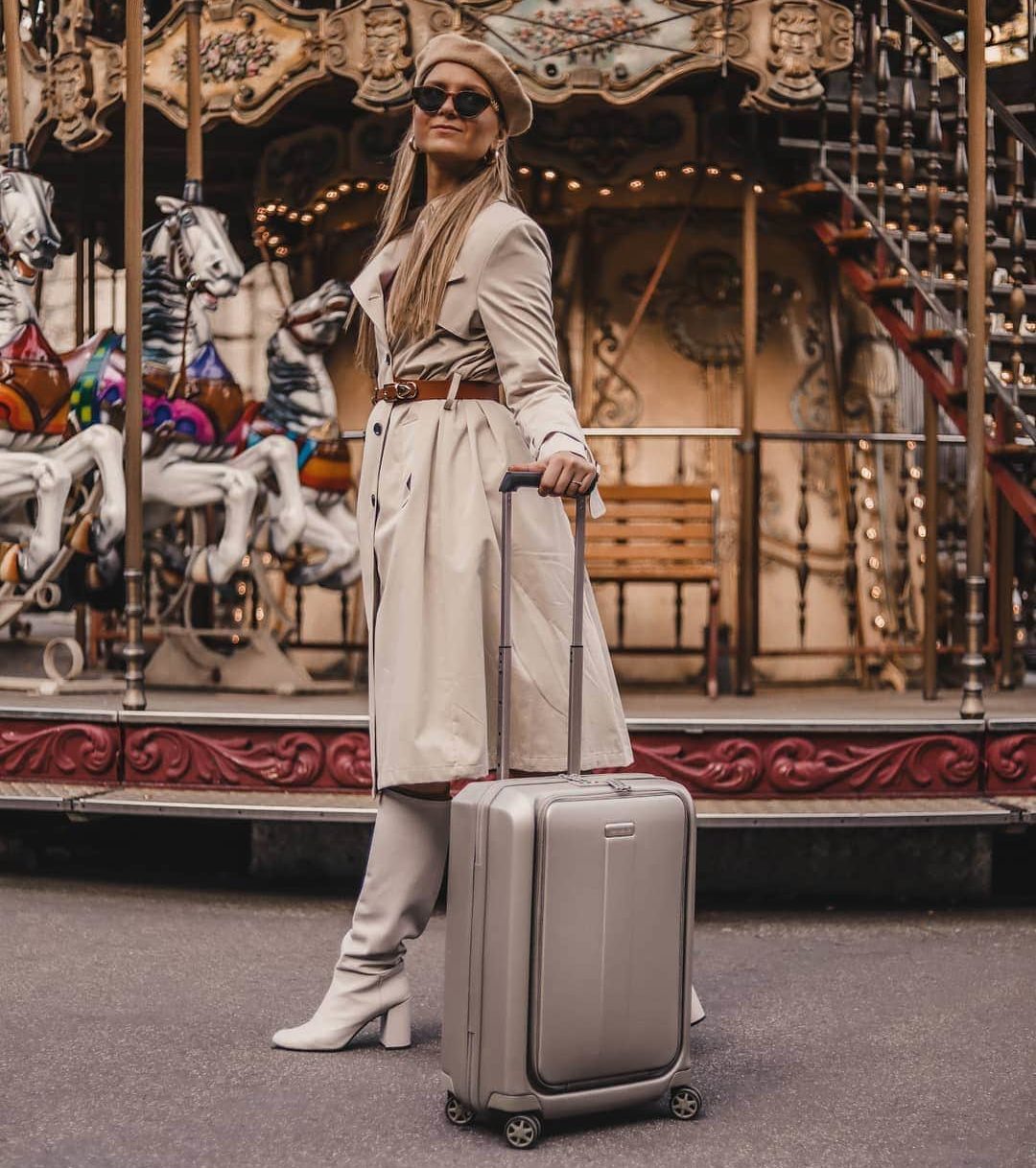 see more
2
The Polycarbonate Carry-On, Arlo Skye
Arlo Skye is a New York-based luggage brand created by former employees of luxury brands Tumi and Rimowa. From the get-go, you know that this is a name to watch out for. Dubbing its products as the luggage for the design-obsessed, Arlo Skye offers sleek and minimalist designs that can easily fit into the overhead cabin compartments. The Polycarbonate Carry-On comes in five beautiful colours and is engineered in an unbreakable polycarbonate shell with an aluminium frame. The luggage is airline-approved, and is complete with a removable charger that comes in handy when your phone is running low on battery. The luggage also features an anti-microbial interior lining and whisper-quiet wheels.
Price: US$450 (S$609), available on Arlo Skye's official site 
see more
3
The Carry-On, Away
Away's minimalist luggage have earned a cult status amongst celebrities and the in-crowd. Not only is the Away luggage durable, flexible and ultra lightweight, it also boasts cool and smart features like an ejectable battery, 360-degree spinner wheels, and an interior compression system. The carry-on is sized to fit in the overhead bin of most major airlines, and thoughtfully designed (and guaranteed) to last a lifetime. The best part? Its durable polycarbonate shell comes in an astonishing range of 10 colourways, so you'd definitely be able to find one that suits your personality.
Price: US$225 (S$304), available on Away's official site 
4
Tall Carry-On Expandable Spinner, Briggs & Riley
If you somehow always find yourself running out of luggage space, Briggs & Riley's Tall Carry-On Expandable Spinner is exactly what you need. The luggage packs a lot of potential with its unique smart features, like Transcend VX variable expansion that allows up to an extra 2.5″ of customisable capacity and ensures a sturdy shape for easy packing. Designed for both business and leisure travel, Briggs & Riley's Transcend VX is perfect for the busy jet setter.
Price: US$469 (S$635), available on Lazada
see more
5
H5 Lagos Edition, Horizn Studio
Guaranteed to stand out when you're making your way through airport security is Horizn Studio's limited edition H5 Lagos Edition. The suitcase, designed by artist Emeka Ogboh, is made of Aerospace-grade German polycarbonate hard shell. The H5 Lagos Edition is not only sleek, it is also a smart luggage fitted with a one-click removable charger and high-end Japanese 360-degree spinner wheels.
Price: €300.00 (S$459), available on Horizn Studio's official site  
see more