While the biggest auctions this fall are set to be dominated by the usual suspects (e.g. Phillips and Sothebys), London stalwart Bonhams are offering collectors at every pricepoint the opportunity to indulge their horological curiosity thanks to the debut of Hong Kong Watches 1.0. Scheduled to take place on 24 November, Bonhams' first ever thematic watch sale brings together over 180 different lots ranging in diversity from cutting-edge prototypes to haute joaillarie oddities. The brainchild of Asia's International Director of Watches, Tim Bourne, the event marks the first time many of these consignments — intended to raise interest from all quarters of the public — will be appearing on the market. "We are delighted to bring Bonhams back to the [watch auction world] in a big way," says Bourne, "as we present fresh pieces which will appeal to first time buyers and seasoned collectors across the region." Ahead of next week's fierce bidding, here are 8 distinctive lots that you should keep an eye out for.
"We're delighted to bring Bonhams back to the [world of watch auctions] in a big way, as we present fresh pieces to the market…which will appeal to first time buyers and seasoned collectors across the region."
Tim Bourne (International Director of Watches, Asia)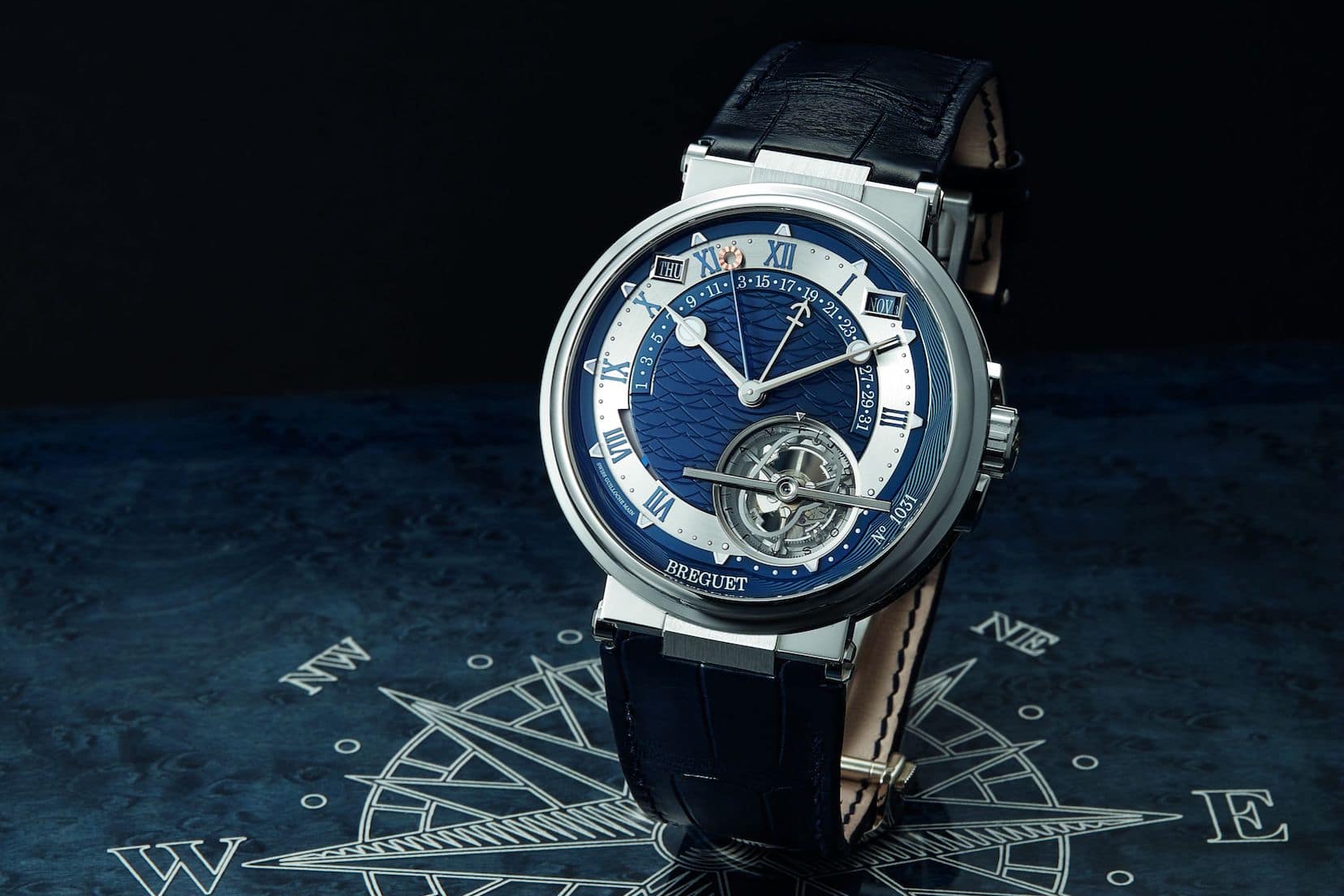 1
Breguet "Equation Marchante - Horloger De La Marine"
Initial estimate: HK$900,000-$1,500,000
The "Equation Marchante – Horloger De La Marine" (or Ref. 5887 as it's colloquially called) is among the most complicated Marine collection wristwatches ever manufactured by Breguet. Possessing the off-centre tourbillon and tipped hour/minute hands which are signatures of the manufacture, the current lot exemplifies the timeless design sensibility of Breguet mixed with an extremely contemporary size (44mm) and build quality. As is to be expected, the finishing on this watch is simply stunning: the dial's central plane features engravings reminiscent of rolling ocean waves; while the movement (based on Breguet's 11.5mm thick calibre 581DPE) is etched with naval depictions and a compass rose. According to Bonhams scholars, no Ref. 5887 has previously been seen at auction.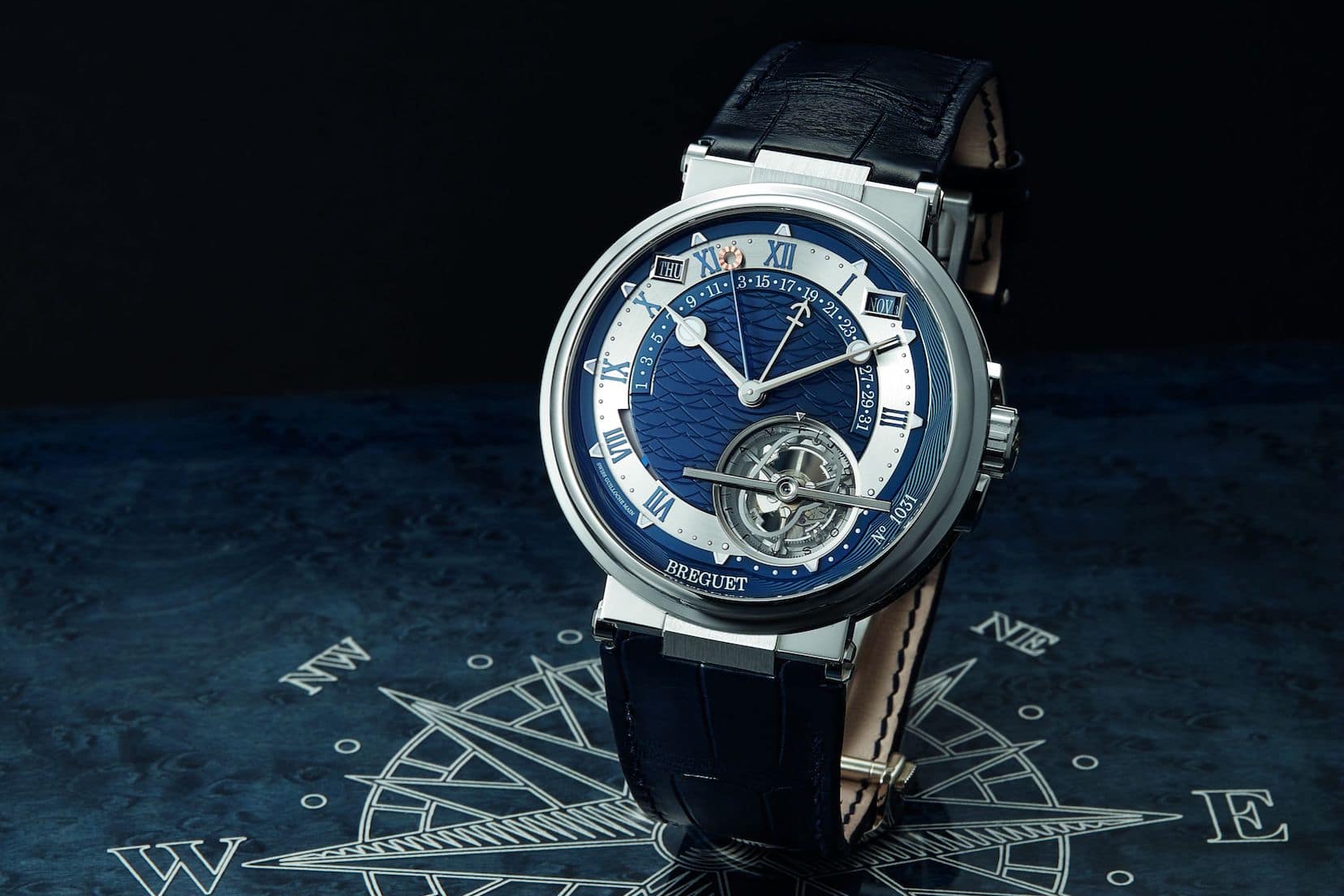 2
Cartier "Rotonde de Cartier Mysterious Double Tourbillon"
Initial estimate: upon request
Never before offered at auction, this "Rotonde de Cartier Mysterious Double Tourbillon" is an amalgamation of best-in-class watchmaking and the artistic savoir faire of the Cartier Maison. Measuring 45mm, the present lot utilises a platinum case construction, atop which sits a 17.5k diamond setting. Housed within is the Geneva sealed calibre 9594MC, the most appealing component of which is the "mysterious" double tourbillon. Turning on both axes, the movement of the tourbillon is akin to choreography — a visual effect aided by the placement of this complication between two clear sapphire discs. The caseback denotes that this double tourbillon is the third in a limited run of 20 pieces.
3
Hublot Big Bang King Power
Initial estimate: HK$770,000-$1,500,000
Named for the proprietary 18k gold alloy (featuring an increased percentage of copper and platinum) favoured at Hublot, the Big Bang King Power combines cutting edge materials with a heritage of complex traditional watchmaking. A triple threat, the present watch incorporates a minute repeater, single pusher chronograph and tourbillon, all within the guise of an extremely modern and durable shell. On the caseback, this King Power is identifiable as one of only 10 pieces ever manufactured — provenance that is undeniable even at a glance. A semi-skeletonised dial allows wearers to appreciate the interplay between the various high complications; while a distinctive outer minute track and baton hands make time-telling a painless activity. The highlight? Almost all of the peripherals used to activate complications are seamlessly integrated, so as to preserve the King Power's overly stark industrial cleanness.
4
Chopard x Moussaieff "Magnificent Ice Cube"
Initial estimate: HK$2,000,000-$3,000,000
Conventional wisdom suggests that this Chopard lady's watch was inspired by the geometry of just-frozen cubes, but parties interested in this lot are likely to have a different kind of "ice" on their mind. The present watch features a dial, bezel and caseback that are set with various pink and white diamonds, all signed by Chopard; and that's prior to any discussion about the frankly insane bracelet. Enlisting the 150-year expertise of high jeweller Moussaieff, the bracelet made to accompany this timepiece is fashioned from a combination of white and pink gold links, further embellished by 11 emerald-cut white and 54-brilliant cut pink diamonds. Evidencing a variety of finishes and gemstone formats, this timepiece is the result of a rare collaboration with an exceptional jeweller, noted for their significant utilisation of rare pink diamonds.
5
Richard Mille RM003 RG Evolution II
Initial estimate: upon request
Based on Richard Mille's best selling RM002, the RM003 marked the eponymous watchmaker's first foray into the world of titanium movement construction. Building on the earlier reference's ingenious clutch-style selector (which enables the crown to quickly transition between three disparate functions) and tourbillon/dual-timezone combo, the present RM003 is largely distinguished by its unusual aesthetic. Decorated with an extravagant case-wide setting made up of 124 orange sapphires and 68 round-cut black diamonds, Bonhams scholars surmise that this RM003 is a unique exemplar never before seen at auction. Referencing colour palettes prominent in the world of motorsports, this lot offers lovers of classic Richard Mille a dab of colour to go alongside their wrist-borne racing machine.
6
Rolex Ref. 5036 "Jean-Claude Killy"
Initial estimate: HK$550,000-$1,150,000
Modern concept watches are cool and all, but they pale in significance to the kind of vintage timepieces which have shaped the course of an entire manufacture. This Ref. 5036 falls squarely into the latter camp. Part of the Dato Compax family (1948-1951), the present watch — nicknamed for three-time Olympic medallist Jean-Claude Killy — is the direct predecessor to the more renowned Ref. 6036. Featuring a water resistant two-part Oyster case, turned lugs and three chronograph registers, the Ref. 5036 represents the pinnacle of Rolex's watchmaking capability during the mid-20th century. In comparison to its three counterpart references, the Ref. 5036 was produced for only a very brief period. According to Bonhams scholars, only 10 Ref. 5036s have ever been seen at auction (à la the present example); and this evasive pedigree is underscored by exhaustive documentation accompanying the watch. From Rolex consumer division servicing documents to an exchange with the legendary Somlo Antiques, this particular Ref. 5036 has the requisite credentials to support its already massive collectability. Not to mention, it's also got a Valjoux-signed movement.
7
Urwerk UR-1001 "Zeit Device Uber Complication"
Initial estimate: HK$1,200,000-$1,800,000
Known for their creation of sophisticated "horological playgrounds", Urwerk co-founders Martin Frei and Felix Baumgartner really outdid themselves when they unveiled the UR-1001 in 2011. Nicknamed the "Zeit Device Über Complication", the UR-1001 incorporates a host of features aimed at accurately measuring the passage of time — from one second to a millennium in the future. Emphasising tactility and robustness, this lot is made with a steel case that has been treated with aluminium titanium nitrate. The UR-1001's hinged caseback may be opened to reveal an almost vehicular control panel: integrating an "oil change" (i.e. 5-year servicing and maintenance indicator); and the aforementioned 100 and 1,000 year displays.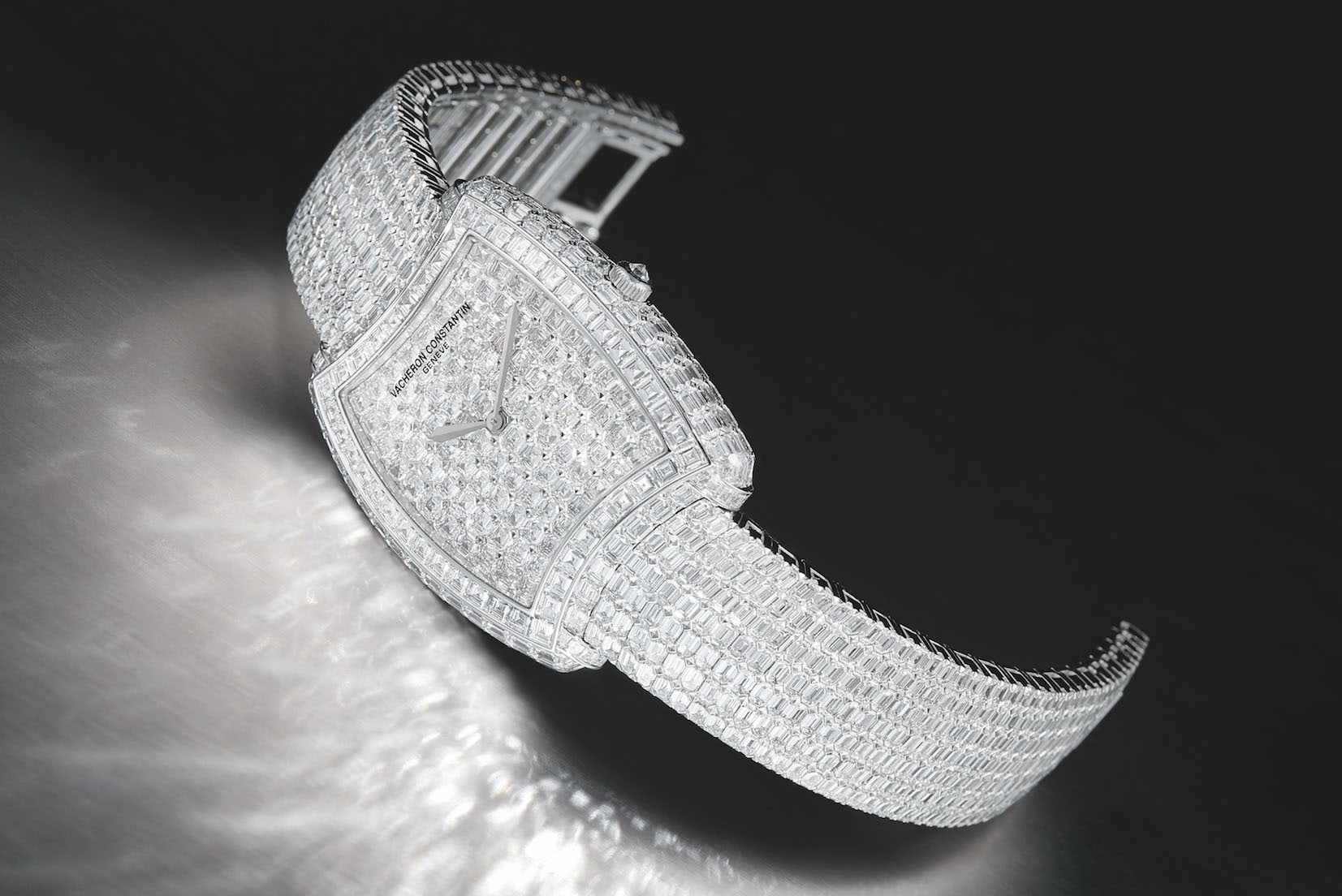 8
Vacheron Constantin Kalla Duchesse
Initial estimate: HK$3,500,000-$5,000,000
The present lot, a "Duchesse" timepiece released in 2006, forms part of Vacheron Constantin's wider Kalla collection — a family of watches which first came to widespread attention in the late 1970s. Translated as "most beautiful" in Greek, the inaugural Kallista (released in 1979) was carved from 1kg of solid gold and set with 118 diamonds that possessed a combined weight of 130 carats. While the current Duchesse timepiece does not quite reach the staggering karat count of its spiritual predecessor, it is — by contemporary watchmaking standards — a real spectacle of a watch. The dial is dripping in an assortment of 98 brilliant-cut diamonds that transition seamlessly into an integrated case and bracelet (the latter decorated with a further 182 trapeze and 560 baguette diamonds respectively). With a combined total carat weight of nearly 60k, this is an extravagant and visually distinctive watch that lives up to the Kalla line's patrician influences in full.
Bonhams' Hong Kong Watches 1.0 sale is scheduled to take place on 24 Nov 2018, at approximately 5PM (HKT). To register or obtain a condition report, please visit Bonhams online.