Japanese-French luxe coffeehouse Café Kitsuné and Casio are reinventing timelessness with their latest joint creation: The new Café Kitsuné x Casio Vintage Wristwatch.
Bringing an air of Parisian sophistication to the Casio staple, the new collaboration is the perfect daylong accessory. Whether you are meeting up with friends for some coffee or jetting off to the last meeting of the day, the Café Kitsuné x Casio Vintage Wristwatch elevates your everyday look with a subtle hint of panache and functionality.
Here's more about the Café Kitsuné x Casio Vintage wristwatch
The design and partnership The minimalist design is inspired by the popular A168 line of Casio wristwatches. This new unisex watch comes with a pared-back stainless steel band and is based on the popular Casio vintage timepieces.
Sporting a utilitarian look and effortless wearing, the chronograph uses a sleek silver band, reminiscent of the classic architecture of the French capital. Coupled with a cream-coloured dial, orange LCD and Café Kitsuné's logo, the watch pays tribute to the brand's global appeal. In an ode to the label's graphic heritage, the Casio timepiece also incorporates Café Kitsuné's Fox logo outline on the buckle and engraves it on the case back.
This new wearable line bears Casio's characteristic horological craftsmanship and expertise. It is not only lightweight and water-resistant but also features a daily alarm, a stopwatch, an hourly time signal, an auto-calendar and an EL backlight.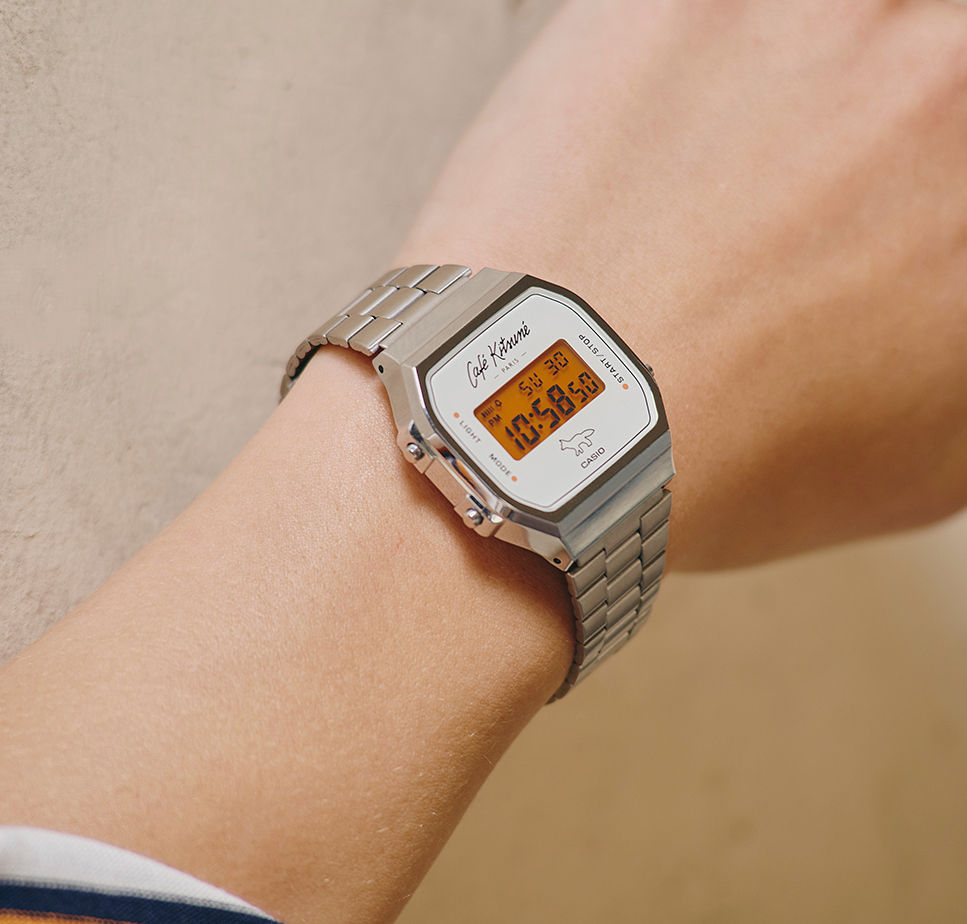 The Café Kitsuné x Casio Vintage watch will be available online at maisonkitsune.com. You can also find it across Café Kitsuné boutiques and selected retailers from 6 September 2023.
The Casio website says this collaborative piece is available for USD 99.95 (SGD 136.28).
The evolution of the Casio Vintage series
In 1974, the Casiotron set an unprecedented example in the wearable timepiece segment as the world's first wristwatch to automatically display the correct calendar date.
The Casio Vintage series inherited the Casiotron design and gained immense popularity across the world. Its affordable price, durability and unique retro style brought the characteristic design of the '70s and '80s eras to contemporary times.
Staying true to its heritage and dedicated excellence, the Casio Vintage series continues to be cherished even after almost 50 years.
About Café Kitsune
Café Kitsune is globally renowned for its wide array of speciality coffees in some of the most stunning locations around the world. It was started in 2013 in Paris by designer label Maison Kitsuné and soon grew into a retail chain spanning 27 establishments in cities like Tokyo, Seoul, New York City, Beijing and Vancouver.
In 2019, they ventured into other businesses such as roasteries, bars and restaurants.
(Hero and feature image credit: Café Kitsuné)