Over the years, independent watchmaking has seen a shift from being a niche industry to becoming coveted exclusives for collectors who wants something more than a widely available timepiece.
Of the lot, H. Moser & Cie and MB&F have consistently championed innovation, fresh concepts, and techniques that have long evaded the rigid and profit-driven world of conglomerates. Their figureheads, Edouard Meylan and Maximilian Büsser respectively, have become creative visionaries in Swiss watchmaking, so merely describing a collaboration amongst these two as "exciting" would be a rude understatement.
The H. Moser x MB&F Endeavour Cylindrical Tourbillon is easily the biggest blockbuster of the watchmaking world this year. As a grand story of camaraderie and friendship, and a marriage of passion and expertise, the timepiece shows just how two unlikely brands have managed to learn, adapt, and build something extraordinary for devotees of fine watchmaking.
The watchmaking world is already a competitive one, but Meylan saw plenty of value in working with a fellow independent watchmaker. Büsser, who's part Indian and Swiss, isn't stranger to DNA mash-ups, and suggested his FlyingT model for this 15-piece limited series. The production number is particular poignant, paying homage to not only MB&F's 15th anniversary, but also 15 years since H. Moser & Cie was relaunched as the contemporary brand it's known as today.
Still, as much as collaborations like these produce astonishingly good results, they're far and few between, requiring more guts, time, and effort to pull off than many can afford.
Meylan, H. Moser & Cie's CEO, brings us through the journey of this unprecedented collaboration, and how his firm aims to stay ahead in a burgeoning independent marketplace.
How did this collaboration come about?
The conversations started back in November 2017 when Max approached me for a collaboration. Obviously I was honoured and humbled as I have always respected Max and what he's done at MB&F. He mentioned that he really liked Moser's fumé dials and the Concept watch series and that he wanted to create something special for MB&F's 15th anniversary.
To me, it was clear; a collaboration has to go two ways, and I suggested having Moser reinterpret one of his machines, infusing elements of both brands into each other's creations. After his initial surprise, Max quickly saw the vision of the marriage: Two independent brands in the mechanical watchmaking space with a similar shared vision of challenging the norms and company size; although each brand occupied a very different but complementary segment. After all, being creative is also about being able to connect the dots.
Since the relationship between our brands had started over 10 years ago, I suggested highlighting the hairsprings in both models with the Double Hairspring on one side and the cylindrical hairspring on the other.
What was the process between you and Maximilian like?
It was enjoyable. I have known Max since 2008 as our sister company Precision Engineering AG supplies the hairsprings to his machines. Our starting point and background in micro engineering provides us the platform and understanding of mechanical possibilities and exploration.
I personally learnt a lot, especially with Max being a little bit older and with more experience in being the forefront in independent watchmaking. His dynamism and attention to detail are what makes MB&F successful. At Moser, we prefer to balance decisions like that on a collaborative approach, taking in the inputs from the watchmakers and the sales team. At some points, I had to disagree with Max purely out of pragmatism because our price points and production size are very different from MB&F. There was a lot of communication and trust between us.
H. Moser & Cie is a very traditional manufacturer, while MB&F is notoriously avant-garde in its designs and techniques. How did you ensure that Moser's DNA continued to stand out in this timepiece?
We have chosen our most popular collection Endeavour case and have "Moserized" the MB&F universe by developing a sapphire subdial, which melts into the background so as to highlight the beauty of our fumé dials.
To preserve the purity and elegance of this true work of horological art, we have inscribed our logo like a watermark on the sapphire subdial, thereby underlining the personal character and intimate relationship binding it to its owner. Available in five different versions, the Endeavour Cylindrical Tourbillon H. Moser x MB&F model comes in a steel case topped by Funky Blue, Cosmic Green, Burgundy, Off-White or Ice Blue dials, all of the fumé variety.
Instead of just cosmetic inputs, we've also developed the one-minute flying tourbillon that rises above the main dial through a ventricular opening appearing at 12 o'clock. Benefitting from the expertise from our sister company Precision Engineering AG, H. Moser & Cie. has equipped its tourbillon with a cylindrical balance spring, just like the one that was developed for MB&F's LM Thunderdome. Invented in the 18th century, the cylindrical balance spring is reminiscent of a worm- or corkscrew, rising perpendicularly around the upper rod of the balance staff.
It was commonly used in historical marine chronometers at the time, and offers the advantage of developing concentrically — and therefore geometrically — since it works perfectly along the axis of its pivots. This gives it a significant advantage over the flat balance spring, whose opposite ends tend to exert forces on the pivots despite the Philips or Breguet terminal curves which were specifically developed to partially correct the non-concentric opening of the balance spring.
Fitted with a Breguet overcoil at both attachment points, the cylindrical balance spring reduces pivot friction and greatly improves isochronism. Due to its specific shape, the cylindrical balance spring is far more difficult to produce and takes ten times longer to make than a traditional balance spring.
For any Moser customer who is familiar with our fumé dials, these mesmerizing colours are now expressed in a three-dimensional presentation, heightening the appreciation experience.
What was your favourite part about working on this timepiece with him, and what surprised you the most?
The creation process was extremely enjoyable. Partnering with Max — someone who has been known for pushing the boundaries and rewriting the rules of watch-making — presented me with the opportunity of entering uncharted territories which is something we could only previously imagine.
The timing is also ideal; MB&F is at its 15th year maturity while H. Moser has succeeded in reshaping its brand values to still being respectful to traditional values while still being relevant and sexy to sophisticated collectors today. Both brands are also at the forefront of independent watchmaking, albeit in different segments, and are always willing to take some risks and have fun.
Tell me more about the Endeavour Cylindrical Tourbillon, and how it represents the best of both H. Moser & Cie and MB&F's worlds here.
H. Moser is about minimalism and isochronism while MB&F is about 3D exploration. I like to say that this is the first 3D Moser; in a way, this is the first time that we've truly explored the third dimension. We have developed the cylindrical hairspring for about 2 years but only MB&F has used our technology since then. The Flying T system therefore gave us the opportunity to finally use it in one of our models.
Most valuable lesson from this collaboration?
If you can put your ego aside, you will learn a lot from a collaboration!
You've taken the provocative and cheeky route when it comes to making a statement (such as the creation of the cheese-cased Swiss Mad watch and Apple-esque marketing video for the Swiss Alp Watch), how did these decisions come about and what were the challenges in doing so in such a time-tested and traditional company.
It was natural, I think it is inherent to any independent watchmaker to be opinionated. But everyone has a different way of expressing it. We at H. Moser & Cie. consider ourselves activists trying to protect what we believe are the core values of traditional Swiss watchmaking while exploring the future.
How are you hoping to change people's perceptions — particularly the younger generation — about your brand, and have you succeeded since?
H. Moser & Cie. was a respected yet dusty brand in 2012, Today it is a respected yet sexy brand. We haven't lost our soul even though we've introduced a unique edgy touch that appeals to both the older and the younger generation. We have come a long way but it is just the beginning.
Do you think there's bandwidth in the industry for collaborations amongst two great independent names again?
I am convinced this will inspire others. Many have already contacted me in the last two days! But one has to be careful because not every brand will be able to work together. You need to be balanced in size, different in segment and have 100 percent trust between management — it's not easy.
As a young CEO of a prestigious watch company, do you think you have an edge over the other brands in terms of reaching out to a bigger and more demanding audience.
I am not sure I have the edge but I have the freedom and the agility. Willingness to make things change and guts to take risk is necessary as well. Bigger brands don't have any of that.
What do you want future generations to think of when they see the name H. Moser & Cie?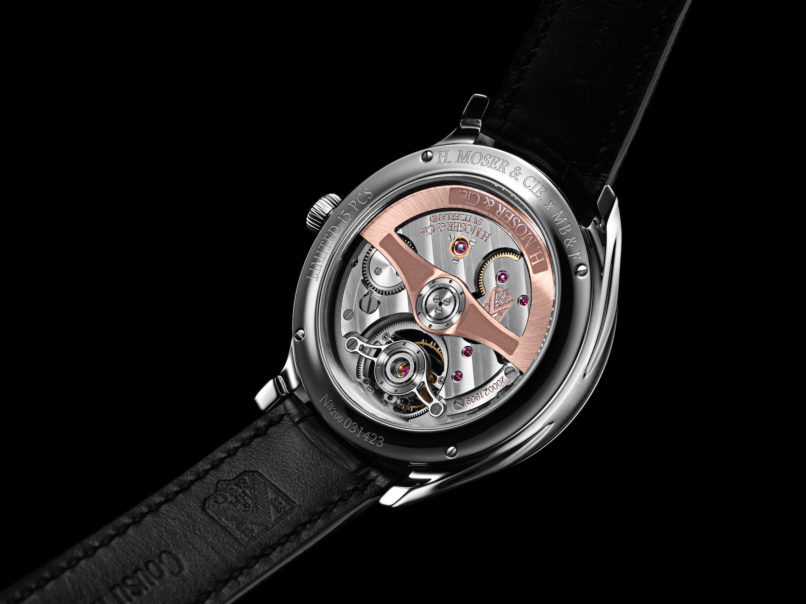 A brand that contributed to making the Swiss watch industry evolve for the better.
How do you think collaborations such as this with MB&F are going to change the industry?
Today, brands compete with each other, I hope this will show that we can collaborate for the best of our industry and that we should team up against other industries.