It's all about balanced juxtaposition for the Hermès H08 watch — the Maison's newest timepiece designed for the modern man.
Brand new for Watches & Wonders 2021, the Hermès H08 carries diametric opposition in its very name, with a '0' perched on the edge of nothingness; the '8', in contrast, tunnelling towards infinity. It's this manner of divergence that's definitive of the overarching design cues, too.
From a circular dial framed by a case oscillating between angles and curves to an aesthetic that straddles both sports-inspired and sophisticated notes, a sense of multi-faceted versatility colours through the Hermès H08 collection. It should come as no surprise, then, that this chameleonic sleight of the hand represents just the kind of modern-day man Véronique Nichanian designs for within the broader Hermès universe. As for mechanical specifics, the H08 beats to the rhythm of the mechanical self-winding Manufacture Hermès H1837 movement in the manner of three different models. The first, a graphene-filled composite case with a black gold-coated dial and a black rubber strap. The second, in matte-black, diamond-like carbon-coated titanium; the third, in satin-brushed titanium. A design described as 'all-terrain', taking the contemporary gentleman from boardroom to adventure in time and in stride.
Laurent Dordet, CEO of Hermès Watches, kindly expands further on this exciting release — as well as his own career and role within the Maison — for 2021's edition of Watches and Wonders. Read on for more.
This story first appeared on Lifestyle Asia Hong Kong
You've traversed from finance to textiles to leathers to, now, horology at Hermès. Can you take us through these shifts in your career and how it culminated to where you are today as the CEO of Hermès Horloger?
I know the Maison Hermès well; I have been working within it for more than 25 years and have held a number of management positions in fields encompassing both industry and craftsmanship aspects and carrying strong creative connotations on the one hand, and industrial and commercial leanings on the other.
One of Hermès' great treasures is the variety of these métiers, and the same thing applies to an individual career with this Maison. 
Leather goods has been one of the most natural crafts with which I have become acquainted with during my career, a métier in which Hermès is undoubtedly far more a reference than it can hope to be in watchmaking, but these differences are extremely stimulating. Because watchmaking is virtually a reverse challenge: For Hermès, Hermès Horloger is still a 'small' métier which has great potential, representing a strong source of growth if we get it right. So this is about a growth challenge, but qualitative growth, and I find that fascinating.
What was the intention behind launching a new men's watch — specifically, the H08 — this year?
We wanted to create a contemporary watch, strongly anchored in the Hermès all-terrain, 'multi-vital' masculine universe. It was a desire to express our values, to embody them. This timepiece embodies 'the Hermès take on contemporary masculinity'.
As part of the strategic reinforcement of our men's range, this new men's line is a creation equipped with a Manufacture movement, exclusively dedicated to men. Inspired by sports — unlike Clipper, which was an actual sports watch — it is strongly rooted in the Hermès men's universe as imagined by Véronique Nichanian. All-terrain without being performance-oriented, and eminently contemporary, it facilitates travelling light. A loyal, 'multi-vital' companion at all times, it offers time for oneself in a hectic world.
Compared to the Carré H, which is also exclusively masculine, we are building the foundations of a complete line, with a depth of range, to which we can add complications, plays on materials, etc. The Carré H remains a 'narrow' line, with a limited number of references because we are constrained by the architectural shape of its case.
This marks the first time Hermès has used graphene composite and ceramic on watches. What was the reason behind this material selection?
Yes. The 'all-terrain' spirit of the model lent itself perfectly to these materials which add lightness, bring fascinating colour effects and complete the overall aesthetic appeal. The mineral side of the model gives it a rigorous yet pleasing appearance. With the Hermès H08, time takes shape thanks to the Hermès artisan who sculpts the material to create a beautiful everyday object.

The popularity of sports watches has risen in recent years. How does the H08 differ to those already existing in the market?
Hermès watchmaking offers a different interpretation of time: A time brimming with whimsical fancy, which goes beyond style; a time that is friendly, enduring, playful and recreational. A time that tells a story and arouses emotions. The Maison does not seek to replicate what already exists, but instead to be daring and follow its intuition by creating objects whose purpose is not only to indicate the time but to build a relationship with time.
This singular interpretation, which runs counter to industry trends, is expressed today through the new Hermès H08, which, through its form, expresses our relationship with time.
It is a model all about contrasts that combine rigorous discipline and high demands, poetry and harmony. An authority expressed through the square shape, the watch movement, the mineral and technological materials, yet presented with sensuality through the roundness, the font, the mix of materials. It is a sensual and light model, yet also virile — 'sharp, but sensual'. Time is implacable, organised, quantifiable, but it is also qualitative. The object embodies this idea: Intended for contemporary individuals concerned by the passage of time in a demanding world. But individuals are also engaged in a quest for meaning. The object becomes a symbolic value. We can no longer make arbitrary objects. They must be means of giving meaning. The watch becomes a real companion, a symbol of a relationship with time and a lifestyle.
Can you speak on the public's response to Hermès' watch category?
In recent years, we have seen growing interest from Hermès customers and watch collectors, thanks to launches featuring singular designs and unconventional interpretations of traditional watchmaking. In 2015, for example, with Slim d'Hermès, born from a stylistic exercise around the purity of design and expressing a move towards essentials with a minimalist style; in 2018 with Carré H, a square-shaped watch designed by Marc Berthier featuring a contemporary aesthetic; with Arceau, which suspended time in 2011 and began playing with moon phases in 2019; or which quite simply, with the privilege of its sobriety and elegance, has since 1978 been expressing the audacity of its designer Henri d'Origny.
What are the most significant steps you have made since becoming CEO in 2015?
This period has been, for us, a continuation of Hermès' long term strategy regarding watchmaking: Strongly invest into our own manufacturer in Switzerland — where we established our production 40 years ago — making almost all our components internally and from there expressing our singular vision of this métier, far from our competitors. Rather than measuring it, dividing it into sequences and seeking to control it, the Maison dares to explore another time designed to stir emotions, open up interludes and create spaces for fanciful approaches and recreation. This 'step sideways' is expressed through all our watches: Our style and our 'Hermès complications' prove we go our own path and do not follow trends. This is also present in our institutional communication.
On the product side, these recent years have been marked by a lot of novelties: For example, the renewal of Cape Cod was an opportunity to renew the line and propose unexpected versions. On the masculine side, our Slim line has welcomed a singular complication 'L'heure impatiente' and more recently, Arceau with 'L'heure de la lune' was a great success. We've definitely increased the attractiveness of our watches both in the men's and ladies' sectors, and on the other hand to achieve the watchmaking legitimacy that we are working towards. Last but not least, we have brought a new dynamic in our retail network and strengthened our key partnerships in the external network.
How do you strike a balance in product focus as Hermès' breadth of offering — from this H08 collection to novelties, jewellery and métiers d'art pieces — increases?
The expectation is for the company to achieve legitimacy in the watchmaking world as well as qualitative growth. Qualitative growth that we can be proud of as both Hermès and a watchmaking entity.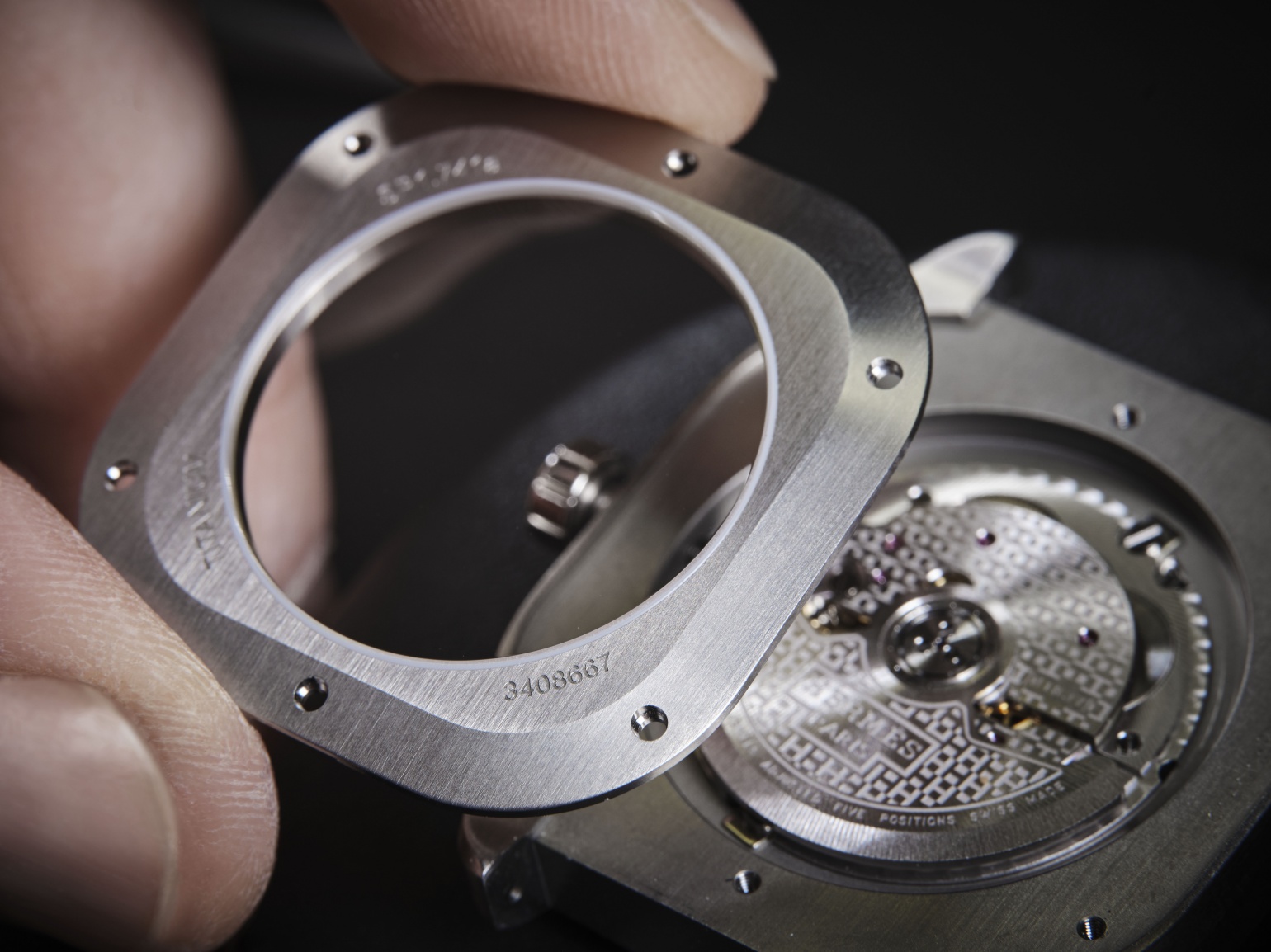 On the one hand we have a value strategy based on the growth of mechanical, precious watches and those incorporating artistic crafts and on the other a strategy which aims to increase the masculine share of our sales, but certainly not by abandoning the feminine offer that we also intend to continue developing. We strongly work on our pillars like Arceau, Cape Cod and Heure H while adding some high horology and métiers d'art pieces encapsulating the Hermès creativity and singular approach to time.
2021's edition marks Hermès' fourth time participating in the Watches & Wonders trade show. Thoughts on the event's influence?
Since the demise of Baselworld, Watches & Wonders Geneva (ex-SIHH) has become the major watch industry event, welcoming journalists, influencers and retailers from all over the world, as well as end customers. In 2020, Watches & Wonders developed a website enabling brands to showcase new products via their press kits, although it was not a streaming platform. Offering an essential moment for sharing many industry-related themes in parallel with the presentation of new collections, the 2021 digital edition — scheduled to take place from 7 to 13 April — will encompass new must-see brands and invite the press and retailers to presentations and individual meetings via a digital platform. Watches & Wonders Geneva digital, with whom we share a number of common values including a spirit of openness, thus provides an appropriate response to a changing world with the presence of smaller Maisons, as well as the provision of a communication and commercial platform for brands' benefit.
Prices for the Hermès H08 watch start at HK$46,300. Find out more at hermes.com or visit your local Hermès store.