For quick weekend vacations, most Singaporeans board a plane and head to popular beach destinations in Indonesia, Thailand or the Philippines. However, if all you want to do is relax in a plush villa, tuck into mouthwatering traditional dishes and pamper yourself to a rejuvenating spa treatment, Bintan is often an overlooked destination.
The island which makes up part of Indonesia's Riau Archipelago offers more than just lush golf courses. Over the past decade, it has become an upscale resort destination boasting secluded beaches and a diverse range of water sports.
The best part? It's only a 50-minute ferry ride away from Singapore, so you can spend less time travelling — and more time relaxing. Once you arrive on the island, your resort's private car will whisk you away and take you directly to your luxurious seafront villa.
Here, the best resorts in Bintan to book for a weekend away.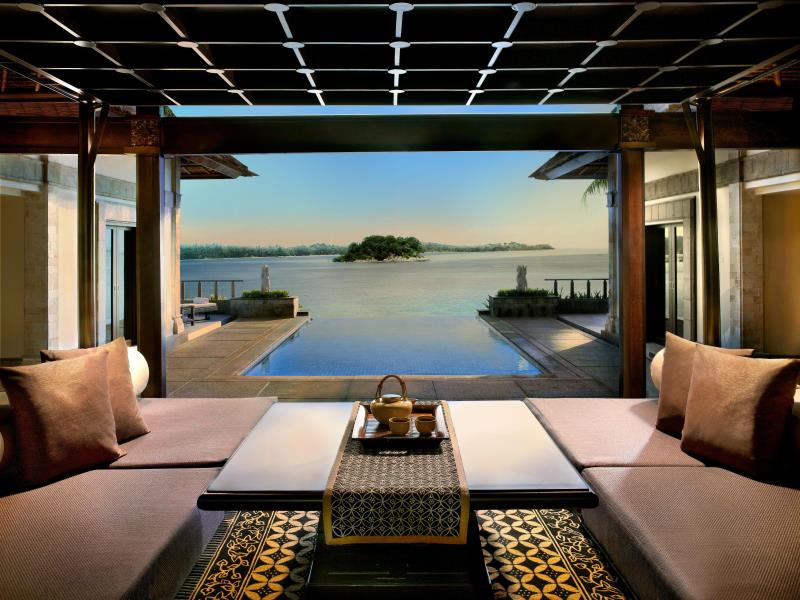 Immerse yourself in a natural sojourn on the island at Banyan Tree Bintan. The resort offers beautiful, contemporary villas, each raised on stilts and set on hillsides overlooking the South China Sea. The rooms come with four-poster beds, private pools and terraces, as well as modern comforts such as free wifi and tea and coffee making facilities. Whether you choose to unwind and relax on the resort's private beach or pamper yourself to the acclaimed luxury spa in Bintan, Banyan Tree Bintan provides a luxurious getaway from Singapore.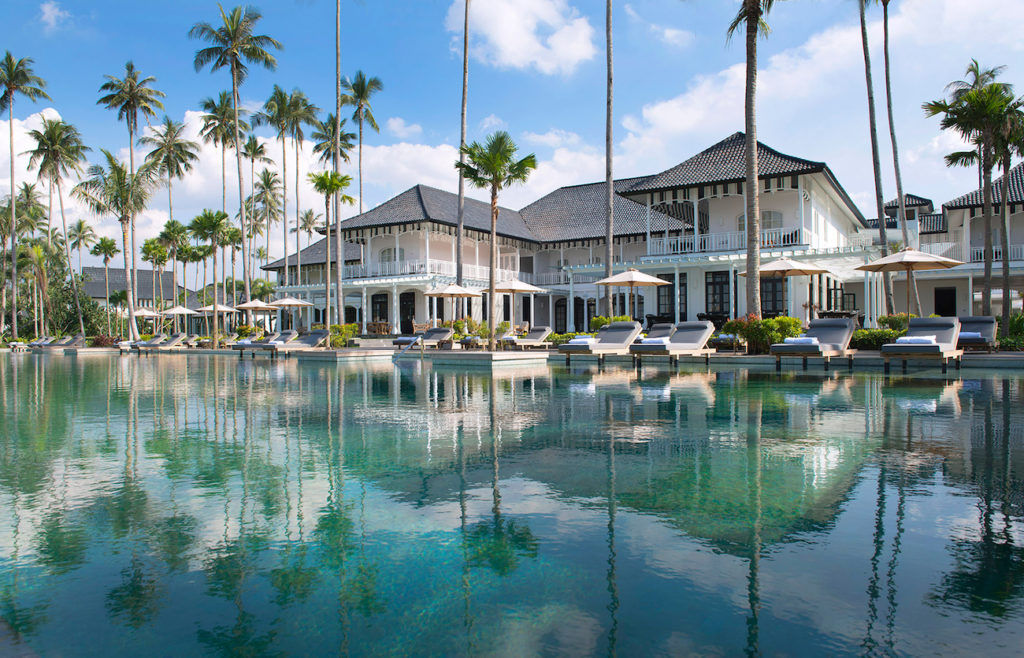 The Sanchaya almost needs no introduction. This secret beachfront estate in Bintan offers 29 villas and suites and a stunning private residence — all beautifully-furnished with breathtaking views of the ocean. The Sanchaya is known for its colonial-style facade, shimmering 50-metre infinity pool lined by rows of palm trees, and excellent food and beverage choices.
Although the journey from Singapore takes less than an hour, The Sanchaya feels like a world apart. In fact, you'll feel the change in ambience as soon as you walk into the private lounge at the ferry terminal upon arrival.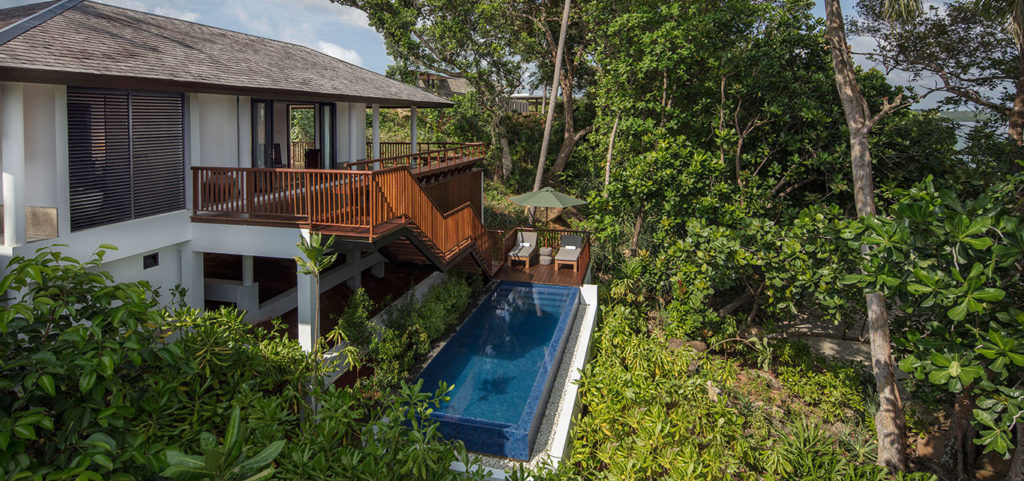 The latest luxury resort to grace Bintan's shores, The Residence Bintan provides a peaceful respite away from the busy streets of Singapore. The idyllic retreat combines the rural charm of a traditional Asian village with a luxurious modern twist. The Residence Bintan offers 127 terraces and villas overlooking lush gardens and the tranquil bay. All terraces and villas pair clean contemporary lines with hints of local Indonesian style, designed to embrace the beauty of the natural surroundings. Additionally, the dining establishments offer everything from gourmet creations to modern interpretations of classics, all prepared using local produce, including some from the vegetables grown in the resort's gardens.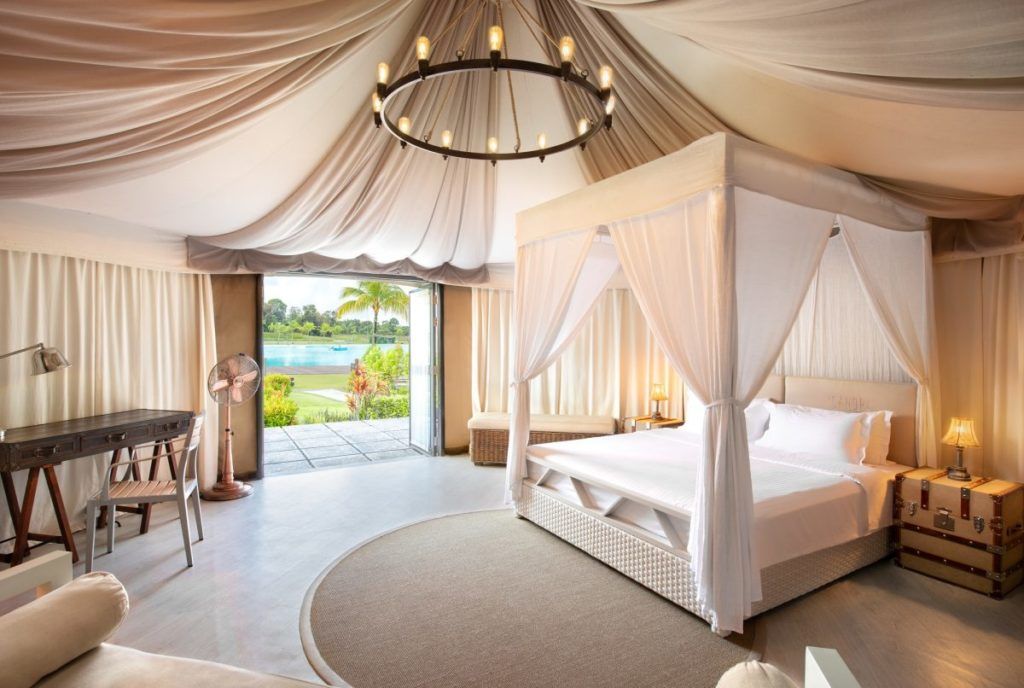 Go glamping on your next Bintan getaway at Canopi Bintan, a resort under the Tribute Portfolio (part of the Marriott Group). Set along Southeast Asia's largest man-made saltwater lagoon, The Canopi Bintan offers a nature-focused getaway in complete luxury just an hour from Singapore. In fact, the resort marks Marriott's first glamping experience.
Accommodation comes in the form of 100 safari-themed tenets with private patios and gardens and outdoor rainforest showers — all set against Bintan's tropical greenery. Activities here include cable- and jet-skiing, bumper boats, private kayaking tours in the mangrove, and ATV rides. The lagoon also provides the perfect backdrop for all-day dining at The Patio, and the outdoor bar for sunset cocktails.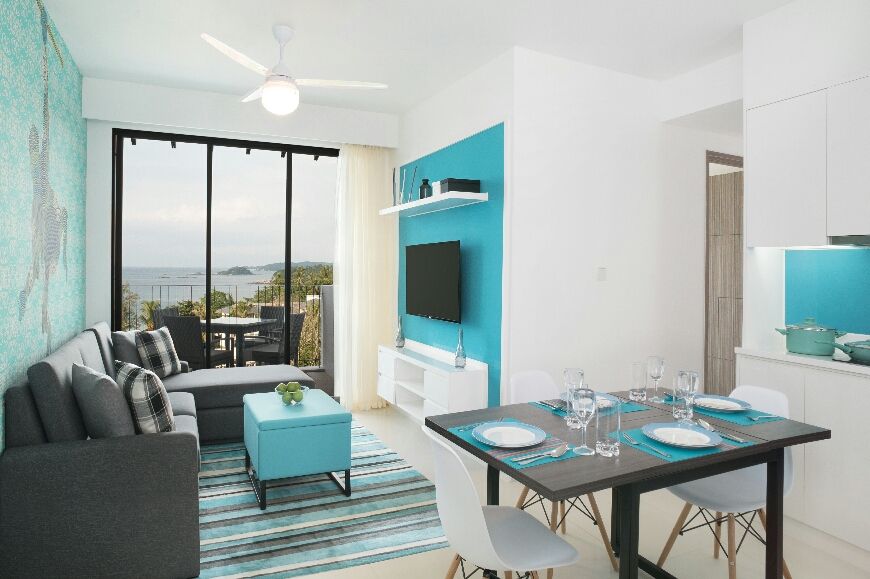 Enjoy beachfront living at Cassia Bintan, the latest addition to the exclusive Laguna Bintan Integrated Resort. This vibrant resort is perfect for younger couples, families with kids, or those travelling in large groups.
Make use of the suite of facilities of the integrated resort, which includes spas, and 18-hole golf course, and even a trendy beach club for your to lounge all day. The adventurous souls can embark on a Gunung Bintan trek or a mangrove discovery tour. Cassia Bintan is truly the perfect destination for everyone.