With the year-end festive season coming up, most of us are already in the midst of deciding on where to go for our next vacation. For those hankering to indulge in retail therapy, popular cities such as Bangkok, Hong Kong and Seoul will probably rank pretty high on their list. And for thalassophiles (people who adore being by the sea and ocean), beach destinations like Phuket, Bali and the Maldives will inevitably come to mind. Then there are the romantic and heritage-rich cities of Paris and Rome — perfect for a relaxing getaway with your significant other.
But if you've already visited all of those destinations above, and are yearning to experience an entirely different landscape, we suggest making a trip to Lucerne, Switzerland. The city is framed by lofty mountains and vivid blue waters, and features architecturally-striking shophouses and colourful wall murals — so you can be assured of Instagram-worthy photos at every turn. Shopping opportunities are abundant too, particularly in the areas of watches and chocolate — two things that Switzerland is renowned for. To make your stay all the more memorable, there is also a variety of luxury hotels in Lucerne boasting opulent rooms that you can retreat to after a long day of sightseeing.
From the sumptuous Grand Hotel National to the spectacular Hotel Villa Honegg that's perched 914 metres above sea level, here are 6 luxury hotels in Lucerne that are worth checking into. And yes, they all come with incredible views of the Alps and iconic Lake Lucerne.
1
Bürgenstock Hotel & Alpine Spa
Part of the massive Bürgenstock Resort on Bürgenberg mountain, this swanky five-star superior hotel is equipped with 102 chic and contemporary rooms that are furnished in quartz, walnut wood and marble. The rooms feature bay windows that overlook the scenic Lake Lucerne, while their bathrooms are fitted with windows facing the lake — so you're pampered with a gorgeous view while soaking in the tub. The hotel also boasts a luxurious spa that spans 10,000 square metres of indoor and outdoor space, with highlights such as an infinity pool, saunas and jacuzzis. Don't forget to catch a movie in its private cinema, and to check out the resort's famed chapel where Audrey Hepburn and Mel Ferrer tied the knot in 1954.
Bürgenstock Hotel & Alpine Spa, Bürgenstock Resort, 6363 Bürgenstock, Switzerland, +41 (0) 41 612 60 00
(Photo: Bürgenstock Hotels AG)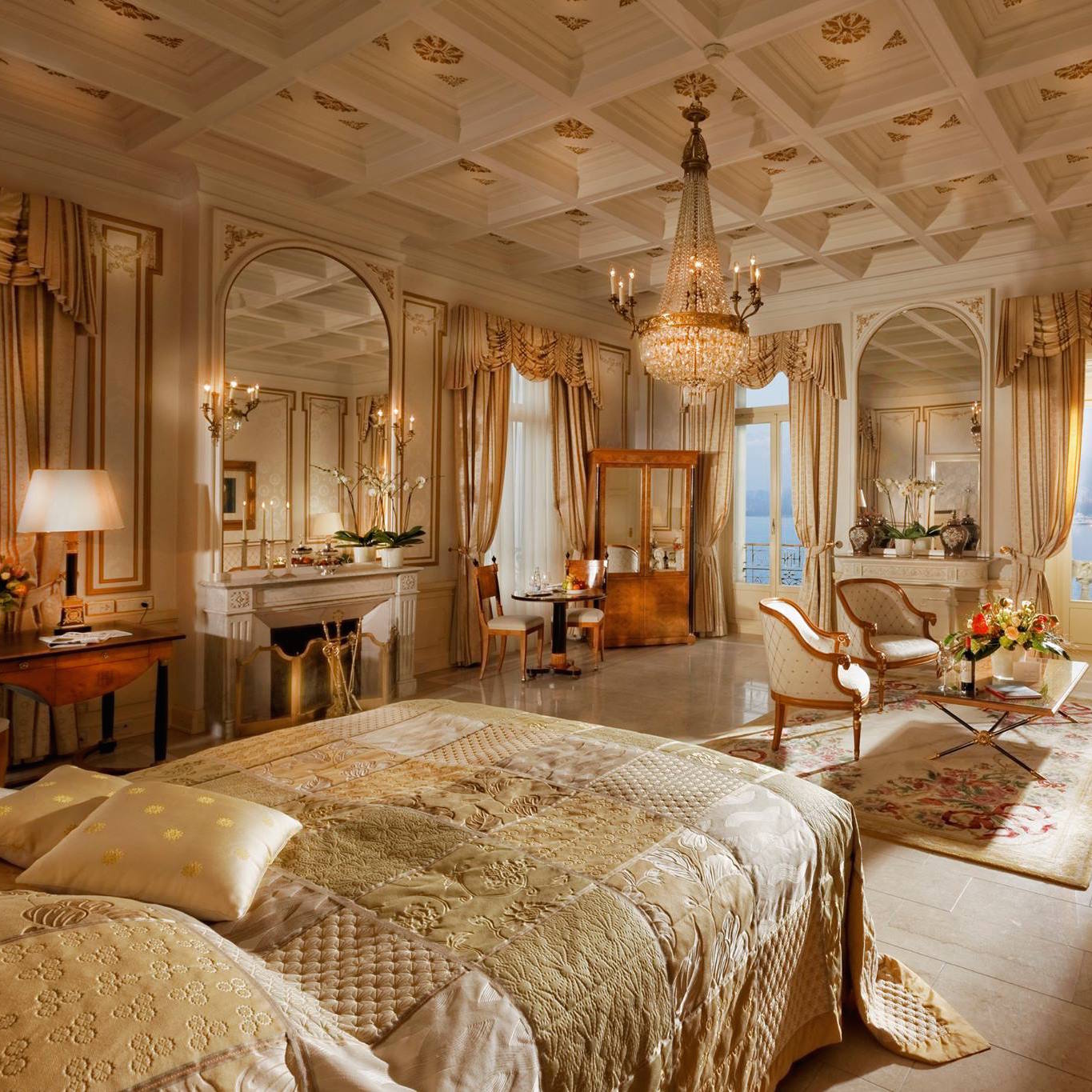 2
Grand Hotel National
With its unabashedly opulent rooms decked out in gilded mirrors, marble floors, and plush chairs, Grand Hotel National is the very picture of old-world elegance. The historical, five-star property was originally built in 1870, and offers sweeping views of the river Reuss and Lake Lucerne. It's situated close to Lucerne's old town, making it an ideal base for first-time visitors to the city. One of our favourite spots within the hotel is its National Bar, a handsome space dressed up with a retro black-and-white checked floor and a glitzy chandelier.
Grand Hotel National, Haldenstrasse 4, 6006 Luzern, Switzerland, +41 41 419 09 0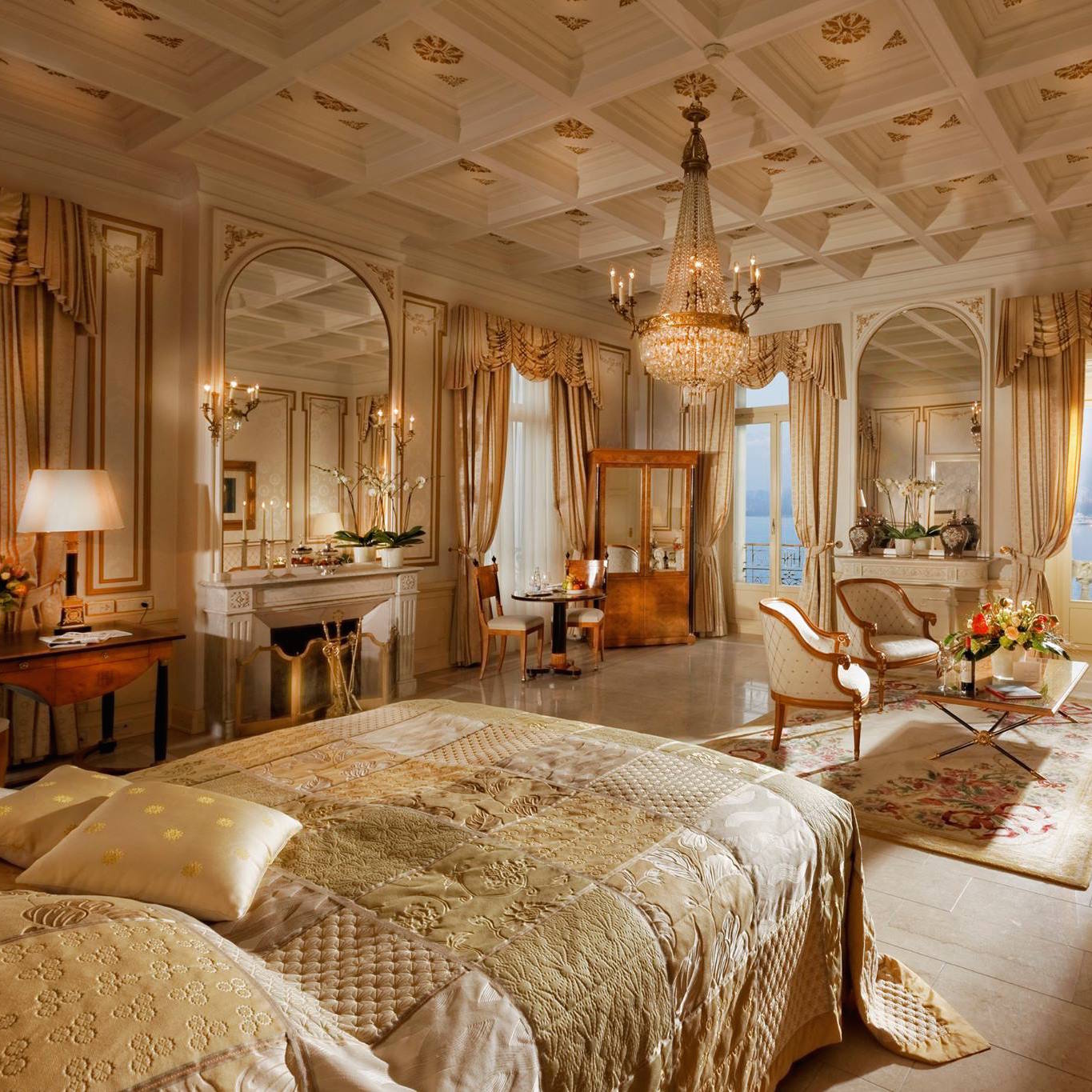 3
Hotel Villa Honegg
Sitting 914 metres above Lake Lucerne, Hotel Villa Honegg is a five-star superior property equipped with 23 cosy rooms. What we love most about the hotel is its terrace, which is attached to its in-house restaurant. The alfresco space provides all-encompassing vistas of the lake and Alps, and even has a rack of faux fur coats for guests to borrow, should the weather get extra chilly. If you're hoping to squeeze in a few laps during your visit, try out the outdoor swimming pool, which is heated to 34 degrees celsius so you get to stay warm and comfortable throughout.
Hotel Villa Honegg, Honegg, 6373 Ennetbürgen, Schweiz, +41 (0) 41 618 32 00
4
Park Hotel Vitznau
First opened in 1903 as Park Hotel, this upscale establishment underwent a major facelift in 2009 and now sports sleek and contemporary interiors in white, brown and earth tones with hints of gold. Its 47 residences, suites and junior suites are designed around the main themes of Wine and Dine, Art and Culture, and Health and Wealth. Noteworthy examples include the Newton Residence (pictured), which is inspired by English mathematician Isaac Newton and is furnished with a balcony facing Lake Lucerne and the Alps. The hotel has a solid repertoire of food and beverage offerings too, with two Michelin-starred restaurants and six wine cellars stocked with 35,000 different bottles.
5
Hotel Schweizerhof Luzern
If making your way out of the city and up a mountain seems a tad too cumbersome, opt to stay at Hotel Schweizerhof instead. The hotel is perched on the shore of Lake Lucerne and located in the heart of Lucerne's old town, so you're guaranteed of picturesque views and a plethora of shopping options. Founded in 1845, the establishment has entertained numerous famous guests the likes of Winston Churchill, Roger Moore and Keanu Reeves throughout the years, and its rooms have been designed to reflect the personality of its star-studded clientele. The Moore-inspired room, for instance, features "007" emblazoned on its wall and displays historical photos of the actor.
Hotel Schweizerhof Luzern, Schweizerhofquai, 6002 Luzern, +41 (0) 41 410 0 410 
(Photo: Elge Kenneweg)
6
Château Gütsch
Designed in 1888 by Swiss architect Emil Vogt, who was inspired by the architecture of Bavaria's Neuschwanstein castle, the magnificent Château Gütsch is the place to be for those yearning to feel like royalty — if only just for a little while. The fairytale-like building features 27 rooms overlooking the mountains and Lake Lucerne. Every single room is different, and comes with elements such as Victorian-style plasterwork, French Louis XVI carved sleigh beds, and Carrara marble bathrooms. Rumour has it that in 2006, the late King of Pop Michael Jackson contemplated buying the property. We aren't surprised — if we had the dough, we would totally do so.
Château Gütsch, Kanonenstrasse, 6003 Lucerne, +41 41 289 14 14