Nestled halfway between Singapore and Jakarta is Indonesia's secret beach paradise, Belitung.
Indonesia is an archipelago of more than 17 thousand islands, and most holidaymakers tend to flock to the famous few: Bali, Lombok and Bintan. Yet, Belitung, Indonesia's rising paradise, is often neglected.
The island is one of the few non-volcanic formations in Indonesia, home to fascinating natural rock landscapes alongside incredible beaches draped with beautiful white sand. Travellers from all around the region find themselves drawn to its magnetic shores: sparkling clear waters, incredible coral reefs, and excellent seafood are just some of the reasons why the island has been rising in popularity.
To get you going on your next journey to the balmy island, we've put together a guide on the must-visit locations to visit and dine at, as well as a couple of extra-plush beds for the perfect tropical holiday.
How to get here: From Singapore's Changi Airport, book a direct flight to Belitung's airport in Tanjung Pandan via Garuda Indonesia.
Where to go
Tanjung Tinggi Beach
If you're here over the weekend, make sure to visit Tanjung Tinggi Beach, home to fine, sandy shores and a bustling crowd dining on some local street food. The sparkling waters are littered with large granite boulders, which makes the scenery endlessly charming compared to other beaches elsewhere. Tanjung Tinggi is also one the most famous beaches around — it was the key filming location for the 2008 Laskar Pelangi (The Rainbow Troops), a movie adapted from the award-winning book by Andrea Hirata.
Museum Kata
Never leave Belitung without a stop at Museum Kata, an iconic attraction for any visitor to the island. The colourful, compact literary museum of the first of its kind in Indonesia, and features exhibitions on writers like Andrea Hirata. Other than learning how literature becomes an important part of life, the Museum's eclectic colours make it a great photo spot as well.
Kaolin Lake
The mesmerising blue of Kaolin Lake is one attraction that attracts all around the world to come to Belitung. Unlike the craters of Kawah Putih Ciwidey in Bandung, the blue water lake was formed as a result of an abandoned mining site. Due to its shimmering reflection from the sky, the white bottomed lake comes across as an enchanting shade of light blue. The best time to visit is during the dry months of April to September.
Where to eat in Belitung
Ruma Makan Belitong Timpo Duluk
Like other parts of Indonesia, Belitung practices the tradition of eating communally, also known as Makan Bedulang. However, this custom has been begun to fade, especially in the more developed cities like Jakarta. Ruma Makan Belitong Timpo Duluk is trying to save this age-old tradition by preparing food for four individuals, served on a large platter called a dulang. The refreshing Gangan Ikan, a yellow soup made with fish and pineapple, is a crowd favourite amongst locals and travellers alike.
Lemadang Seafood and Grill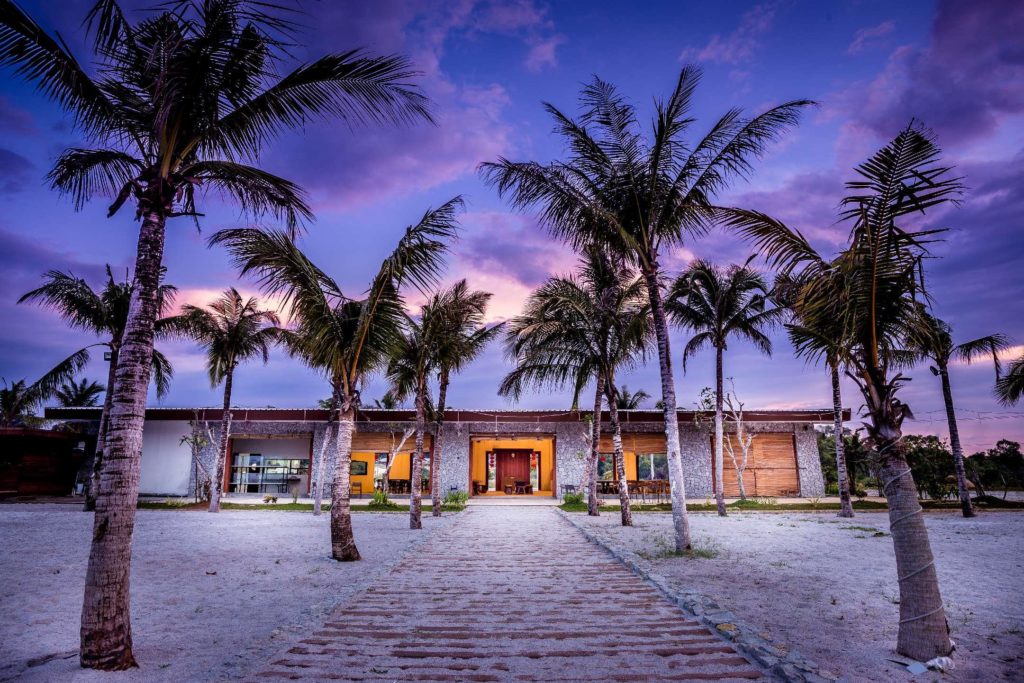 If you're worried adjusting to local tastebuds, grab a bite at Lemadang Seafood & Grill. It is located right next to Tanjung Tinggi Beach, and serves up a range of freshly caught seafood and a couple of classics like pizza for holidaymakers too. From their range of seafood, opt for the succulent grilled prawns and the juicy grilled fish, both incredibly tender and lightly seasoned. If you're here for dinner, dining alfresco would a beautiful way to catch the sunset and enjoy the cool evening breeze.
Mie Belitung Atep
If there's one thing that Indonesians love, it has to be Mie, or noodles in English. Mie Belitung is one of the island's most famous dishes, and a must-try for any visitor to the island. In a nutshell, the dish is yellow noodles in a sweet prawn broth, but it really is much more than that. Here at Mie Belitung Atep, the soft noodles contrast its texture with the crunchy bean sprouts and cucumber, while the minced prawn roll and fried shrimp add layers of flavour to the mouthwatering broth served at the bottom. On top of the bowl, find a couple of crackers as an appetiser to the dish. These crackers are Keropok Emping, fried crackers with a slightly bitter taste, which are added to elevate the savoury notes of the dish.
Where to stay
Arumdalu Private Resorts
Arumdalu Private Resorts is the first and the only eco-luxury private resort in Belitung island, Indonesia. The serene oasis is located in 40 hectares of preserved natural forest, flanked by a stunning 800-metre long private beach. As part of their ongoing efforts in terms of sustainability, they pride themselves with their very own organic farm (using urban farm technology) for farm-to-table dishes, and only use local wood from the area to create furniture and other decoration pieces. Other than private hot tubs and pools in the villa, guests can treat themselves to a series of wellness and craft projects such as batik painting and cooking classes. These have been specially curated by the resort to educate and inspire guests about Belitung and its local culture.
Santika Premiere Beach Resort Belitung
A short three-minute drive from Tanjung Tinggi Baech is Santika Premiere Beach Resort Belitung, a tranquil property made for restful nights. The property's prime location makes it a great jumping point to other attractions like Lengkuas Island, Tanjung Kelayang Beach and many others as well. Each of its 128 well-appointed rooms are sleek and modern in design, with interesting touches like art-deco tiles for a touch of artistic flair. If the sandy beaches are not your thing, find yourself at the hotel's outdoor infinity pool. It overlooks a quiet sea, and is a great place to spend the evening.
Fairfield by Belitung
For a contemporary stay with exceptional service and quality, spend your nights at Fairfield by Belitung. The ocean fronting hotel's architectural design is reminiscent of a Rumah Panggung, or traditional stage houses in English, but injects modern sensibilities with spacious accommodations and lavish amenities. Each of its ocean fronting rooms are modest in terms of design, but its interiors are overshadowed by spectacular sunsets and an abundance of natural light. Health junkies can satisfy their exercising needs with the property's 24-hour gym, or head to the outdoor pool, fitted with a poolside bar for a sneaky tipple or two.