At some point while walking along the cobblestoned streets of Beyoglu in Istanbul, you'll eventually find yourself feeling like you could be in Le Marais — one of Paris' hippest precincts. It's an odd feeling given that mosque minarets can be seen in every direction of this neighbourhood in Turkey.
The district lies in the European side of the city and was where Genoan and Venetian merchants operated before the Ottoman Empire swept through. Here, historic art nouveau buildings are suspended in time like mosquitoes in amber. It's little wonder then that the architecture is similar to what one would see in most major European cities.
Today, the area heaves with outdoor cafes where scarfed sophisticates jab their cigarettes, museums beckon with ancient knowledge, and quaint artisanal businesses ply their trade. These spots are at times, hidden in its tiny alleyways in between marbled mosques and grand consulates. Others are bold architectural statements that hail from centuries ago. For those of us with a knack for hidden finds and spaces alive with a progressive DNA, Beyoglu in Istanbul will be your answer.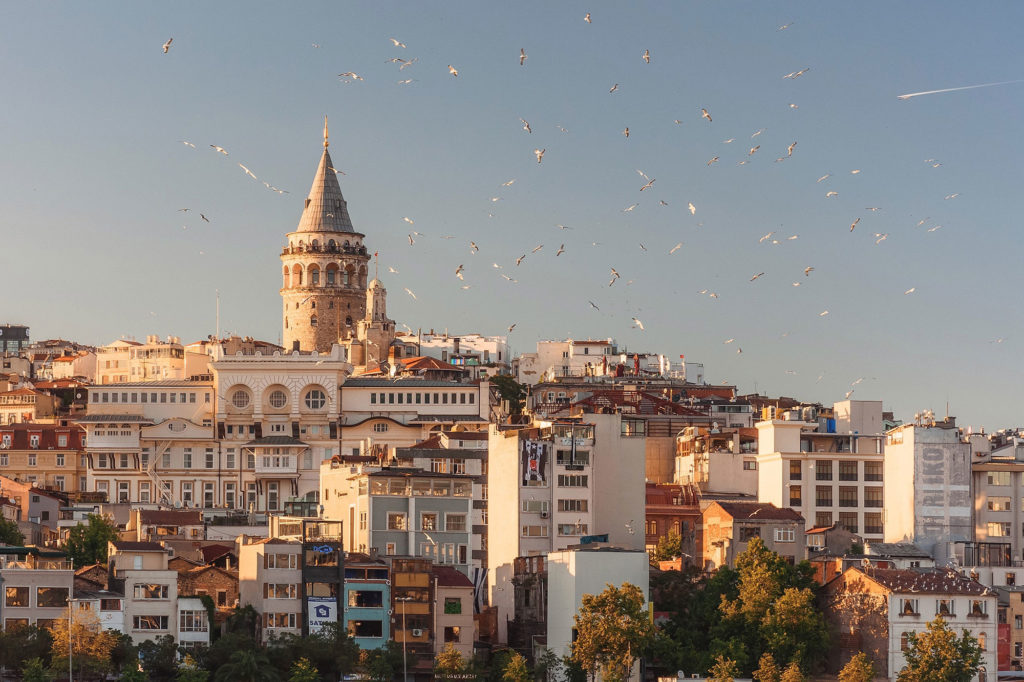 Galata Tower is by far the most recognisable landmark in Beyoglu — this iconic stone structure with a conical roof that towers 66.9 metres above the neighbourhood. While that may seem puny by skyscraper standards, it stands tall over its historic area and can be seen clearly from the other side of the Bosphorus. The tower was constructed in 1348 to survey the harbour while the Ottomans in the centuries after used it to spot fires. Today, it's open to visitors and forms a great starting point for visitors to Istanbul for some geographical context. Sufism is the mystical branch of Islam, and while the religious organisation was banned upon the fall of the Ottoman Empire, the practice survived in the underground and continues to flourish in present times. Today, the whirling dervish ceremony at the Galata Mevlevihanesi Müzesi is open to all. Tickets costs ₺100 (approximately S$22) and can be booked online in advance but those after front-row seats should be advised to come early as it's free seating. No visit to Turkey is complete without a visit to the hamam and Beyoglu is home to one of Istanbul's oldest. The Kilic Ali Paşa Hamam is a 16th century bathhouse that sports the largest dome in Istanbul and expansive white marble spaces. It's been beautifully restored and accessible to foreigners thanks to its English-speaking attendants who guide you along the process. The hamam ritual here costs about ₺310 (approximately S$71) with additional massages starting from ₺220 (approximately S$50). The Istanbul Modern, Turkey's most important modern art museum, has relocated from a warehouse by the Bosphorus to Beyoglu in the former Union Française building, which will be its home until 2021. The old space is undergoing a massive facelift designed by Renzo Piano. In the meantime, the temporary location houses a collection of Turkish and European art ranging from Belgian artist Hans Op de Beeck to Murat Akagündüz. Art collectors won't have to look very far for a curated selection of art. Galata Art, a three-year-old gallery and store has a tasteful collection of original paintings, sculptures and handmade ceramics. The ceramic pieces here lean towards artistic expression rather than functional ware, while the paintings are mostly abstract with a smattering of cityscapes in a range of media. Istanbul's fashion scene is a dynamic one — and it's home to all the big brands as much as small indie names. For a taste of the latter, head to local designer Hasan Koca's boutique. His work on both men's and womenswear is characterised by sharp clean lines and sensible tailoring. While you're there, check out the range of handmade leather goods which spans the gamut from messenger bags to belts to fanny packs. Those on the hunt for beautiful functional ceramics can head to Gökhan Zincir's hole-in-the-wall store which stocks a variety of tasteful, if slightly offbeat designs. The pieces here are a contemporary expression of the country's long-held tradition of ceramic-making, so expect cylindrical coffee cups set atop wooden coasters and paper-thin plates that curl up like leaves rather than the painted floral motifs available at tourist shops. There is no lack of delicious food in Beyoglu but if you have time for only one good meal, make it at Mikla Restaurant. While it offers sweeping views of the city, it's the contemporary dishes that Turkish-Scandinavian chef Mehmet Gürs puts up that has our attention. The menu changes daily but highlights seasonal produce from around the country in a concept the chef terms "New Anatolian Kitchen". If you're on the major shopping belt that is Istiklal Avenue, look out for Cicek Pasaji, a famous historic passageway that was once known for its taverns serving up hearty fare and cheap beer to workmen back in the 70s. Its name translates to Flower Passage in Turkish, this was where Russian nobility sold flowers as they fled the country following the Russian revolution. Today, it's home to a smattering of restaurants and worth a stroll through to admire its historical architecture. Turkey has a long history that spans several ruling conquerors, and while one might think that would make antiques common, authentic historical items are rare finds. Those looking for prized gems with clear provenance can head to Sofa Art & Antiques run and owned by trusted antiques purveyor Kashif Bey. This is not the place to pick up a kitschy tourist trinket but deep-pocket purchases ranging from hand-carved signet rings to late Ottoman-era paintings. It seems odd to be buying towels on holiday but the quality of Turkish towels are unparalleled. This is thanks to Turkish cotton, known for its extra-long fibres and the fact that towels were invented in Turkey — specifically, Bursa — in the 15th century, when hammam culture began to flourish. The first towel makers were, in fact, rug makers who applied their weaving know-how to cotton. While the originating city is a full day trip away, quality towels can be purchased in Beyoglu. Look out for Pera Family, a quaint store that specialises in all your bath time essentials. Look out for the towel sets that come complete with handmade soaps and pumice stone.