There is nothing like sipping a glass of Mai Tai on a powdery white beach. The culmination of the sea breeze, sun-kissed skin, and beats playing in the background is more than enough to get you in the mood for a summer getaway.
Move over the usual beach hotspots and instead, consider Lombok, a two-hour boat ride from the tourist throngs of Bali. Blessed with spectacular beaches and fantastic hiking trails, Lombok is often seen as a quieter, more serene version of Bali. Yet, this island is more than just a sleepy surfer's paradise. The bar scene here includes remarkable sunsets across the ocean, and cocktails are served right on the sand.
Here, we list our favourite beach bars in Lombok so grab your sunglasses get ready for your next beach getaway.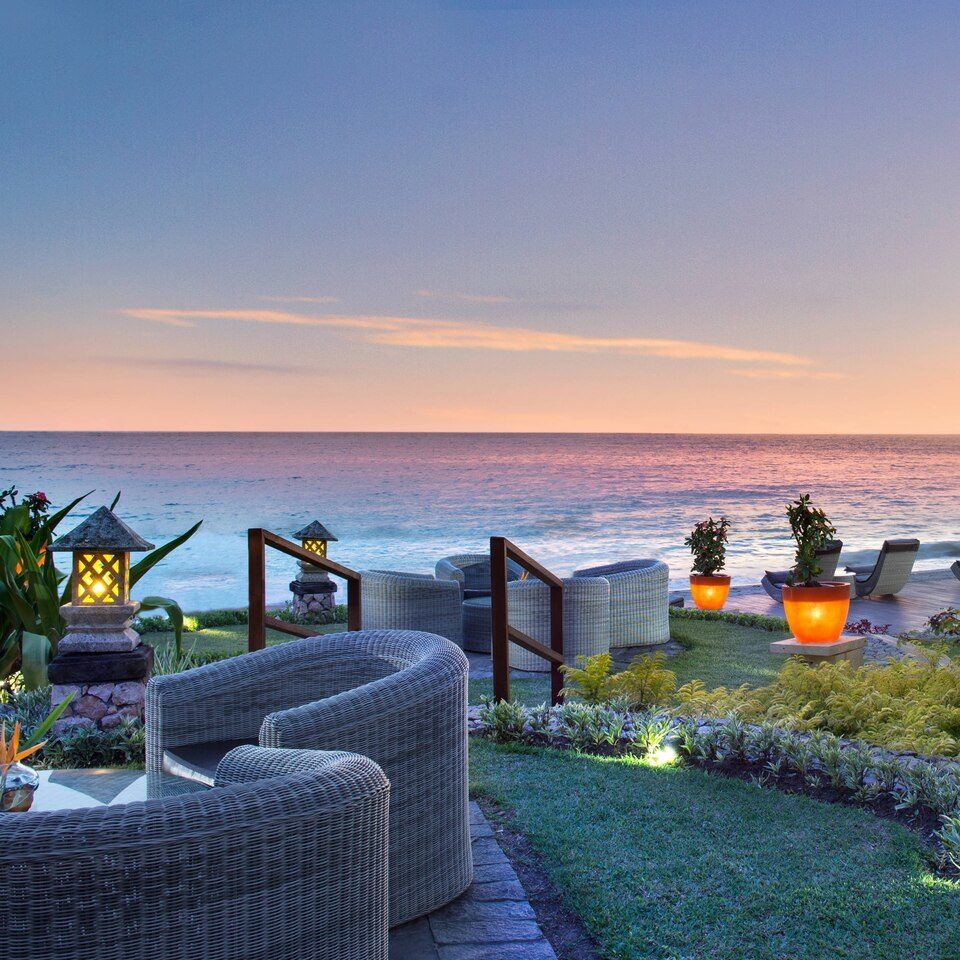 1
Sheraton Senggigi Beach Resort
The Sunset Bar in Sheraton offers indoor seating near their lagoon-shaped pool and outdoor seating right on the edge of the ocean. They serve both classic and contemporary cocktails accompanied by delectable bar snacks. During their daily happy hour, enjoy the sounds of Toba-Tabo Sumatra Quartet as they fill the night air with their melodic tunes while you sip on a tipple or two.
Jalan Raya Senggigi Km. 8, Senggigi, Lombok 83355 Indonesia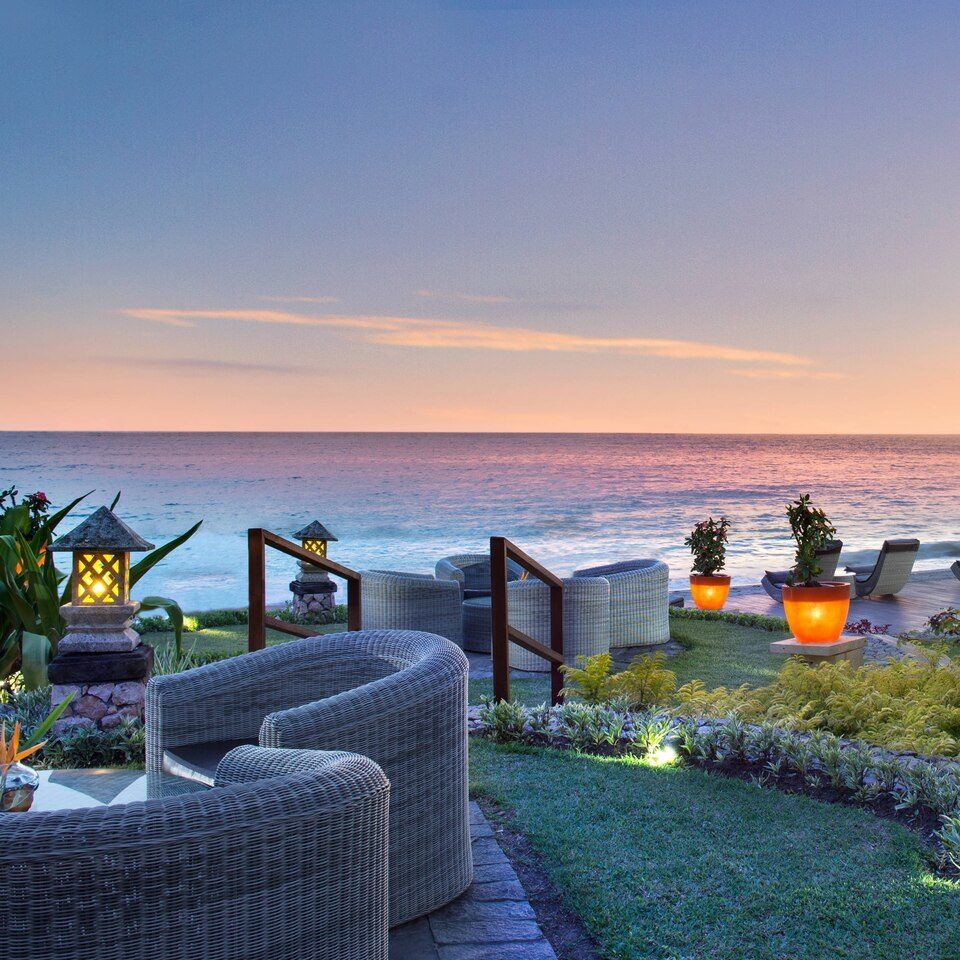 2
La Chill
La Chill's name almost speaks for itself, especially if one loves snuggling into squishy beanbags lined on the beach. The bar is perfect for those who enjoy a bit of dancing and live music, with delectable Indonesian cuisine and fresh seafood to boot. One cannot leave without a glass of their watermelon cocktail — a sweet and tangy refresher for the summer. If you're just looking to take it easy during the day, La Chill serves a mean breakfast of acai bowls and pancakes for any early bird.
Jalan Raya Senggigi, Batu Bolong No.KM8, Senggigi, Batu Layar, West Lombok Regency, West Nusa Tenggara 83355, Indonesia
3
Casa Vintage
Casa Vintage is the spot to be for a cosy little hangout. The white Caribbean-inspired bar sits on the white sandy beach and gives the space a magical sun-kissed sparkle. Apart from their cocktails, be sure to try their authentic, home-styled Jamaican dishes. The quaint bar also shares itself with a vintage clothing store that houses little trinkets to remind you of your beachfront getaway.
Gili Indah, Pemenang, Gili Indah, Pemenang, Kabupaten Lombok Utara, Nusa Tenggara Bar. 83352, Indonesia.
4
Oberoi Lombok
Oberoi Lombok's Tokek Air Bar may not technically be by the beach, but it is still pretty close by. The thatched open-air space serves cocktails, classic reds and whites as well as Lombok coffee, all served with tapas or international snacks. A taste of their Caipirinha will send you back to the beaches with its cool citrusy tang and muddled sweetness.
The Oberoi Beach Resort, Medana Beach, Lombok 83352, Indonesia
5
Pearl Beach Lounge
Pearl Beach Lounge is one of our favourites in Lombok. A little further away from the shoreline, enjoy classic cocktails while admiring the waves as they gently wash up on the sandy white beach. It is strategically located in a secluded beachfront area for guests to enjoy a little bit of privacy and serenity amongst the other busier bars. The lounge offers a variety of fusion dishes to complement your summer tipple. The Ruccola Risotto with Roasted Tiger Prawns is one dish you cannot miss.
Gili Trawangan, Desa Gili Indah, Kec. Pemenang, Gili Indah, Pemenang, Kabupaten Lombok Utara, Nusa Tenggara Bar. 83355, Indonesia
6
Sunset Kiss Beach Lounge
Make one trip to Sunset Kiss Beach Lounge and you'll understand how it got its name. In the evening, the whole bar is surrounded by an amber glow from the setting sun, and the sea starts to glisten on the horizon. Guests here usually come for their signature cocktails, but we recommend a taste of their pizzas. Thinly crusted with an exquisite balance of flavours, this delightful treat is the perfect end to any day.
Jalan Pantai Gili Trawangan, Gili Indah, Pemenang, Gili Indah, Pemenang, Kabupaten Lombok Utara, Nusa Tenggara Bar. 83352, Indonesia
7
Verve Beach Club
This trendy beach club invites guests to dive into their private pool and laze on king-sized sun-beds without the hassle of sand on every surface. Sway along to the music as their resident DJ mixes some sick tunes in the evening. Although it may be a slightly more lavish option than the others on this list, the establishment still maintains a cool atmosphere suitable for everyone. Don't leave without ordering the banana daiquiri.
Jl. Raya Senggigi, Senggigi, Batu Layar, Kabupaten Lombok Barat, Nusa Tenggara Bar. 83355, Indonesia