Penang's George Town has long attracted Singaporeans for its hawker food. The dishes are similar, whipped up by expert hands, and it helps too that the old shophouses feel like a blast from the past. Even so, there are many other things to do on the island — one of them includes shopping for souvenirs. But if you're planning to get something that isn't overly basic, check out the lifestyle stores in Penang.
These spaces carry a variety of well-curated goods and artisanal products, mostly sourced from Malaysia. Expect one-off handmade pieces and unique garments that you won't be able to find in regular shopping malls. 
Here's where to shop in George Town, Penang.
This article was first published on Lifestyle Asia KL.
China House is a must-visit for anyone heading to Penang (here are some other cafes you can check out), so you might have noticed a good looking shop next to the cafe. It is in fact, Sixth Sense, a lifestyle store that stocks minimalist women's clothing, accessories, decorative homeware such as ceramic and gold metal plates, and more. We love the high ceilings and the warm natural light that floods the space alongside its rustic design.
(Image credit: Instagram/ @mossingarden)
Also along Beach Street is Mano Plus, a lifestyle store that you won't want to leave. There's an in-house cafe too called Fuku Eatery, which means you can spend an even longer time there. There's a corner where you can design your own personalised journal as well as an array of artisanal stationery to make your bullet journaling process more exciting. There are also clothes, bags, and even artisanal chocolate available for sale in Mano Plus. When you're done shopping, walk over to the back for some coffee at Fuku Eatery or head upstairs to view the furniture pieces on sale. 
(Image credit: Facebook/ Mano Plus)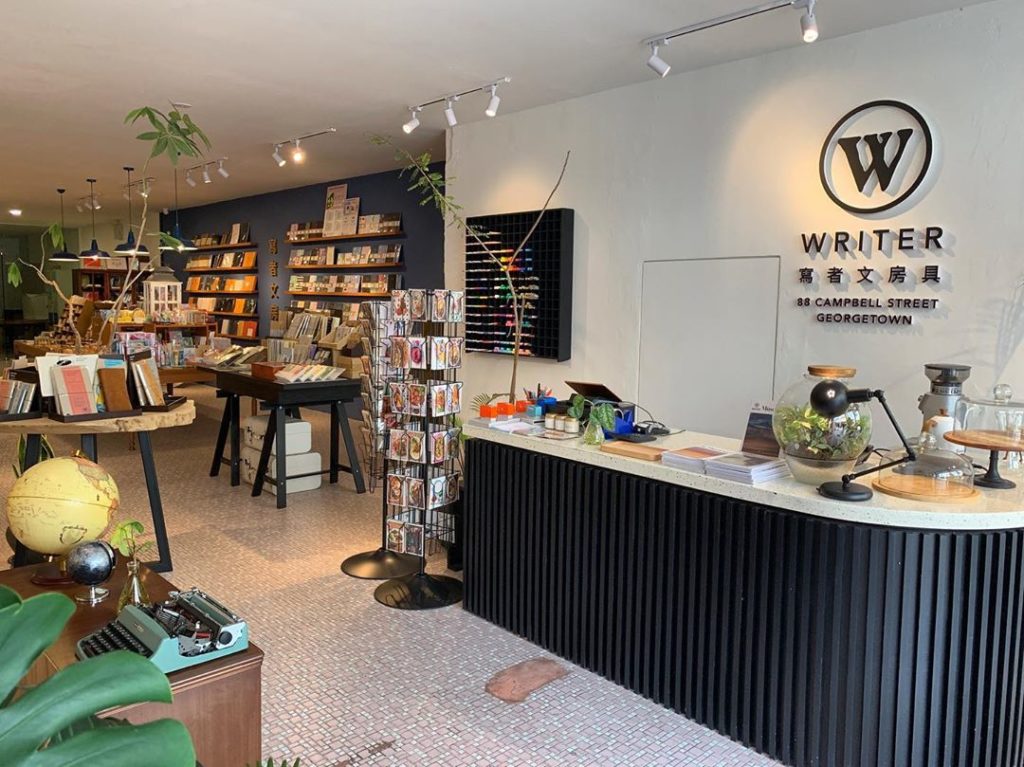 If gorgeous stationery has you going weak at the knees, you're going to want to visit Writer. There are two outlets: one in Gurney Plaza and another on Lebuh Campbell. Needless to say, you should visit the latter for a more authentic experience. Here, you'll be able to stock up on all your stationery needs. We're talking brushes, pens, notebooks, rubber stamps, washi tapes, and more. Your bullet journal is going to be the prettiest one out there with this arsenal of products in your hands.
(Image credit: Instagram/ @sparrow_tweets)
Don't come here expecting a cafe, because this "warung" refers to a mini-market instead. The Warung champions homegrown brands, hence you'll find that most of the artisanal products sold here are locally made. You can find the usual suspects here of leather-bound planners, hand-poured scented candles, minimal clothing, funky socks, and more. Also housed in a colonial shophouse, the store's whitewashed front immediately stands out, while its rustic and exposed-brick interior will have millennials snapping away. 
(Image credit: Facebook/ The Warung)
Fancy yourself to be a plant parent? Then grow your garden further with the various bonsai that M'atural has. The store offers workshops on how to care for and shape your bonsai plant, and there's also a bonsai gallery to up your zen levels. Order a dessert and coffee, chill out, and bask in the greenery. If you'd like to adopt a pot, you can too. 
(Image credit: Facebook/ M'atural)