Thailand is one of the most accessible destinations to go to for Singaporean travellers. For most, their exposure to the country is limited to the crowded beaches of Patong in Phuket or hectic street of Bangkok.
Even islands such as Phi Phi or Koh Samui have become more crowded recently. An alternative for those looking for an untouched island in Thailand? Phang Nga Bay, home to unrivalled natural beauty. It is characterised by a string of limestone cliffs and small islands that juts through the azure waters of the Andaman Sea. Two islands in the picturesque bay is Thailand's best kept secret: Koh Yao Noi and Koh Yao Yai, just eight minutes away from each other by long tail boat.
Boasting mountainous backbones, unspoilt shorelines, and lush jungles, the Koh Yao islands make relaxed vantage points for soaking up Phang Nga's beautiful karst scenery.
How to get there: Take a local taxi (speedboat) from Bangrong Pier in the north of Phuket. The speedboat will take you straight to Klong Hia Pier on Koh Yao Yai.
(Hero & featured image credit: Alin Meceanu, Unsplash)
Both Koh Yao Noi and Koh Yao Yai are home to numerous beaches. One of the more popular ones is Son Bay Beach on Koh Yao Yai. This secluded white-sand beach boasts calm waters sheltered by a bay, perfect for swimming.
(Image credit: On Your Path Travel)
Built in 2012, the archipelago cinema is an architectural masterpiece located in a bay near Koh Yao Noi. It was dreamt up by architect Ole Scheeren out of recycled materials.
Hosted by Six Senses Yao Noi, the inaugural Film on the Rocks festival was curated by Thai filmmaker artist Apichatpong Weerasethakul and British actress Tilda Swinton last year, and is slated to be a yearly affair.
Of course, with its location in the Phang Nga Bay, the Koh Yao islands is surrounded by the warm, clear and calm waters of the Andaman sea. Some of the world class dive sites here include Shark Point, Anemone Reef and King Cruiser Wreck.
Elixir Divers, a PADI scuba diving center on Koh Yao Yai, offers island hopping or dive trips for both beginners and PADI-certified divers.
This stunning resort on Koh Yao Noi is located in the famous archipelago of Phang Nga Bay. The resort is remote, surrounded by secluded beaches, lush rain forests, and uninhabited islands, yet easily accessible. The resort is decked in a traditional Thai architectural style, with each villa overlooking the sea.
Six Senses Yao Noi is a world-renowned resort in the middle of the breathtaking Phang Nga Bay. Accommodation here includes 55 elevated Pool Villas, each offering unparalleled space and privacy. Each villa boasts amazing views of the spectacular landscape.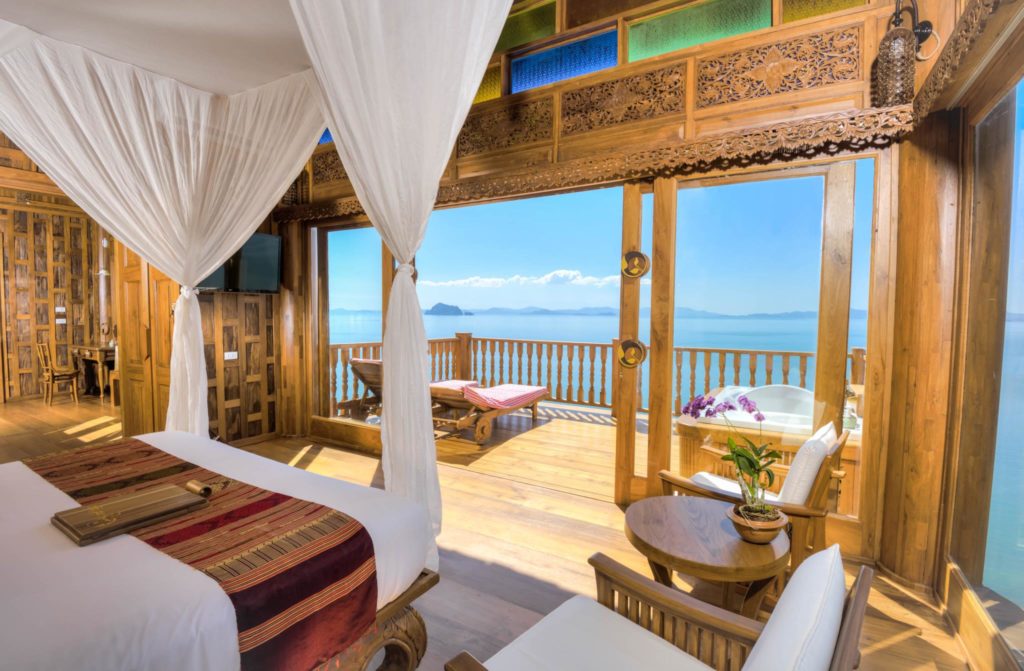 Perched on the side of a hill overlooking the ocean, this eco-luxury resort boasts 39 teakwood pool villas and 109 deluxe rooms that are sandwiched in between its natural mountainous surroundings and private stretch of beach frontage.
Experience traditional Thai dining at Khantok Thai Cuisine, part of the Santhiya Koh Yao Yai resort. Its name is derived from the authentic pedestal tray used as a small dining table by the Lana people.
To fully taste every dish, we'd recommend getting the five-set dish dinner, which includes the Tod Mun Pla (deep fried marinated minced fish with red curry paste), Laab Moo (minced pork salad), Tom Yum Talay Ma Praw Orn (Andaman seafood), Gai Pad Med-Mamuang (chicken breast stir fried), Massaman Nue (curry with braised beef), and Pad Pong Ka-Ree Goong (wok fried tiger prawn).
(Image credit: Tripadvisor)
This gorgeous wooden Thai restaurant is built on the cliffside with spectacular views overlooking the sea. The restaurant offers excellent seafood brimming with flavour.
Highlights here are the Tom Yam Soup, Po Taek (a spicy soup with fish, squid and shrimps), Yam Kai Mangda Tally (horseshoe crab salad), and classics such as blue crabs, shells, grouper, sea bass and red snapper fish.