For most, the Gold Coast is synonymous with Surfers Paradise and world-famous theme parks. These are the attractions that put the coastal city in Australia on the world map, after all.
The city's buzzing night scene with glitzy bars and over-the-top night clubs has earned it its reputation as the Las Vegas of Australia. But if you venture off the tourist path, you'll find that Goldie (as the locals call it,) is lined by underrated suburbs home to oceanside cafes, golden-sand beaches, lively art markets, and intimate hidden bars.
If you haven't already, there is no better time to visit the Gold Coast. As airlines launch more direct flights to the Gold Coast from Southeast Asia, it's the perfect destination to escape to for a quintessential Aussie getaway.
There is more to the Gold Coast than meets the eye. If you don't believe us, scroll down for the best places to check out when you're visiting. From one of Queensland's best cocktail bars to grungy dive hangouts, these spots are a local's best-kept-secrets.
Lovers of rum and whiskey should check out The Cambus Wallace, a nautical-themed rum and blues bar on Mermaid Beach. This hidden spot is named after the ill-fated Scottish barque that ran aground on Stradbroke Island in 1894, spilling a cargo of scotch, beer and explosives destined for the Queensland gold mines. While the ship itself has had a morbid past, the bar is one of the best spots on the Gold Coast for a cocktail — with live music and a list of signature cocktails you won't find anywhere else.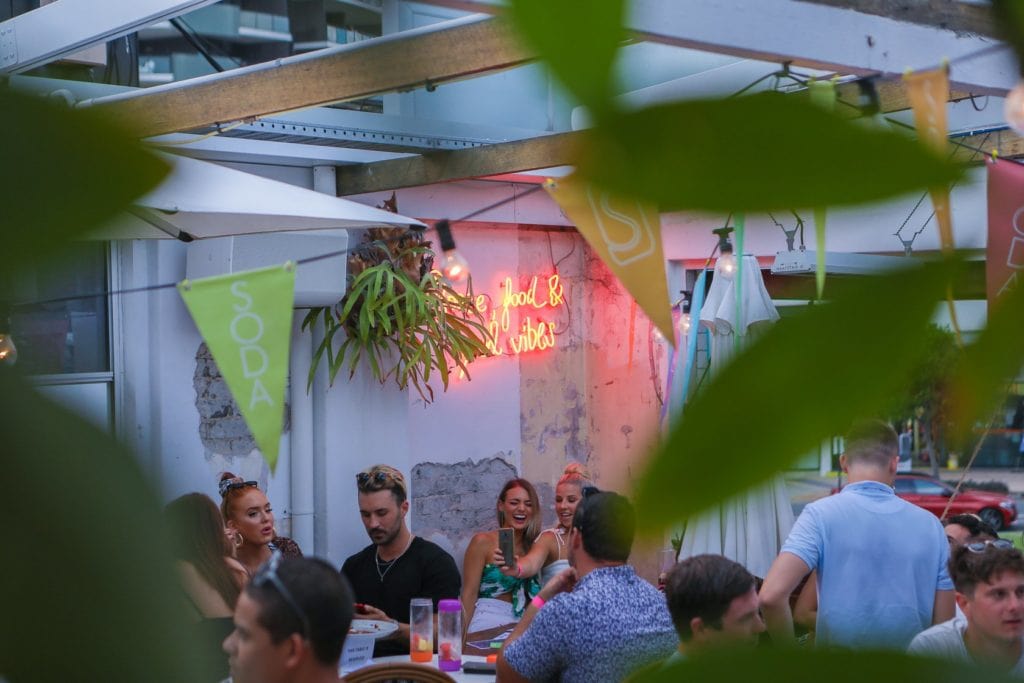 Nobody's encouraging alcoholism, but Justin Lane Establishment's rooftop bar is perfect for the occasional day-time drinking. The Gold Coast's original rooftop bar has grown to become a Burleigh icon. The spot is known for its extensive selection of pizza and pasta best enjoyed with lively tunes, while overlooking views of the world famous Burleigh Point. Due to the popularity of the establishment, it underwent an extension last year — and is now back livelier than ever.
Hidden behind a red door in Burleigh Heads is Lockwood Bar, one of the Gold Coast's finest speakeasies. The spot is one of the few establishments tucked in an alleyway called Justin's Lane. Those lucky enough to find the door to the bar will still have to request entry via text message. The vibe here is refined, cosy and genuine. Choose from over 140 different bottles of spirits that have been hand-selected and placed behind the Lockwood's impressive timber-clad bar.
Fully dive into Gold Coast's laid back attitude at Nightjar, a hip bar hidden in Burleigh's back-alley. Walk into its grungy, raw and dimly lit interior and you'll find a spot sassed up by Sailor Jerry-style artwork. Here, you can enjoy cold craft beers and a mouth-watering selection of spirits and cocktails while listening to live music every Thursdays to Sundays. Additionally, Nightjar has teamed up with local restaurants Tom Ugly's, Wahoos and Red Hot Cod to create a small food menu for patrons, so you'd never have to worry about feeling peckish.
For somewhere fancier, head to The Roosevelt Lounge, the Gold Coast's sexiest speakeasy. In fact, it looks like it's right out of The Great Gatsby, with stunning decor that allows you to be transported back to the Prohibition-era New York. Accessible via a discrete side entrance with minimal signage, The Roosevelt Lounge is an 80-seat sophisticated lounge bar that has become a much-needed addition to the Gold Coast bar scene. Expect bespoke cocktails or classics such as the Old Fashioned and a refreshing Gin and Tonic.