We stepped out of the minibus in crisp, seven-degree weather, and found ourselves plunged into the unfamiliar. There was nothing technically wrong with the scene. A lean road, patched with peeling white dividers, ran towards the powder blue Iide mountains in the horizon. Over our heads, electric wires hung like cat's cradles, splitting white clouds into fluffy slices. A lone car sat parked by a uniform row of white-and-brown stucco. All signs pointed to life, that this street was populated, but save for the wind, and the furious scratch of hands rubbing together for warmth, silence was its most defining quality.
Japan is synonymous with animation and activity. Every square inch of its major cities typically assault you with noise, sights, lights, and moving bodies. Your eyes and mind will never have the bandwidth to absorb it all. Here, on a road in Kitakata, a city in the Fukushima Prefecture, we faced the opposite. As urbanites who thrive on bustle, we couldn't help but feel a little unsettled.
The placid land grew on us as the trip progressed, but also stood as testament to the scars Fukushima still bears after the Daiichi nuclear disaster almost seven years ago. Japan has invested rigorous environmental and bureaucratic efforts to revive its third largest prefecture since the brutal incident, but stereotypes about radiation and its potency still linger. One ought to note that the defunct power plant and its debris lie far from the mainland. Radiation levels have also stabilised beyond the plant's coastal exclusion zone, at a low 0.15 μSv/h. To provide some perspective, 0.2 μSv/h is well within safe levels of radiation. A representative from its tourism board told us that visitors are back on the rise as well.
Sensationalism and a lack of awareness are what hinder Fukushima's return to its peak, but take a chance on the town like we did, and you'll witness a completely different side to high-octane Japan. The prefecture is a seamless blend of natural formations, like pristine rivers and lush cliffs, with the quaint appeal of a small town. It is also the hotbed of Japan's ramen culture, with over 130 different ramen shops around its cities flaunting various styles and broths of the national dish, and is the producer of the nation's finest sakes across its sixty-odd breweries.
If you crave a serene holiday that delivers something new, then Fukushima ought to be next on your travel bucket list. To get you started on where to go, and what to see, here is our guide to Japan's northeastern treasure.
This trip was sponsored by Japan Airlines and the Fukushima Prefecture Tourism and Local Products Association.
1
Hotel Listel Inawashiro
Hotel Listel Inawashiro is as picturesque as it gets. The sprawling establishment is located at the foot of the Bandai mountains, and overlooks the reflective Lake Inawashiro. Its décor is best described as something out of a Wes Anderson film, preserved in the past and laden with whimsy. We love how the hotel has its own onsen, but if you're not comfortable with being nude in front of others, the swimming pool is also filled with natural hot spring water. As Inawashiro does not have the most prolific nightlife scene, the hotel has enough amenities to keep you entertained, such as sporting facilities and an arcade. In winter, Hotel Listel transforms into a ski resort, with private slopes for you to take on.
Hotel Listel Inawashiro, Kawageta Tennozaka 2414, Inawashiro 969-2696, Fukushima Prefecture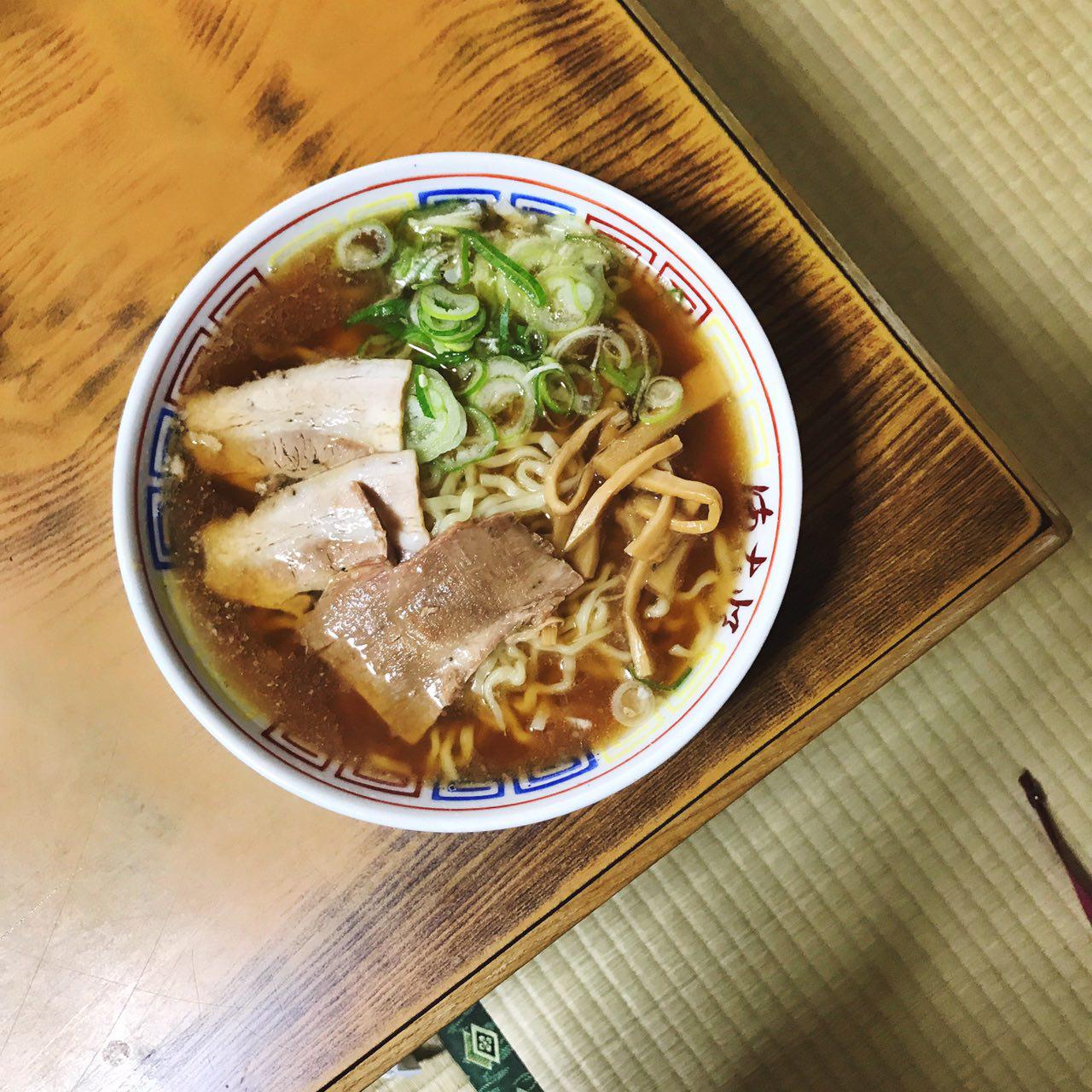 2
Makoto Shokudo Ramen
Makoto Shokudo is a ramen restaurant with a reputation that preceeds its non-descript décor. Step past its sliding bamboo doors and black curtains, and be greeted by a traditional Japanese diner, complete with tatami-lined private rooms for large groups and a mahogany bar for individual customers. Its ramen is the emblem of Kitakata-style preparation. Thick, curly buckwheat noodles swim in a light shoyu broth made with pork bones and a generous dose of niboshi, and are topped with marbled slices of cha shu. Slurp up the truly unique bowl with gusto.
Makoto Shokudo Ramen, 7116 Odazukimichishita, Kitakata 966-0813, Fukushima Prefecture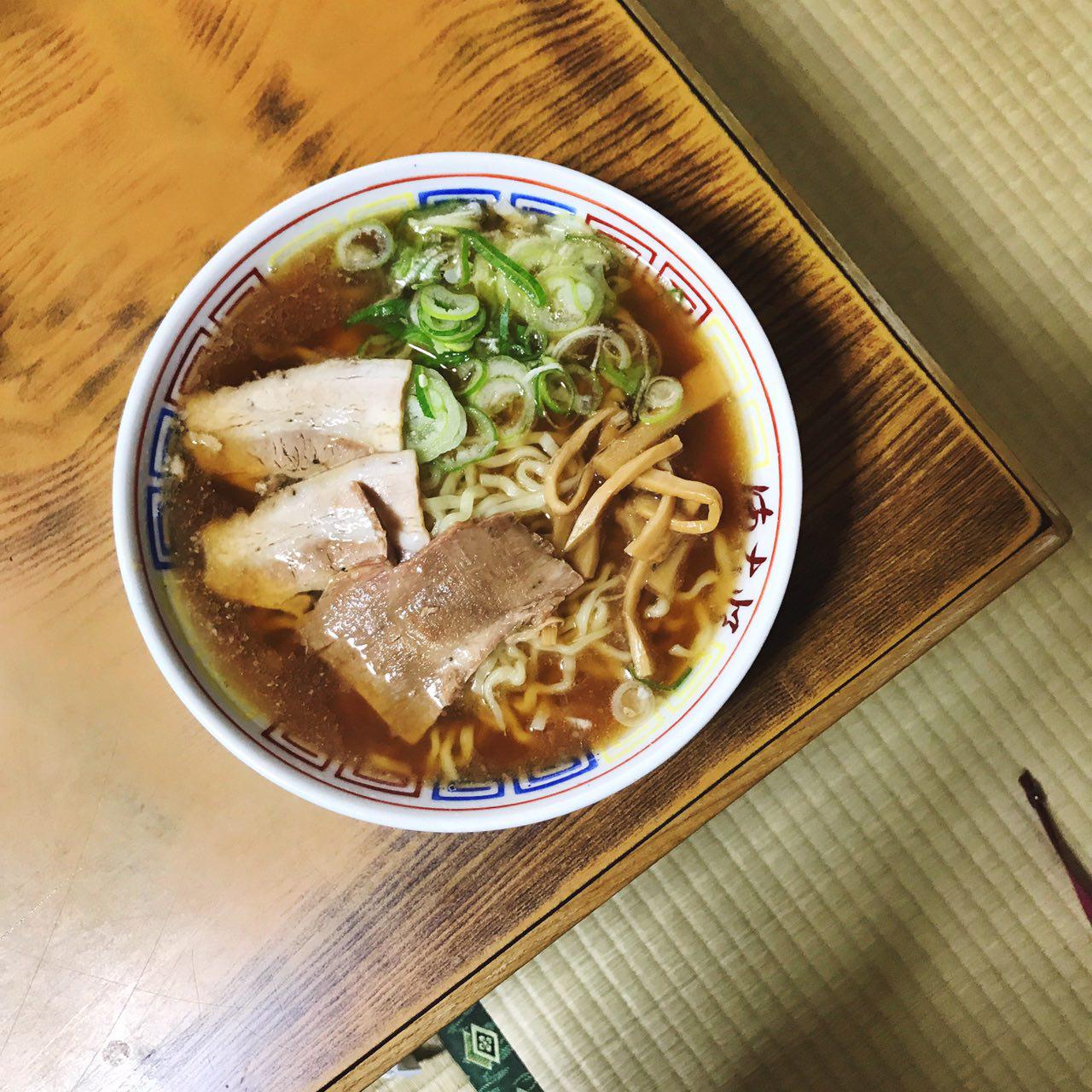 3
Oūchijuku
Lying along Aizu West Road is Oūchijuku, a post town established in the Edo period. It is famous for its row of iconic thatched-roof houses flanked by pine-clad hillsides that are often associated with the northern Japanese landscape. The area features an unpaved main street with old houses that have been restored and converted into minshuku (small traditional Japanese inns), restaurants and shops selling a variety of light snacks that were popular in the Edo period. Examples of the latter include scallion buckwheat noodles, grilled char fish, and sticky sweet potato rice cakes. For a good photo opportunity, climb up to the viewing point, where you'll be treated to a bird's-eye view of the quaint town.
Oūchijuku, Ouchi Yamamoto, Shimogo-machi, Minamiaizu-gun, Fukushima-ken
4
Misawa-ya
A utensil-free dining experience is what you get when you eat a bowl of Takato soba. The unique dish comprises a bowl of springy, pure buckwheat soba and a robust bonito broth, garnished with a thick stalk of leek. The twist: One uses the leek to eat the noodles, as if it were a pair of chopsticks. Taking intermittent bites of the leek also adds an oniony kick to the medley. This is a renowned delicacy in Aizu city, especially in Oūchijuku, but Misawa-ya is the original vendor. Amidst all the thatched roof houses in Oūchijuku, this diner is indistinguishable if not for the two white curtains that flank its paper screen doors, painted with the characters 大内宿 and 三澤屋.
Misawa-ya, 26-1 Ouchi Yamamoto, Shimogo-machi, Minamiaizu-gun 969-5207, Fukushima Prefecture
5
Yamatogawa Sake Brewery
Yamatogawa is housed in a kura, a traditional Japanese storehouse, built during the Edo period from the trunks of cedar trees. It may look quaint, but is in fact one of the region's sake producing powerhouses, with multi-award winning wines like its rare Inochi sake, and Yauemon Junmai Karakuchi — a dry, plummy wine charged with umami. Only 500 bottles of the latter are produced a year. The nectar within is brewed with run-off spring water from the Iide mountains, using rice procured from the prefecture's farmers.
Yamatogawa Sake Brewery, 4761 Teramachi, Kitakata 966-0861, Fukushima Prefecture
6
Homare Sake Brewery
To bag the title of top sake in the world at the International Wine Challenge — the Oscars of the wine world — is no easy feat, especially for a humble brewery like Homare. Yet, in 2015, the six-generation, family-owned establishment secured the global award with its Yamada Nishiki Junmai Daiginjo sake, a crisp, refined wine made with the 'king of sake rice' and natural spring water. Take a tour of the brewery's charming grounds, surrounded by a flourishing Japanese garden. If the weather is too cold, head to the indooor viewing gallery to enjoy a bottle of sake while admiring the tranquil, river-framed trees.
Homare Sake Brewery, 2706 Tokiwa-cho, Muramatsu, Matsuyama-Machi, Kitakata City, Fukushima Prefecture
7
Shingu Kumano Shrine
The historical area of Kitakata is home to Shingu Kumano Shrine. The shrine is home to a Nagatoko (worship hall) built in 1055, which has been designated as a national important cultural asset. Regarded as one of the most spectacular and unique buildings in Japan, the Nagatoko is depicted by a huge prayer hall that opens to the outdoors, resting on 44 pillars beneath a thatched roof. The highlight of Shingu Kumano Shrine is the massive 800-year old gingko tree, which is awash in yellow during Autumn.
Shingu Kumano Shrine, Kumano-2258 Keitokumachi Shingu, Kitakata, Fukushima Prefecture 966-0923
8
Tō-no-Hetsuri
The Minami-Aizu district is home to perhaps one of the most breathtaking places in Fukushima Prefecture, Tō-no-Hetsuri. Its name itself, "Hetsuri", is a local Aizu word derived for "cliff overlooking a river." The scenic valley has been designated as an important natural monument and features an iconic bridge that extends over the river. It's best to visit in autumn, as its stunning turquoise waters and white multi-layer rocks are complemented by orange-hued foliage from the surrounding trees.
Tō-no-Hetsuri, 969-5204 Fukushima Prefecture, Minamiaizu
9
Tenkyōkaku
Architectural buffs should make a pit stop at Tenkyōkaku, a Western-style residence featuring French Renaissance architecture in Inawashiro. Tenkyōkaku was originally completed as a summer villa for Prince Arisugawa Takehito in August 1908, and is now home to a display of materials related to the Meiji period of Japanese history. The residence boasts luxurious interiors, featuring a billiard room, marble mantelpieces, rococo style furnishing, and chandeliers. The ground of the villa is also home to a large bronze statue of Prince Arisugawa, which was once located in front of the Naval Staff College in Tsukiji.
Tenkyōkaku, 1048-14 Okinazawa, Inawashiro-machi, Yama-gun 969-3285, Fukushima Prefecture
10
Kawakyo Ramenkan
If you want a one-stop access to all of Fukushima's ramen varietals — sans the austerity of a traditional diner — visit Kawakyo Ramenkan. It has a menu of seven different types of broths that range from sweet clam-based clear soup to conventional miso and spicy dan dan. The lively buffet-style bistro also has 30 side dishes to accompany your ramen extravaganza, including a unique Aizu mantou that's filled with sweet azuki paste and deep-fried with tempura batter.
Kawakyo Ramenkan, 34-1 Mistuwamaeda, Inawashiro-machi, Yama-gun 969-3284, Fukushima Prefecture
11
Suehiro Sake Brewery
Suehiro is one of Japan's oldest and most established breweries. Spanning eight generations, it has been around since 1850, and boasts numerous international awards. It's known for being practitioners of Yamahai — a traditional mode of sake brewing that is incredibly rare today. Yamahai sake propagates its yeast starter through a different approach. It is matured for a longer time, which results in an intense, acidic sake with a wilder taste and milkier texture. Head down to the brewery and try a sample of the Suehiro Densho Yamahai Junmai, and perhaps walk away with a couple of bottles. The beauty about brewery visits, aside from education, is that sampling is all complimentary. Before you leave, stop at the café within and try its homemade sake-infused pound cakes, topped with a dollop of fresh cream.
Suehiro Sake Brewery, 12-38, Nisshinmachi, Aizuwakamatsu, Fukushima Prefecture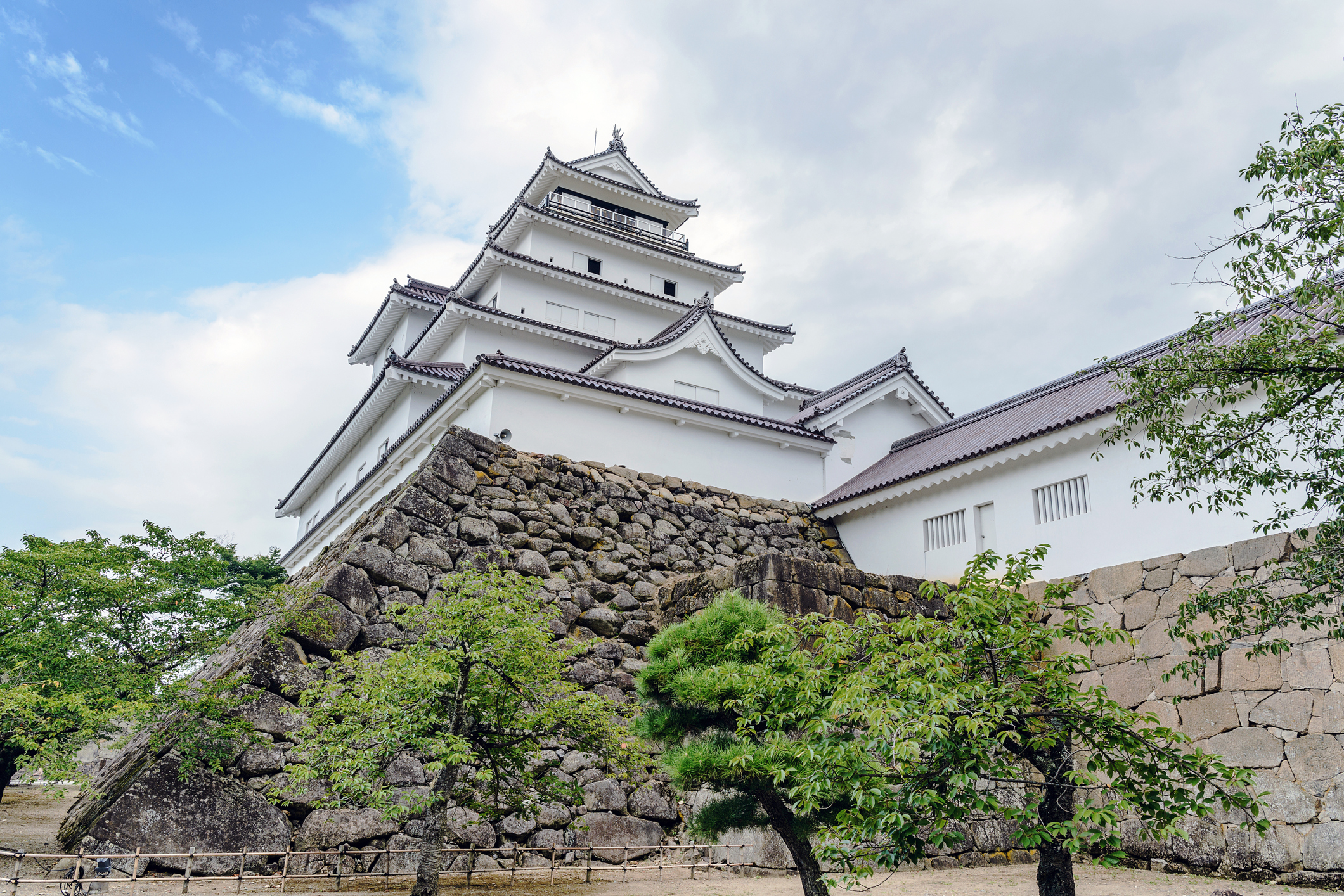 12
Tsuruga-jo Castle
Tsuruga-jo Castle (also known as Honmaru Goten) is a replica of a traditional castle built in 1384, which served as the military and administrative centre of the Aizu region. The five-storey building is now the symbol of Samurai City, currently housing a museum dedicated to Aizu's history, where visitors enter from the basement which once stored rice. The observation gallery, nestled at the top of the building, provides panoramic views of the city.
Tsuruga-jo Castle, 1-1 Otemachi, Aizuwakamatsu, Fukushima Prefecture 965-0873, Japan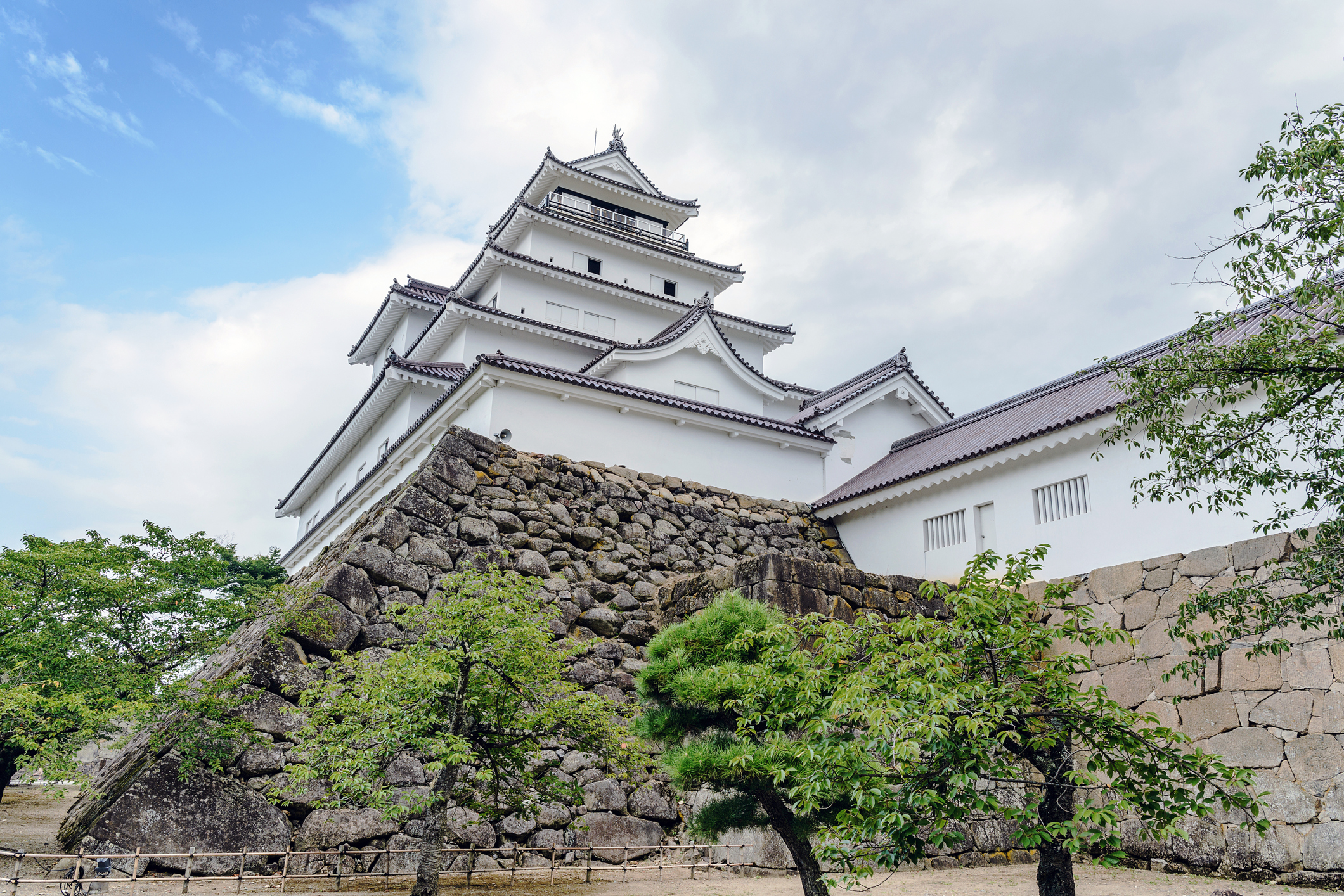 13
Akabeko painting
A constant sight in many of the various attractions in the Aizu region is a mysterious red painted cow. The animal in question is the Akabeko, a traditional toy that has become a symbol of good luck in the Fukushima prefecture. These toys are produced from two pieces of papier-mâché-covered wood, with the Aizu Hariko (molding) technique. Its body is dotted with circle patterns that are said to represent marks of smallpox, attributed to the belief that these toys can ward off smallpox and other illnesses.