It's hard to find a new island to visit over the weekend, especially since Cebu, Batam and Bali have been done to death. If you're planning on travelling to the Philippines, give Boracay a miss and head over to one of these resorts in Siargao instead.
Here, the dreamy island awaits with fantastic surfing conditions, pristine beaches and crystal clear waters, accompanied by its label of '2019's best island in the world', as named by Conde Nast Traveler. Many find Siargao hard to get to, as international travellers have to make a stop at Manila first before taking a smaller domestic flight. Singaporeans on the other hand, have direct flights to Del Carmen airport, a municipality on the tear-shaped island itself.
Whether you're searching for an off-the-grid experience or an all-inclusive stay, Siargao is perfect for any beach getaway. We put together a list of resorts to make your weekend getaway to this private paradise a beach holiday you'd never forget.
Those seeking a beach retreat armed with a relaxing spa getaway should book a stay at Siargao Bleu Resort and Spa, the only spa resort on the island. The beachfront establishment is a 45-minute complimentary van transfer from the Del Carmen airport to the hotel, and a mere 13-minute stroll to the Cloud 9 Boardwalk. Each of the 40 villas and hotel rooms all include stunning views of the sparkling waters, and some even include jacuzzis for those who like to keep it private. Amenities include a bar, a restaurant with terrace dining, and an outdoor pool. For adventure-seekers, diving lessons, as well as paddleboard and kayak rentals, are available for guests as well. The hotel operates tours all over the island, including trips to the nearby rock pools, crocodile sanctuary and mangroves, and even water buffalo rides at sunset.
Isla Cabana Resort, a sophisticated island resort is a summer holiday polished with beautiful cabanas and rustic wood flooring. Its minimalistic Asian contemporary architectural design is known all over the island, as elegance and sophistication does not come easy when it comes to beachside getaways. Daily breakfast is served in a wood-panelled restaurant overlooking the azure waters, and guests are invited to relax in the beachfront infinity pool as well.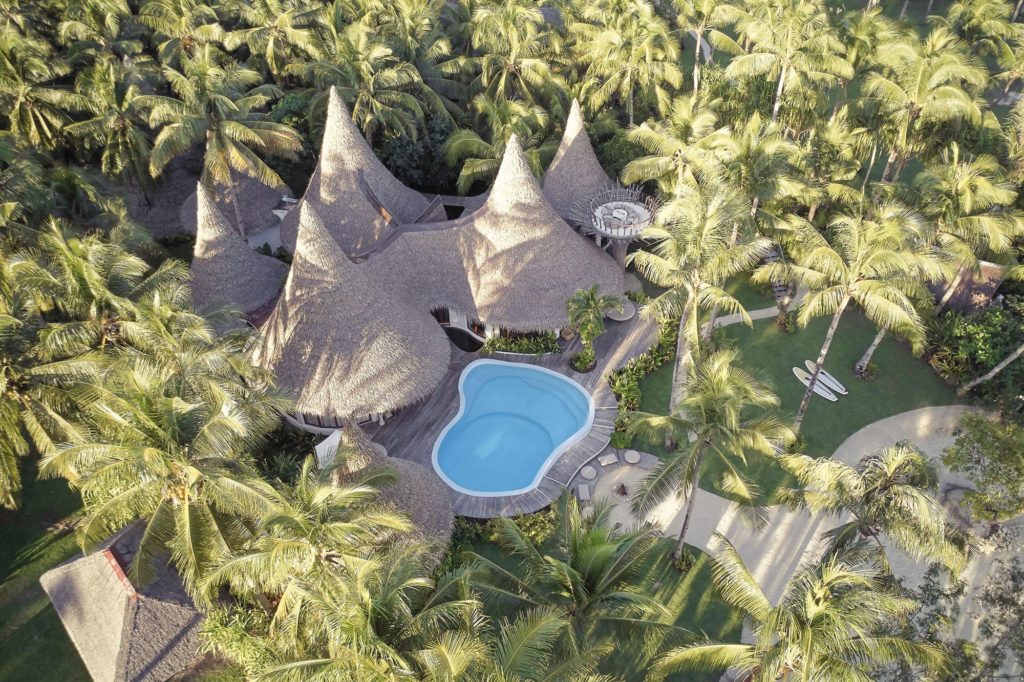 Hidden in a patch of verdant forests with a stretch of private sands and clear green waters, Nay Palad Hideaway is the perfect beachside holiday for lovers (or with friends, we don't judge). The intimate resort houses 10 villas with barefoot luxury, a dream for those looking to live out their best 'Eat, Pray, Love' fantasies by the edge of the Pacific Ocean. Here, start your days with a morning yoga class followed by an excursion to a nearby island. There, have a picnic lunch readily prepared for by the resort, and then start heading back to the beach. In this intimate setting, dine by the fire pit for a three-course feast of fusion cuisine livened up with fresh herbs and spices from the property's very own organic garden. Nay Palad champions community, and hence everything in the villa, from its hanging day-beds to the carved headboards, are handcrafted locally with local materials.
Looking for a private escape? Spend your nights at in Kalinaw Resort, a luxurious oceanfront retreat. Fitted with five premium bungalow villas skirting the tropical oceanfront, each of the suites are warmly decorated with wood floors and thatched roofs, accompanied by modern amenities like a private infinity pool for the contemporary traveller. With a boutique resort comes personalised, responsive service, and is the main reason why guests choose to spend their home away from home here. The dream of two Parisian designers, special French touches can be seen in the in-house restaurant as well. The menu is a savant blend of local Filipino and South European cuisine, made fresh daily according to the catch of the day. Activities such as kitesurfing, diving and freediving are made available to guests depending on weather and seasonal conditions.