Koh Samui, one of the most popular islands in Thailand, is known for its breathtaking landscapes. Think palm-fringed white sand beaches, glistening turquoise waters and a colourful tapestry of corals and marine life underneath it all. In fact, the island boasts perfect weather for snorkelling, diving and hiking from late December to April.
The island is a world-famous vacation destination home to some of Thailand's most stunning resorts. Whether it's an ultra-luxe retreat by an international brand or an architecturally-driven boutique villa, Koh Samui offers a range of accommodation choices for different types of guests. Here, the best resorts in Koh Samui to check yourself into.
Nestled within a private bay, the Ritz-Carlton Koh Samui is one of the most luxurious properties on the island. The resort was built on a former coconut plantation and stands on 58 acres of lush land overlooking the Gulf of Thailand. Guests stay at one of the 175 exquisitely designed suites and pool villas. And of course, there's nothing better to do on tropical paradise than to indulge in a relaxing spa treatment. The Spa Village Koh Samui has eight treatment suites, three outdoor massage pavilions, a yoga pavilion, lap pool with cabanas and a health bar.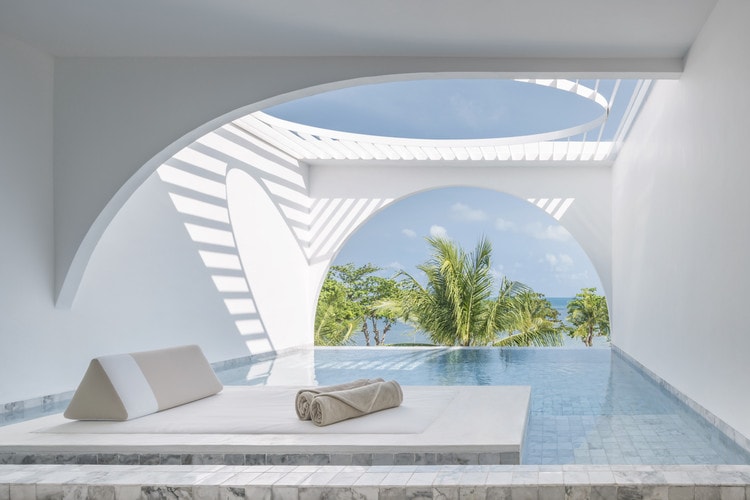 Sala Samui Chaweng Beach is an architecturally-driven modern beauty that plays tribute to the Thai islands' famous moon parties. Its 85 rooms were designed by Bangkok firm Onion with the idea that a person's view of the moon changes each night, and how the light will enter the room at various times of a month. The resort is home to an open-air beachfront restaurant serving fresh-caught seafood and a variety of Thai and international dishes, as well as a beach bar that serves up tropical cocktails with a huge emphasis on fruits native to the country.
A member of the Design Hotels group, The Library Samui is set against the seductive backdrop of Koh Samui's Chaweng Beach. The beachfront hotel is an intimate resort home to 46 studios, suites and pool villas spread over 12,800 square meters of land. The Library Samui is owned by native Kasemtham Sornsong and created with designer Tirawan Songsawat, bringing a conceptual resort that is unique to the island.
The newly opened Avani+ Samui Resort is a hideaway home to 58 chic rooms and pool villas, each with a private balcony. It is the only resort located in the quiet Panka Bay at the south end of Taling Ngam, making it perfect for visitors in search of peace and solitude. Dining options here comes in the form of the open-air Essence Restaurant which overlooks the pools and stunning Panka Bay, a 24-hour pantry serving light refreshments, and a poolside bar that mimics a Kombi truck.
The W brand brings its signature electric touch to Koh Samui, in a property that overlooks stunning beaches and lush greenery. Its 74 villas are surrounded by verdant foliage and boasts a private outdoor pool and infinite island views. W Koh Samui is a destination in itself, offering everything from outdoor water sports to a treatment at its signature AWAY spa or an evening fuelled by booze and music at the iconic WOOBAR.