If you can't stop thinking about all the tourists and people that'll bombard you on your next trip, you might want to rethink the way you travel. 
Post-COVID-19, more holidaymakers are gravitating towards alternative forms of travel, seeking private, exclusive options that lessen the risk of meeting people and virus transmission. We're championing yachting, a luxurious, intimate vacation that allows travellers to form new experiences in a safer, more unique way. 
The Moorings, one the world's most established yacht charter companies, stands for unparalleled service and remarkable sailing experiences for all guests that come aboard.
Together with their ever-expanding fleet, the company provides dream getaways in 20 destinations across the globe to date. This includes some of the world's most beautiful coastal destinations like the British Virgin Islands, Grenada, Thailand, the Mediterranean, and Belize.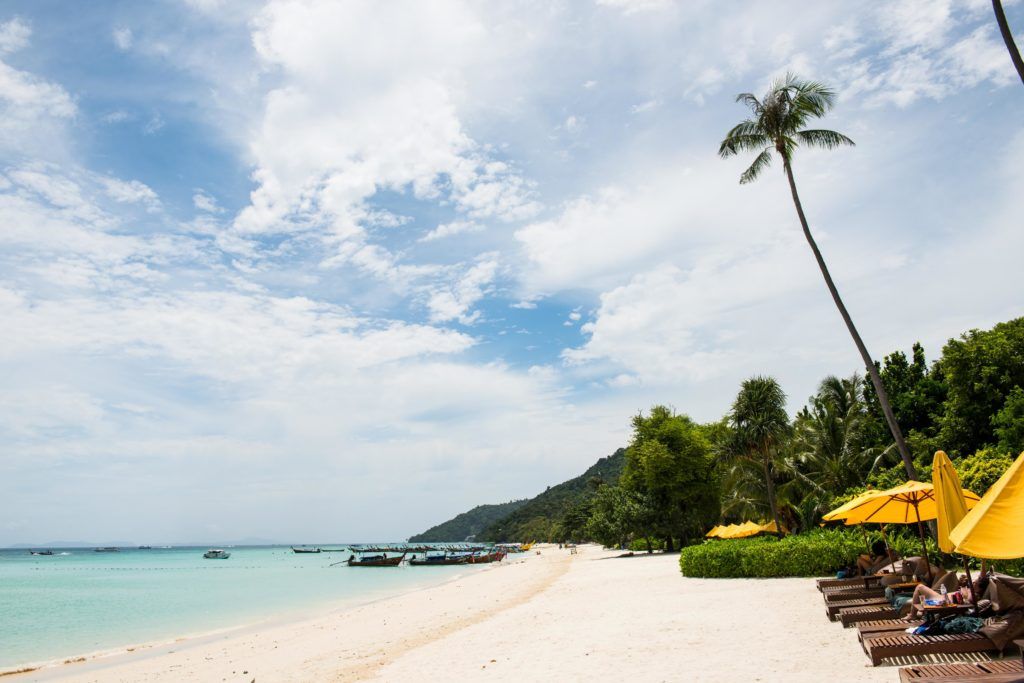 Lifestyle Asia is working with The Moorings to bring holidaymakers to one of our favourite island destinations, Phuket, valid for travel from now to 31 December 2021. This exclusive promotion is available for booking from now to 24 July 2020, and travellers can choose between the 2N3D charter, the 3N4D charter or the single-day charter alongside additional inclusions. 
The package offers (excluding the single-day charter) includes complimentary champagne as a welcome drink onboard the yacht, as well as a beautiful beach-side Thai dinner at the Rayavadee Restaurant in Krabi. All charters will be made available on either the Moorings 4800 Crewed Yacht or Moorings 514PC Crewed Yacht. 
Itineraries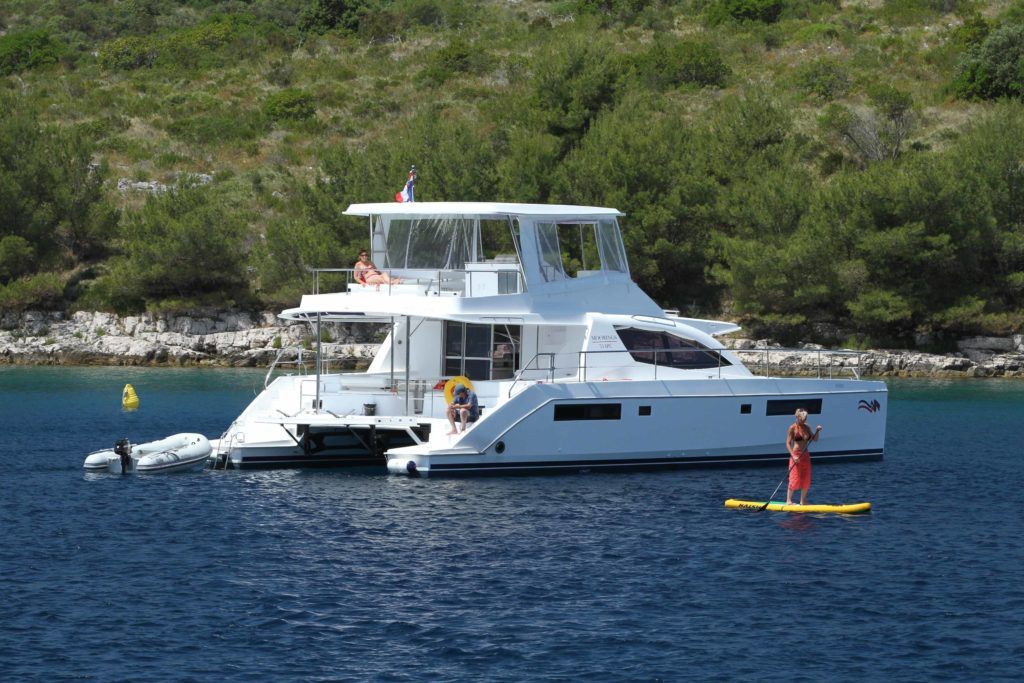 The three days, two nights getaway onboard the ship comes with a fully stocked bar, watersports equipment, all meals, snacks and beverages as well as return airport or hotel transfers. It also includes double staterooms with an en suite lavatory, shower and housekeeping services. 
Guests will make their way to Hong Phang Nga and James Bond Island on their first day, then head to Koh Hong Krabi and Rai Le Beach on the second.
Enjoy some snorkelling around Chicken Island, an area known for its interesting rock formation and secluded beaches. On the last day, explore the Koh Khai Nok Islands, an excellent snorkelling spot overflowing with colourful tropical fishes waiting to be discovered in the sparkling emerald waters. Travellers will disembark at The Moorings' base at 12 noon.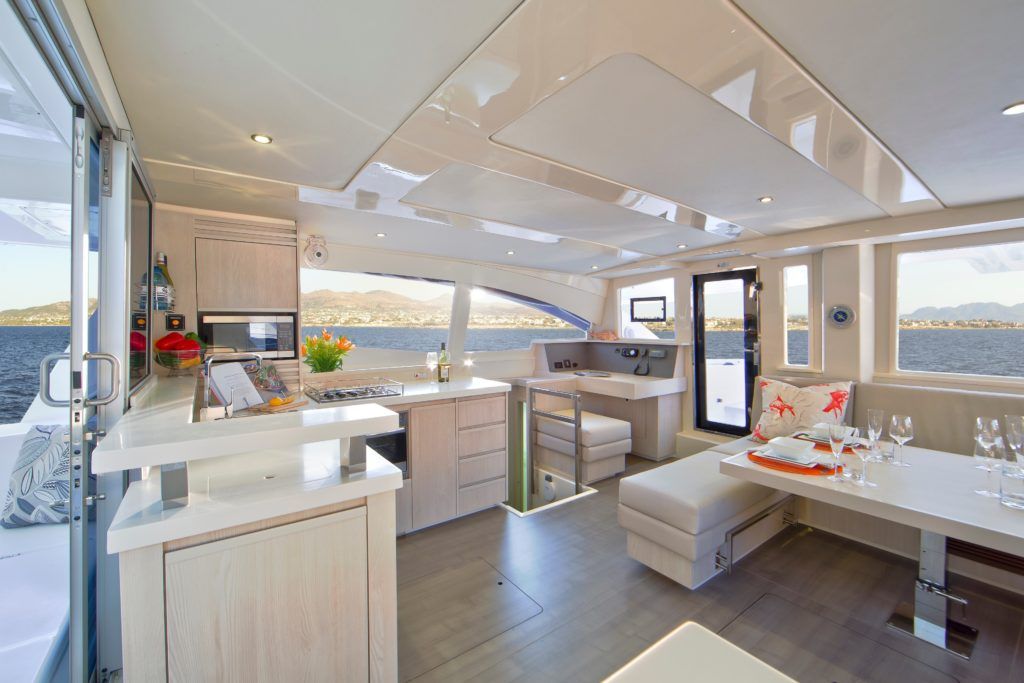 The slightly longer four days, three nights journey follows a similar itinerary, but instead of visiting Koh Khai Nok, guests will be taken along a day-trip to Phi Phi Islands, exploring the hidden beaches and bays that aren't frequently visited by throngs of tourist crowds.
Do take note that the itinerary for both packages is subject to weather conditions on the day itself. If the weather prohibits guests from docking at certain islands, the Captain will make alternative plans to visit different island locations.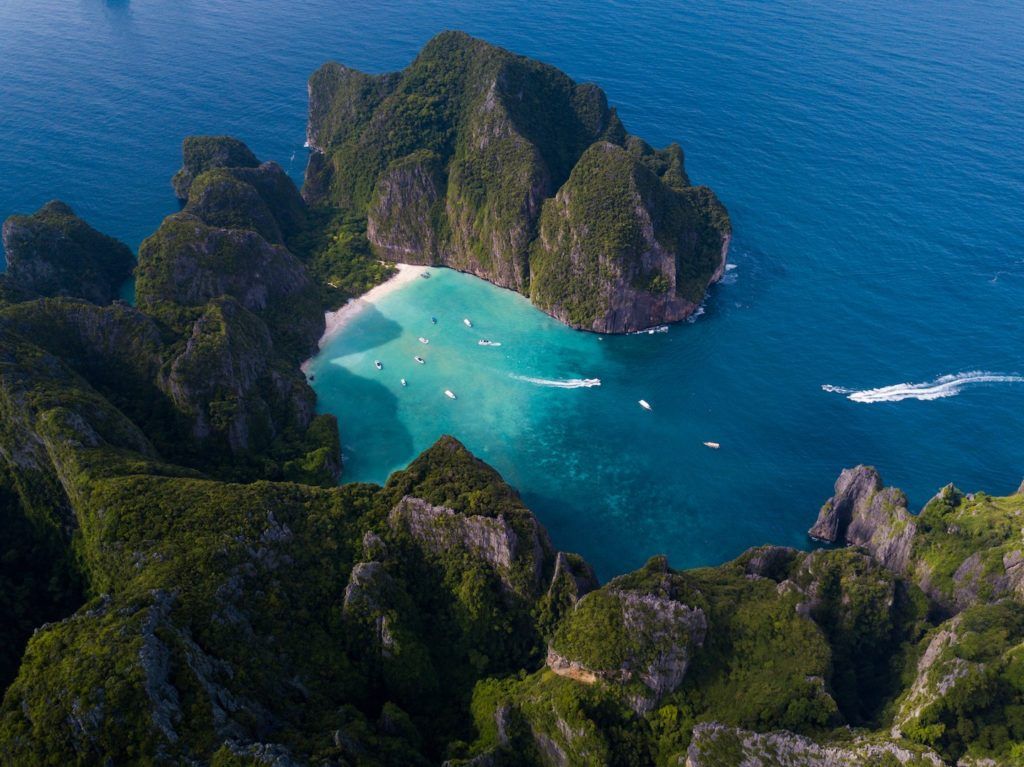 As for single-day charters, guests will be able to enjoy a day out at sea exploring Maiton Island and Koh Kai Nok before returning to the main island of Phuket for the remainder of their vacation. 
The luxury day charters come with complimentary champagne as a welcome drink upon boarding, as well as a fully stocked bar, watersports equipment, lunch, snacks and beverages. Return hotel transfers are also included in the package.
Rates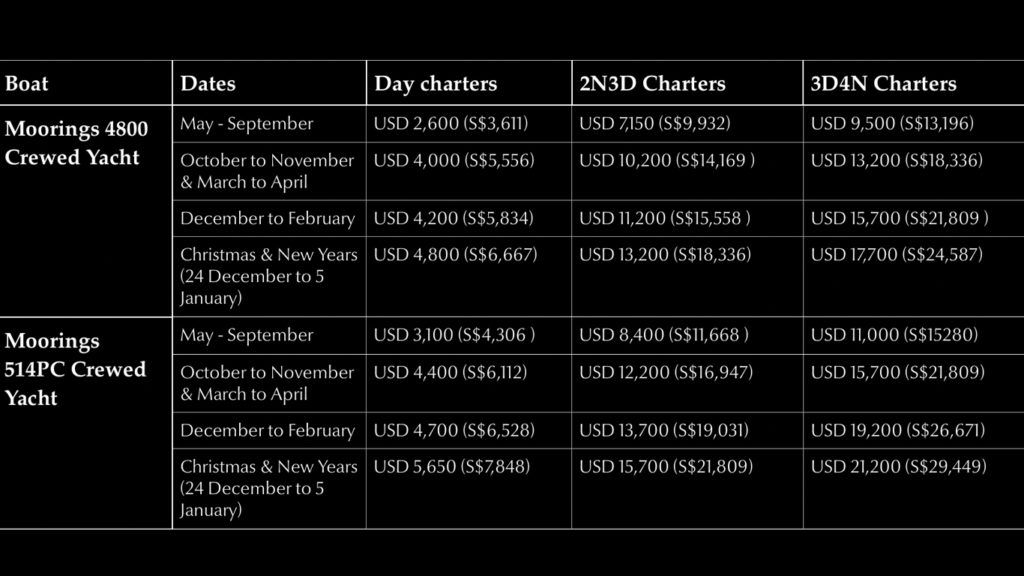 The rates for the 2N3D and 3D4N packages are priced for six guests, and additional cost of USD500 (S$695) will be charged for each additional guest onboard, up to a maximum of eight travellers in total.
The rates for the single-day charters, however, are priced for 10 guests for the Moorings 514PC and eight guests for the Moorings 4800, with a cost of USD125 (S$173) for each additional guest onboard, up to a maximum of 18 and 12 travellers respectively. 
The rates are non-inclusive of airfare, and the boats are subject to availability at the time of confirmation. 
Dreaming of a private island escape?
For matters post-purchase confirmation, contact The Moorings at Ikraam.galant@thlmarine.com.
Longer charter durations are available on request subject to additional costs. Charter date changes up to 14 days prior to the charter start date will not incur any penalties. Charter date changes within 14 days prior to the charter start date may incur penalties.
Refunds will not be available after payment confirmation. Lifestyle Asia is not responsible for the outcome of the experience with the company or the individual.